Mount Rainier rolls over Evergreen, 7-0
Mount Rainier rolls over Evergreen, 7-0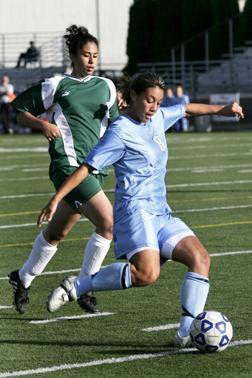 Thu, 09/29/2005
sports CORRESPONDENT
The Mount Rainier Rams blasted seven balls into the back of the net at various times of the game in a 7-0 win over Evergreen's Wolverines Thursday at Highline Memorial Field.
The Wolverines remain winless, 0-4 in the Seamount League, while the Rams improved to 5-1.
The Rams took fourth place in the state last season, losing to rival Kennedy in the third-fourth state game. Are they that good again is the question.
"We're alright," said Rams coach Jerry Cappadano. "We still have a young team. We'll make the playoffs."
They made a lot of goals in this one, that is for sure.
First, with seven minutes off the first half clock, came the score of Susie Faist, a senior midfielder going up front and scoring on an assist from sophomore midfielder Sarah Martinez.
Then, with 14 minutes transpired, captain Nicole Murray passed to Shelby Blair, a freshman who scored to make it 2-0. The next goal arrived at the 26 minute mark when Murray again touched it to Martinez for a second-goal for the sophomore to make it 3-0. The next score came after Becky Harris did the assisting honors to sophomore Alex Hunter that made it 4-0 two minutes before halftime at the 38-minute mark. That's how halftime arrived.
Then, in the second half, it was eight minutes in that Shelby Blair passed to sophomore Chanel Fuchigami, who blasted it in. The sixth goal came in the 61st minute when Harris passed to Carly Hanlon, a sophomore who shot it in. The last goal came at the 86th minute as Ellie Winward, a junior, passed to Carrie Pillers, who from close range made the final tally.
The Rams hope to bounce back from a 2-0 loss to Kennedy Sept. 15.
There are some things that need to happen in order for the Rams to compete with them.
"There are a lot of things we need to work on," said Murray, who Cappadano described as a national level player. "Communication."
Another captain, Jordan Taylor, echoed Murray's thoughts.
"We lost five players last year, all starters," said Taylor. "The team's young, we need to develop more as a team."
The Kennedy game was on Murray's mind.
"That game could have gone either way," said Murray. "It just wasn't our night. We play them again in October. We will be ready for them."
Josh Halsey coaches the Wolverines and he thought his team did a good job trying.
"We tried hard out there. There are just going to be games like this, "said Halsey. "We have a lot of players that it is their first year in an organized activity. We have one girl premier and two or three a step below premier. We are trying to teach them fundamentals now - passing and playing good defense."
The goalie for the Wolverines handled cleanly several hard shots from the Rams or the score may have been double what it was.
"Our keeper, Charlotte Valleroy, has never had any formal goalie training," said Halsey. "She does a good job in there. She just needs to work on her footwork. She does have great hands, holds onto the ball. She is a joy to coach."
For the Wolverines, there was hustle seen out there, even though down five goals, six, etc, the green and white clad uniformed young ladies played with heart until the final whistle.
Some good highlights for the Wolverines included Sabrina Hunter with the ball before passing to Shelby Klein, who ran with the ball into the corner dribbling before she went out of bounds. That led to a corner kick.
The Rams were just having fun after about the 20th minute, playihg two or three touch. It was like a practice.
Halsey's biggest problem does not have directly to do with wins and losses. But indirectly is a whole different matter.
"It's hard to do much with only 11 players," said Halsey. "They try hard."
But 11 is not enough in soccer. A team gets ate up that does that. Too many players get tired and if more than one has a problem or just has something happen.
"We only had 16 players that turned out," said Halsey.