Ballard Goodwill sports community goods
Ballard Goodwill sports community goods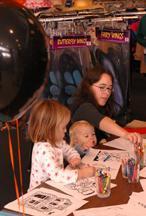 Tue, 10/18/2005
Steve Clark
It's spooky what you can find at Goodwill. The Ballard store is crammed with 24,000 square feet of merchandise that has been, by and large, previously owned by people in the Ballard community. Every isle is a reflection of the neighborhood. By the looks of it, the neighborhood has always had a thing for Halloween.
The Ballard store celebrated Halloween Family Fun and Safety Celebration on Saturday, promoting their high season, which starts amid the Jack-O-Lantern candy buckets and the angel wing costume kits. The store, on 8th Avenue NW and NW 65th Street, was gussied up for the occasion and there were raffles and games and coloring books, big goofy ghouls and lots of cookies and tootsie rolls to nosh on.
The funny thing about Goodwill - besides the witches and devils stocking the shelves - is that 90% of its merchandise comes from the 2000 or so donors that drop things off each week. Their charity allows other people to buy things for less than at the usual big box monoliths, and all the money stays in the community, either through payroll for employees, or in training people looking for jobs.
"This is an awesome neighborhood for donations," says Paul LaFrance, the store manager. LaFrance oversees the two halves that make up the Ballard Goodwill. On one end, the production staff takes donations, giving receipts, sorting merchandise, arranging and pricing it all. Then the retail half works the registers and keeps the customers happy. There are more than 50 employees at this Goodwill, and on a typical day, there might be a dozen people working in retail with at least that number working production.
Seattle Goodwill is a non-profit organization with 13 stores and a thousand employees around the Puget Sound region. Their motto, "Because Jobs Change Lives," is realized by educating people in traditional ways - computer skills, ESL, office machines and the like, and by teaching behavior skills like how to dress for success, being aware of body language and other less tangible skills that, like the more traditional kinds, are crucial to getting a job.
Deadra Bradly, dressed in black with a pointy black hat and signing up people for the raffle, is a recent graduate of goodwill's training.
"I wasn't good at computers," she said, though what witch is?