The call of the oysters - 17th Oyster Olympics
The call of the oysters - 17th Oyster Olympics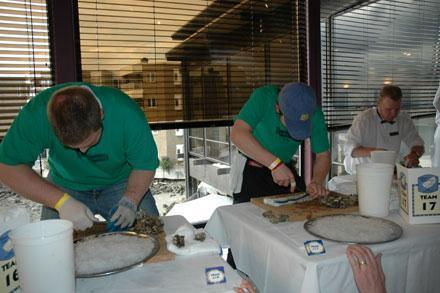 Tue, 03/28/2006
Whether oysters make you salivate or gag, laugh, smile or get amorous, all you have to do is attend the Anthony's Oyster Olympics once to know that oysters are just good, clean fun. Indeed, they have to be. And from the oyster's natural need to be clean has grown a dependence on clean water. That's where the Puget Soundkeeper Alliance comes in.
The 17th annual Oyster Olympics, hosted Anthony's Homeport restaurant on Shilshole Bay on March 21st, raised $39,000 for Puget Soundkeeper Alliance, and $440,000 since the event was first held in 1990. Attendees enjoyed an outrageous celebrity oyster slurping contest, action packed competitions between some twenty restaurants from Seattle to Richland to Vancouver, B.C., the Washington's Largest Oyster contest, samplings of regional wines recognized for their ability to compliment oysters, and thousands of local oysters, shucked and served by the Northwest oyster farmers who raised them.
Puget Soundkeeper Alliance works to clean, and keep clean, the waters of Puget Sound. "The Sound is our own public park," said Tom Diller, Vice President of Operations for Anthony's Restaurants, and President of the Soundkeepers. "It is ours to use, from which to harvest - it provides us sustenance, as it has historically. It is everyone's waterway, and it is our responsibility to be stewards of it for future generations." Diller, who began at Anthony's as a bus boy some 27 years ago, has served on the board of the Soundkeepers since 1992. "The Soundkeepers is the only organization that currently patrols the waters of Puget Sound, monitoring them for pollution," Diller said.
Anthony's Homeport has been home to every Oyster Olympics since the event's inception in 1990. It evolved from the Anthony's chain's annual March oyster festival as a way for the greater restaurant, oyster farming and wine making community to come together to celebrate the Northwest's favorite bivalve, and those who love and care for them, while raising money for, and awareness of, the Soundkeepers. It makes sense; if you want to celebrate oysters, you have to champion clean water too.
Part of every Oyster Olympics is the Celebrity Slurp - notorious as "the longest eight second competition on earth," because before the slurping begins, each of the celebrity participants must present the crowd with some sort of "oystertainment." This comes in the form of little ditties, the odd (and I do mean odd) poem, country, hip-hop or blues songs, and even The Evergreen State College's Geoduck Fight Song, sung to the cheering crowd this year by Evergreen President Les Purce. Purce kicked it off with the Evergreen motto, apropos of the event: "Omnia Extarus," roughly, "let it all hang out."
KIRO TV's Penny LeGate was in Africa this year, but she didn't want to give up her coveted Slurp spot, so she sent her Husband, Mike Williams, to fill in for her... in drag! And, of course, there was Seattle P-I columnist Susan Paynter, who graced the crowd with her 2006 revisiting of the Willie Nelson classic, adapted for the event called "Mammas, Don't Let Your Cowboys Grow Up to Eat Oysters!"
KCPQ TV's Christine Chen won the Slurp by downing ten oysters without the use of her hands in 8.75 seconds. Last year's winner, Greg Copeland of Northwest Cable News, had a disappointing night, though he was still able to brag about winning the nationals in Chicago last October.
Restaurants fielded teams to compete in three categories - wine identification, oyster identification, and oyster shucking - with medals given out for individual and team scores. David Leck from Elliott's Oyster House was the top shucker in the restaurant shucking competition. In five heats, the competition tests skills in opening five species of oysters: Olympia, Pacific, Kumamoto, European Flat and Eastern oysters. In addition to speed, the quality of the shucked oyster, as well as its appearance, are judged. In the 17-year history of the competition, Leck has been the only shucker to take first in each of the five heats. Marcia Sullivan, Elliott's Oyster House, earned the top trophy in Oyster Identification. Contestants determine the generic common name, Latin name, Market name and growing method of twelve types of oysters. Contestants in the Oyster Wine Identification Competition identify, in a blind tasting, ten oyster-compatible wines by variety, producing country or state and winery. Doug King, from Metropolitan Market, won the gold. Elliott's Oyster House claimed the prestigious team trophy, with Anthony's Des Moines taking second, and third overall best team performance going to Anthony's Homeport Richland.
Over 30,000 oysters were consumed that night, presumably leaving the sold-out crowd happy, full, possibly amorous, and ready to fight off any cold with all that zinc from the oysters they ate. Mark you calendars now for next year's event, which will be held again at Anthony's on Shilshole on the last Tuesday of March.