Pubs - the roomy and the cozy casual
Pubs - the roomy and the cozy casual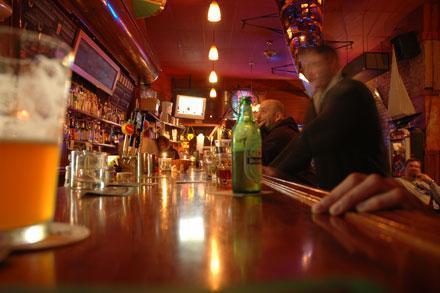 Tue, 04/04/2006
The fact that the greater Ballard area is awash in pubs and clubs, taverns and bars, restaurants and night spots is a surprise to nobody. There's such a wide variety of these joints, however, that navigating them can be a bit daunting. Well, your friends at the Ballard News-Tribune are here to help. In this new column, we'll be visiting various Ballard businesses and introducing you to some of the multitude of saloons and lounges in town. Cheers!
To blast this thing off, I figured we'd start with a place that's been around for well over a decade. For whatever reason, - lack of advertising or that non-descript, low profile building - it's hard to find The Ballard Grill and Ale House the first time you go looking. It's across Leary Way from Hale's Brewery and you might have passed by it hundreds of times and not even noticed.
The Ballard Grill and Ale House is misleading from the street, but once you go inside, the cavernous square footage seems to unfold before you. There's well enough space to house (get this:) six full-size pool tables, dart boards, video games, pinball tables, a big dining area, over a dozen TV's (big-, small-, and flat-screens), an internet-download jukebox, an ATM and a fireplace without ever feeling claustrophobic.
Despite its size, the place avoids a warehouse vibe with some attractive old-school archway brickwork, a creative layout and lots of spaces to sit and lounge. The Ale House's dive-y reputation has been countered in recent months by a combination of tidiness and the state-mandated absence of smoke. Yeah, it's less dusty, more shiny and not smoky, but I get the feeling that all the Windex and 409 in the land couldn't scrub away this place's undeniable but charming rough edge.
A full bar offers all the standard (read: not blended) libations you could ask for, their 31 taps cover all the ground from local and regional micro-brewers to mega-brewery swill, and the talented kitchen staff cranks out a gargantuan menu crammed full of damn near every last pub-grub option you can think of. And a bunch you haven't.
To say that the portions are generous is an understatement; the prices are decidedly modest for what you get. The deliciously sloppy Teriyaki Cheeseburger (which comes with a pile of crispy, pinkie-thick fries) goes for $7.50; the Super Nachos pan (baked in layers, so the cheese is melted all the way through) is a massive 11-ingredient affair that they give away for $9.50; and a fresh, crisp Chef Salad comes mounded on the plate for $7.95.
With more ongoing promotions, drink specials, sports tie-ins, gaming tournaments and nightly features than I cared to catalogue, and with all the bells and whistles of a fully developed sports bar and game house, this place is a vibrant, full-blast night spot. Bring a date, a friend, or your whole softball team.
As I strolled around an especially quiet Old Town one recent midweek evening, I was struck by how empty the streets were. At first, it was pleasant; mellow and relaxing. But then I got the distinct feeling that something was up. It was eerie. I eventually saw one (1) other person on the street, yet was afforded no solace. In perfect CIA-spook style, he looked at me out of the corner of his eye while not breaking stride in either his gait or his hushed cell phone conversation. He turned up Ballard Avenue and was gone. I started to get the feeling that maybe the streets weren't just quiet, but rather deserted. Just where the hell was everybody?
As I pushed into the warm environs of the inviting Lock & Keel, at least my last question was answered: everybody was in here! Willie Nelson welcomed me from the jukebox, the bartender and waitress both gave me friendly nods, and the unmistakable rich scent of BBQ smoke calmed my nerves.
I grabbed a pint from the 12 tap selections, found a seat and took stock of my surroundings. Not a G-man in the house -- just an easy, comfortable assortment of folks. One woman looked like she was grading papers, some other people were watching sports on TV, a few guys playing pool (two tables), one guy writing in a journal, and pockets of other people in various stages of laid-back. In a word, comfy.
The waitress was my favorite kind: attentive but not overbearing. She handed me the no-nonsense menu, which proclaimed itself a list of "grog and gruel" and offered up familiar appetizers (wings, quesadillas, nachos) spiked with the L&K's own zing, and a concise list of sandwiches, salads, sides and entrees. They smoke all their own meats right out back, make their own sauce right up front, and the aroma is invigorating.
The Baja Tacos (pulled pork, lettuce, cheese, onions, tomatoes, jalapenos, a drizzle of ranch, served with salsa) came highly recommended as did the word-of-mouth famous ribs. I was tempted by the Bucket o' Brisket as well, but ultimately I had to go with the pulled pork entr/e. Seduced by the almighty swine once again! I chose the garlic mashed potatoes (pretty bland -- instant?) and baked beans (tasty -- not too soupy like a lot of BBQ places) for my two sides, and with a "hunk of bread," the whole shootin' match came in at $8 even. And that's the most expensive thing on the menu.
It might sound funny, but there are BBQ-snobs out there. Really. I know BBQ egotists can be as ridiculously finicky and particular about their smoked-meats-and-sauce dishes as the fussiest wine connoisseurs are about their wine. Not me. I'm no BBQ elitist. I enjoy a wide range of BBQ styles, and to these taste buds, the pulled pork was nice and tender, juicy with a nice smokiness to it, and the sauce (I chose the spicy) was flavorful without being syrupy. Oh, and about the sauce (and this'll make the BBQ snobs feel vindicated): I could've used a bit more.
And as much as I enjoyed the pork, I already know what I'm having the next time I visit: the Frenchie sandwich (beef brisket topped with pepperjack, french fried onions, and served with au jus). Or maybe the baked Mac 'n Cheese. Or maybe I'll get those tacos. But that Voodoo Chili Dog sounds interesting, too....