Urban touch-up artist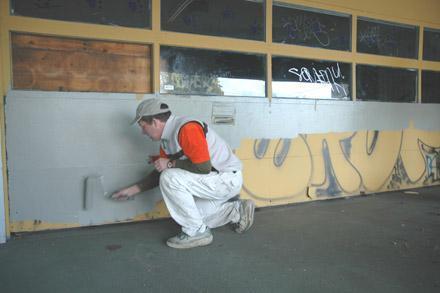 Wed, 04/26/2006
Jack Seifert's going to hit about a dozen places today. He's got a few buckets of paint, spray cans, and an assortment of brushes in the back of the Subaru. He's going to make his mark on Crown Hill. He's even got an accomplice; Sharon Giampietro.
You might say they're going to graffiti graffiti. Seifert has being carrying on a one-man mission of erasing graffiti marks from the walls of Crown Hill. Though Giampietro is with him for the Earth Day clean up, usually he's alone. He spends a few hours every week or two, taking time out from his own job without pay, painting over calling cards sprayed on walls. He has his own calling card - battleship gray, donated by the city, applied with a roller. Nothing too artistic about his style; pragmatic block patterns.
The mayor told him the city needs more people like Seifert. Yeah, a lot more.
The city spends millions of dollars removing graffiti from public spaces. They encourage business owners to do the same and Seifert says that if owners painted over graffiti quickly, and the city was a little less pokey doing the same thing on public property, graffiti artists would eventually go away. He says that there wouldn't be any point for a tagger to go through the risk and effort of leaving elaborate marks on a wall in the dark of night, when all the effort is gone a few hours later.
Seifert, a licensed massage practitioner, is also president of the Crown Hill Business Association, but that's not why he paints over graffiti.
"It's a quality of life thing. It's like saying 'you can get away with crime here' he says about ignoring the problem.
So he paints the paint marks out of Crown Hill. Sometimes, when he's driving, he'll see new graffiti on a wall and he'll pull over and offer to paint over it for the property owner. No one has ever refused Seifert's offer, but some people ask him how much he charges, he says with a laugh.