Birds under the bridge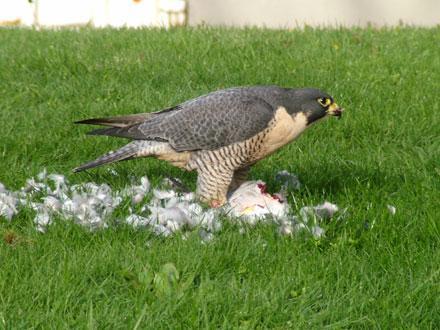 Tue, 05/02/2006
A pair of Peregrine Falcons, similar to the one pictured here, are nesting under the Ballard Bridge with four eggs getting ready to hatch.
The photograph was taken by Martin Muller of Olympic Manor, who has been studying falcons and volunteering with the Falcon Research Group for the last ten years.
"We keep an eye on where the Peregrine Falcons are," he said.
Volunteers place bands on the young. The bands are readable from a distance with a spotting scope to keep track of the birds and to determine if they return to their nest after the winter.
Muller spotted Peregrine Falcons around the Ballard Bridge. He contacted the Seattle Department of Transportation and they helped him mount a nesting box he built himself.
Muller is vague about the exact location of the nest to keep the public from disturbing it during the hatching period.
He suggests looking for the birds when they are perched onto the billboards or sailboats near the Ballard Bridge.
Muller said Peregrine Falcons are known and admired for their high-speed pursuit of bird prey. The falcon in Muller's photograph recently killed a pigeon and landed briefly, before taking the kill to her nest and hungry young. Other prey popular with falcons include starlings and small gulls. This menu makes the falcons popular with roadway structure managers who have to deal with the effects of bird droppings on bridges and other structures.
Adult Peregrine Falcons are 18 to 20 inches tall and weigh about two pounds.