Kennedy crushes Skyline in playoff opener
Kennedy crushes Skyline in playoff opener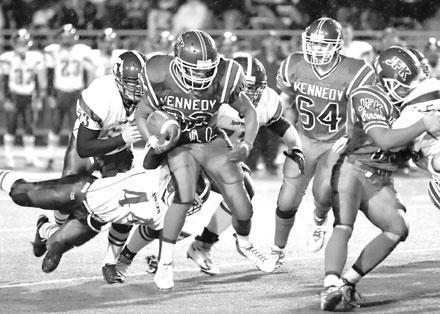 Tue, 11/07/2006
For John F. Kennedy Catholic High School, the answers to victory were blowin' in the wind on the rain-soaked turf at Burien's Highline Memorial Stadium on Friday.
Launching long air strikes from its wizard-like Wing-T weaponry, Kennedy rained deadly dosages of destruction in a 61-20 devastation of Skyline in a preliminary round game of the Washington state Class 3A football championship playoffs.
With the win, the No. 4 Lancers (10-0) set up a colossal confrontation with defending champion and third-ranked Ferndale at Highline Stadium this weekend. Ferndale has stopped the Lancer express the last two seasons, ousting them in the semifinals last year and in the 2004 first round.
"We've been waiting to play them," said running back Nate Williams.
Kennedy, paced by Williams, went into the contest averaging 344 yards on the ground, but on this November night quarterback Bobby Gentry emerged to bomb the shocked Spartans for five touchdown passes in a 5 of 6 performance that accumulated 216 yards, including 4 of 4 for 196 first half yards.
"He did a great job," Kennedy coach Bob Bourgette said. "That's Bobby Gentry. It was his time to shine. We've been able to throw the ball all year. We just haven't done that."
Heading into the game Gentry had thrown for only six touchdowns.
"It's all our coaching staff and our line," stated Gentry. "They just make great plays, and it's easy for me when our guys are open like that."
As the Lancers' foremost rushing threat, Williams lured Skyline's keying defense away from the quarterback and receiving corps. Gentry proved that the hand is quicker than the eye by running play action to freeze the defense and force blown secondary coverage. The primary beneficiary of this strategy was Lonzell Hill who finished with 119 receiving yards and 71 rushing yards.
"I knew I'd be wide open," said Hill, the son of former University of Washington wide receiver Lonzell "Mo" Hill. "They always key on Nate because he's the star on the team."
Williams gained 13 yards on six first half carries before completing the game with 106 yards and two touchdowns on 14 carries. He also added a touchdown catch.
Skyline running back Tyler Washburn broke a 54-yard run on the Spartans' first play from scrimmage before the Kennedy defense stiffened. Lancer lineman Marc-Avery Airhart broke through to sack quarterback Tony Rehn on consecutive plays to squelch the threat. For the game, JFK sacked Rehn six times.
Gentry's 31-yard touchdown pass to a wide-open Jesse Roe down the middle sent the Lancers into a 7-0 lead. Rehn retaliated on a 75-yard drive capped by his own 2-yard run and the teams were knotted at 7-7.
On the first play of the second quarter, Skyline swallowed a faked dive play to Roe, and Gentry located a streaking Hill down the far sideline for a 62-yard touchdown. The PAT was blocked, leaving Kennedy ahead 13-7. Hill later cleared a stunned Spartan secondary for a 57-yard touchdown reception. A two-point conversion pass from Gentry to Williams made the score 21-7.
Skyline fired back with a seven minute and 50 second, 69-yard touchdown drive. Rehn negotiated the final five yards with a 5-yard touchdown pass to Trevor Robinson, narrowing the Lancer advantage to 21-14 with 2:34 remaining in the first half.
From that moment, the Spartans resembled leaves being scattered in all directions by a howling wind.
Williams gathered in a 36-yard touchdown pass reception just before halftime. Gentry's 30-yard touchdown pass to Nolan Washington and Washington's 70-yard punt return for a touchdown accentuated a 26-point JFK third quarter blitz.
"They've got great athletes and those kids executed for them," concluded Skyline coach Steve Gervais.