Softball - Beavers get easy win over Franklin
Softball - Beavers get easy win over Franklin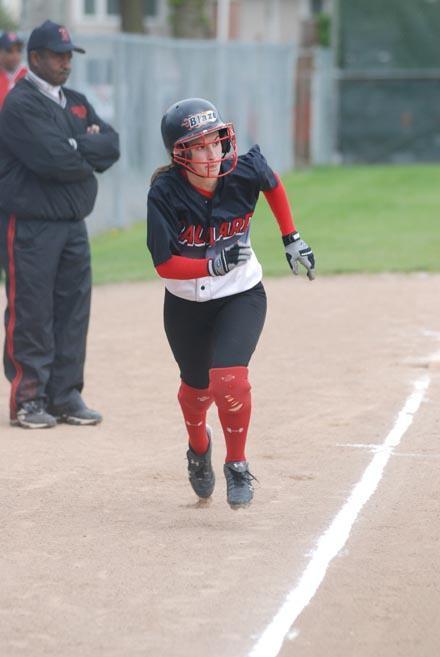 Tue, 05/01/2007
The Ballard Beavers took it easy against the Franklin Quakers on April 25 by starting freshman pitcher Sophie Overlock-Pauley and sending in other reserve players for an easy 10-0 win.
Ballard cruised to an even 7 and 7 KingCo record, while the Quakers remained winless. This was the same Franklin team that was trounced earlier in the season by Woodville 64-0, causing KingCo officials to call a coaches meeting to discuss why the Falcons ran up the score. Unlike other KingCo teams, most of the Franklin players are new to the sport of softball.
Ballard has a rich history in fast-pitch softball with three consecutive Metro 3A championships before joining KingCo in 2003. Although they have seen some playoff action in the tougher league, the Beavers are still seeking to go deeper into the post season.
Head Coach Al Lowe says his team has been dealing with sore arms, injuries and homework duties, but won't let these obstacles keep his Ballard Beavers from making another run at the KingCo playoffs that start in a few weeks.
Lowe is optimistic about his team's chances. Ballard has been hovering around the middle of the pack at the number six position. Eight teams will advance to the post season.
The team's defensive ace at short stop, Jesse Thelen has been out of action with a slight concussion from a softball that hit her in the head. Lowe is hoping to have Thelen back as soon as possible for the remainder of the schedule. There are four games left, starting with today's game at Juanita.
Nora Schlenker has been filling in at shortstop but is better suited at her regular outfield position said Lowe.
"It's time to get healthy. Getting our short stop back will do a lot for us," said Lowe.
Beaver star Leslie Ellingsen, one of the top softball players in the state has been slowed by shin splints. Ellingsen is still one of the top hitters in the league, but is not hitting as well as last season when she was an impressive .609 at the plate. "We need to get back on track with that," said Lowe.
Ballard Beavers Kelly Ohm, Tara French and Schlenker are playing well and have helped the team stay in the playoff chase. Elisa Vatn is back from an injury which sidelined her last season and she is anchoring first base. Heather Casper, Hallie Hemmingsen, Jessica Brodland, Amanda Hawley, Nicole Murray, Megan Peterson, Gabby McComb and Catherine Aquino round out the varsity talent.
Ballard has beaten Lake Washington, Garfield, Eastlake, Bothell and Franklin (twice). The team has lost to Woodinville (twice), Juanita, Inglemoor, Redmond and Eastlake.
French recorded eight strikeouts against Roosevelt to lead the Beavers to an 11-1 win. Hallie Hemmingsen went 3-4 at the plate with two RBI.
Ellingsen showed off her talent in a 5-1 win over Eastlake when she went 2-3 with 2 RBI. Hemmingsen was also 2-3 and scored a run.
Ballard plays Juanita on May 2 on the road. Roosevelt plays Ballard at Lower Woodland on May 4, Lake Washington at Lower Woodland on May 7 and Ballard travels to Redmond on May 9. All games start at 4 p.m. except for Redmond at 5 p.m.