The View from 106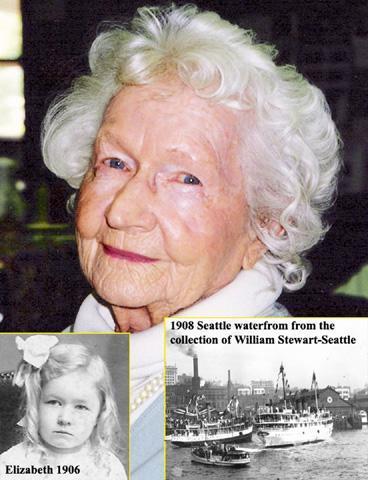 Tue, 07/22/2008
Elizabeth gazed across the harbor to the war ships as they sailed into Elliot Bay. She held her mother's hand.
Teddy Roosevelt's Great White Fleet, on a world tour, arrived in Seattle. It was May 23, 1908. More than 400,000 citizens attended the gala and if not for a doctor's order, Elizabeth might not have seen it at all.
Elizabeth DeGroote, nee Gambee, was born October 8, 1901 in Chicago. She moved with her family to Seattle's Capitol Hill area in 1902.
By 1904 a younger sister developed breathing problems. The doctor ordered the family to move to the country for the sake of the child. Her father studied the landscape. After some deliberation he relocated to West Seattle's Admiral District, which for the most part was as country as it got at the time. They left behind the little boat rides on Lake Union. They left the excitement of the Broadway District. These city slickers became pioneers.
Elizabeth's view of the events across Elliot Bay came from Viewpoint near the top of Admiral Way. It was the only road up from the streetcar line coming across the tide flats along what is now Spokane Street. It wasn't the only way to the "country".
Elizabeth recalls the trips to Seattle to shop. The Smith Tower was under construction and would be completed by 1914.On nice days they would take the ferry. The breezes on the bay would ruffle their skirts. She lost her favorite pink hat to the wind on one trip. The city trips were all-day excursions.
Issac and Margaret Gambee settled into their country life. Issac cleared the land. He hired a Swedish contractor to build a small home with a "nice large kitchen" near 44th and Andover St. Indoor plumbing was a luxury in 1904.Issac's job at Swift Meat Packing got them by. But like most folks they had a "two-holer"out back.
Together with their daughters Elizabeth, Mildred and Margaret they lived the hard scrabble, but happy life.
"We were land poor", Elizabeth recalls. She remembers being ashamed that they could not afford a front porch. Her dad worked hard at the plant to pay taxes and improvements, but the porch remained a dream.
A swing in the backyard cherry tree hung near the bountiful vegetable and flower gardens tended by her mother. By 1908 Elizabeth was walking down California Avenue to West Seattle School (now Lafayette).
Living in the "country" posed a few problems. One would expect to see wild game. For this reason the elementary school boys carried rifles for protection.
Elizabeth was shy, but an excellent student showing prowess in art and language. Best friends Edna Fowler, Helen Keck and Carlotta Hills often played on and around old tree stumps near Schmitz Park. There they would solve the "world's problems".
Through high school boys were not part of the picture. It was not until college at the UW that Elizabeth came out of her shell."I decided to be different. I learned to flirt", she beamed. "Ed", became her first love, first kiss, and there was Bill too. She had many male friends, but remained loyal to her studies in architecture, art and design. She made the college honor rolls and Mortar Board. She was a member of Phi Mu Sorority. She had big plans.
For a year she saved her money. She designed and sold sportswear after college. She hatched a plan with Edna to travel to Paris. Her future husband Lawrence helped her. For more than a year in Paris she studied ancient and modern art. She lived cheaply at a pension. She learned Latin dancing from the "South American boys".
It was a thrill, but that year + was enough. Homesickness brought her back in 1925 to New York.
Babe Ruth was in his 6th season with the Yankees, hitting 25 home runs. Elizabeth probably never knew what all the fuss was about.
Lawrence greeted her at the dock. They picked out wedding jewelry and were married at "The little chapel around the corner". "We had a lovely train ride across the country for a honeymoon", Elizabeth recalled.
Lawrence's love of the outdoors was perfect for his forestry work. Elizabeth landed a job at Seattle's St. Nicolas School teaching art history for $60 a month.
Life was good until the depression. In the early 30's Lawrence lost his job, but the couple survived and from attitude alone considered themselves fortunate. "We had many friends. We shared wild duck dinners on Mercer Island", she said. The family loved fishing and Lawrence was considered quite the expert on trout and steelhead.
By 1938 things improved. Lawrence took a job in Idaho and then Snoqualmie National Forest. The couple, with Carolyn, first born in 1931 and Larry, welcomed Robert in 1942. They built a Royal Barry Wills Colonial home on land next to Issac and Margaret on 44th.
Sadly, within 20 years Lawrence had passed away. The kids were grown. Elizabeth had taken a job Alki School in 1956. For 12 years she taught Kindergarten and studied for her PhD.
She was very active in the West Seattle Art Club. In 1965 she sold the family home and moved to just north of Burien.
In 1968 Richard Nixon was elected president. Mexico City hosted the Olympic Games. Elizabeth was ready to retire, but not settle down. A teaching job opened up in Japan when a close friend opted out of the position. Elizabeth passed the required physical and within weeks was on a plane to Fukuoka, Japan, about 550 southeast of Tokyo. There she taught English to young Japanese students.
A second retirement in 1970 brought Elizabeth back to her home in Shorewood where she remained until 1995. During this time she enjoyed working on her watercolors, took trips abroad, attended workshops and senior center classes while staying connected to her many friends.
Elizabeth currently lives near her daughter Carolyn in Sherwood, Oregon. She'll celebrate her 107th birthday in October. And she has a front porch.