Bardahl Oil celebrates 70 years in Ballard
Bardahl Oil celebrates 70 years in Ballard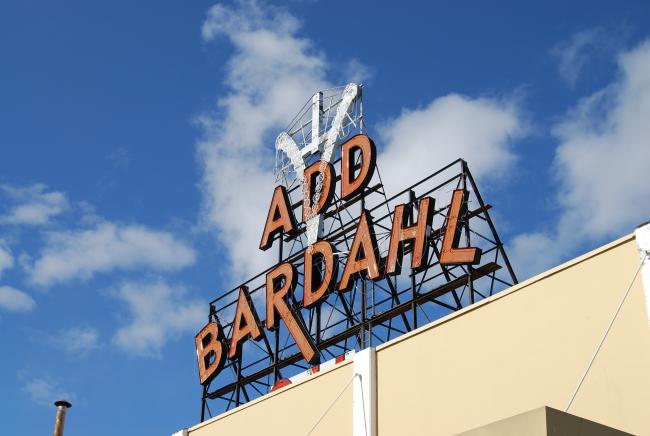 Michael Harthorne
Mon, 03/02/2009
If you have ever traveled across the Ballard Bridge at night, you have seen the colorful neon sign that tells passersby to "Add Bardahl- Add It To Your Oil." This sign, which has been lighting up the Ballard skies since 1953, is perched atop the headquarters of the Bardahl Oil Company.
Bardahl Oil was started in Ballard by Ole Bardahl, a Norwegian immigrant, and has provided the world with oil and fuel and oil additives ever since.
Bardahl Oil is, in the words of Eric Bardahl Nicolaysen, the vice president of the company, a "small multinational company." They employ around 50 employees in their factory and offices located at Northwest 52nd Street.
They blend and package a number of oil and fuel additives onsite. These products help to make engines run more effectively. As it is a privately owned company, Nicolaysen would not reveal any business numbers but said that they are one of the top 10 in oil industry sales, and are the No.1 seller in many foreign countries.
Bardahl sells their products in more than 70 countries, with a large presence in the Latin, South American, Asian, European and African markets. Bardahl's products are especially in demand in countries where there are a lot of older cars that need more care.
These oil and fuel additives were first developed when oil quality was not as good as it is today. Oil additives make the oil more slippery, allowing it to better coat the engine surfaces and allowing it to run better. Fuel additives also improve engine performance by increasing fuel efficiency.
In all, Bardahl has more than 400 different products for cars and other specialized vehicles.
November 2009 marks the 70th Anniversary of Bardahl being in business in Ballard. Ole Bardahl, a Norwegian immigrant, started the company along with a chemist that he met in a mining class at a local college. The chemist had ideas for soap and for oil additives. Ole Bardahl bought out the chemist and renamed the company, and it grew from there.
The Bardahl name has been a presence in the racing world for many years. They have sponsored hydroplanes, racecars, stock cars, and Indy cars. Bardahl sponsored cars have been driven by famous drivers such as Christian Fitipaldi and Bob Unser in races the world over. Ole Bardahl himself founded his own hydroplane racing team.
Bardahl has been a part of the Ballard community for 70 years. The Bardahl family, including Nicolaysen himself, grew up in Ballard and attended high school here.
It could be said that Bardahl has long outgrown its facility, but they choose to keep their business and the jobs it provides here, because, as Nicolaysen says, they "love being here," and they plan on staying in Ballard.
"The sign is our message to the community that we're still here," Nicolaysen said.