County Executive candidates debate land use, transportation, health care
County Executive candidates debate land use, transportation, health care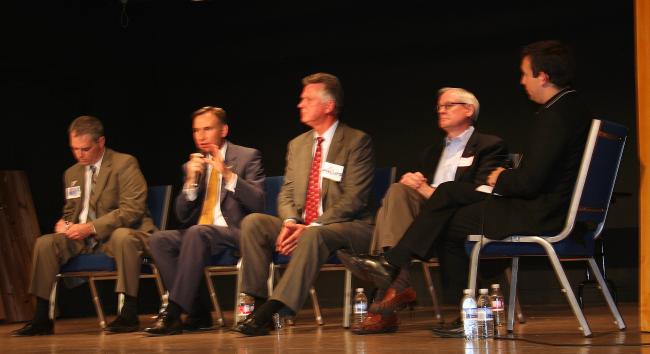 Rose Egge
Tue, 06/02/2009
On June 1 candidates for King County Executive gathered at Fauntleroy Community Church to describe their vision for the county and discuss key issues.
Current King County council members Dow Constantine and Larry Phillips, state Rep. Ross Hunter and state Sen. Fred Jarrett were all in attendance.
Constantine took the opportunity to emphasize his belief that King County's needs to drive down costs by self assessing. He explained that the county needs to encourage employees to find new efficiencies, instead of trying to replicate former actions or budgets.
"We need to be open to innovation that says change is good, not circling the wagon to protect current bureaucracy," said Constantine. "We need to let go of services that are not working."
Phillips stressed the importance of revitalizing and recovering the local and regional economy. He said that it is crucial that major infrastructure projects in the county are accomplished. He used the example of Sound Transit expansion, which he believes would provide jobs and bring federal dollars to the region.
"We are on the cusp of having a mobility revolution and I think we should take advantage of that to help our local economy," said Phillips.
Hunter claimed that the county's greatest problem today is its poor working relationship with the city, and the need to annex all unincorporated areas into cities. He cited the current jail problem as one example of government agencies failing to work together.
"We need, as a county, to get along with the city, to have a joint agenda with the city," said Hunter.
Jarrett described the county as "broken." He stressed the importance of better accounting and management in the county government. He says that accountability will be important in developing an ideal economy.
When asked how they would address the problem of health care that is plaguing the entire nation, each candidate had a different opinion on the important issue.
Phillips stressed that health care is a public safety issue. He noted how he had helped prepare the county for a flu pandemic while on the council, but said that the county needed to be able to provide public health care without funding from the state.
"We're going to find a solution if I'm your King County Executive," said Phillips.
Hunter said that before reaching out to the public for funding, county government needs to convince voters and legislators that it can responsibly manage money, saving money in other places to be spent on health care.
Constantine also said that the county's core functions, including health care, are in danger due to a loss of accountability. He worried that important projects, such as public health clinics, could be lost with state funding.
He added that the state's tax structure, which relies on sales and property taxes, is not sustainable and unfair to persons with a lower income.
Jarrett argues that the county has not focused on the core services of health care in the past, spending tax dollars on requiring nutrition information on menu and banning trans fats. He says the county needs to focus instead on emergency medical services and public clinics.
The candidates were also asked how they can improve the current transportation system.
Hunter said that having choices of transportation modes is important. He said that the county must solve its big structural issues including the 520 bridge and the viaduct. He also wants better coordination between Sound and Metro transit systems.
Phillips agreed that transportation systems with choices are the most effective because they rely less on a highway system. He added that Sound Transit stations need to be a hub for quality urban development.
Constantine also stressed that the county needs to focus on building a transportation system that will support growing communities.
"Light rail is going to lay down frame work for communities that are sustainable for decades to come," said Constantine.
Jarrett said that the county has done well with its capital investments, but that transportation modes need to be better coordinated and connected to one another.
All candidates seemed to agree that unincorporated areas of King County ought to be annexed so that better services are provided to those areas. Constantine emphasized that residents of North Highline should be given the opportunity to vote whether they will be annexed into Seattle or Burien.
Each candidate offers more information on their political Web site. The primary election is August 18.