Mayor announces $8.1 million to fund senior, workforce housing
Mayor announces $8.1 million to fund senior, workforce housing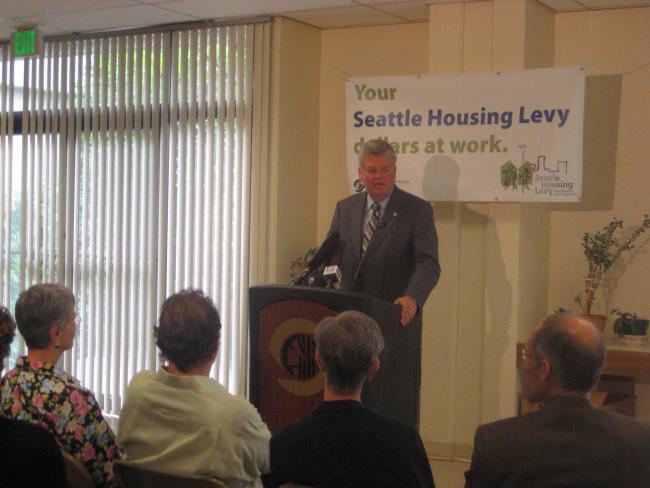 Allison Espiritu
Wed, 07/22/2009
Low-income senior apartments, Meridian Manor, hosted Mayor Greg Nickels as he announced funding that would preserve and rehabilitate 179 low-income senior housing and construction of 70 units of affordable housing for working individuals and families.
A total of $8.1 million would go to those projects, Nickels said Wednesday, July 22.
"We're using the (housing) levy to leverage some additional dollars, federal stimulus and state dollars," Nickels said. "We do that all the time, and typically through our levies we've been able to leverage three to four dollars for every dollar of housing levying we invest."
The funds will help rehabilitate three separate apartment buildings for seniors with annual incomes of less than about $18,000 a year. It will also help with construction of a new apartment building in the Rainier Valley for individuals who make about $35,000 a year and families of three earning about $45,000 a year.
Bill Rumpf, deputy director of the Office of Housing, assisted Nickels in presenting the funding awards and said that they would be committing $3 million from the Seattle Housing Levy for the purchase of Meridian Manor.
Meridian Manor, a 109-unit low-income senior apartment complex located in the Northgate neighborhood, was put up for sale last year with the possibility of being converted into market-rate units. But it was saved and purchased by the Housing Resources Group in October.
"We're investing in this building, putting in new carpeting, furniture, boiler and new roof so it'll be solid and energy efficient," Nickels said.
Eunice Smith, a resident at Meridian Manor for eight years, said she was able to move into the building in a very short time after she lost her job unexpectedly. She said there has been many positive changes since the new ownership and expressed how it gives Meridian Manor's residents hope for the future of their homes.
"We're in a deep recession, but the affordable housing developers in Seattle are making a tremendous impact at keeping the economy going," Rumpf said. "This year there is about $175 million in total development costs of projects that are under construction or will start construction this year."
In addition to Meridian Manor, two additional low-income senior apartment buildings, Reunion House, a 28-unit building on Capitol Hill, and Willis House, a 42-unit building in the Greenlake area, received $850,000 in federal stimulus dollars to complete needed repairs.
Both are owned and operated by the Seattle Housing Authority.
"With this award we will have created 900 of those units ourselves for our own buildings and other non-profits who use them to support those with supportive service needs," Sarah Lewontin, executive director of Housing Resources Group said. "We will make very good use of these funds for every dollar that the city invests in the projects at Seattle Housing Authority ... "
Lastly, an award of $4.26 million went to Housing Resources Group for the construction of the Rose Street Apartments, located in south Seattle.
The Office of Housing awards multi-family funds twice yearly-in the spring and fall-to support the development of affordable housing.
The long-term, low-interest loans are highly competitive, with applications carefully reviewed for financial feasibility, affordability, organizational capacity and how they meet the city's priorities.