Governor, mayor sign agreement on proposed bored tunnel
Governor, mayor sign agreement on proposed bored tunnel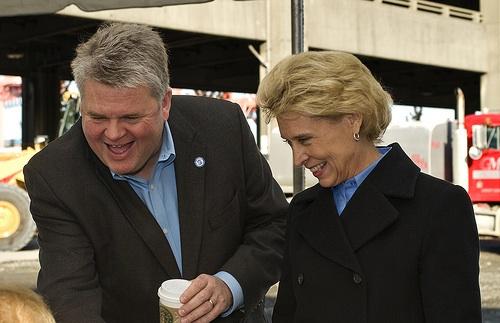 Photo courtesy state transportation department Flickr page
Mon, 10/26/2009
Gov. Chris Gregoire and Seattle Mayor Greg Nickels signed a memorandum of agreement on Saturday, Oct. 24, which outlines the city and state's construction and funding responsibilities to replace the Alaskan Way Viaduct with the proposed bored tunnel.
The Seattle City Council unanimously approved an ordinance on Oct. 19 that endorsed the proposed tunnel and authorized the execution of the agreement.
The agreement establishes a formal partnership between the City of Seattle and Washington state for removing the viaduct along the waterfront, between South King Street and the Battery Street Tunnel. The state will fund the replacement of SR 99 along the waterfront, removal of the remaining viaduct, and construction of a new waterfront boulevard.
The city will improve city streets, such as Mercer Street, replace the central waterfront seawall, relocate utilities, and build new public spaces along the waterfront.
The Federal Highway Administration, state and city are leading the environmental review for the viaduct replacement along the waterfront. A second Supplemental Draft Environmental Impact Statement, which analyzes the bored tunnel and builds upon the previous review of other alternatives, will be published for public review in early 2010.
Similarly, results from this months semi-annual inspection of the viaduct will be released Oct. 30.