SLIDESHOW: Westwood Village's Santa House opens
SLIDESHOW: Westwood Village's Santa House opens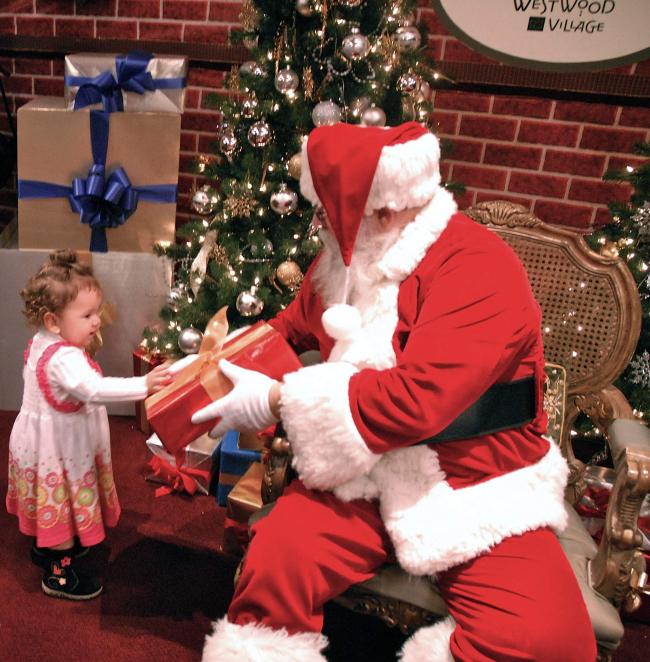 Steve Shay
Thu, 11/19/2009
Westwood Village shopping center presented its first West Seattle Chamber of Commerce After Hours open house. In addition to merchants leaving their doors open and offering food and beverages Thursday night, Nov. 19, the center's Santa House officially opened. It occupies a storefront a few doors east of Bed Bath & Beyond.
Stuart Crandall, Westwood Village property manager, and Patricia Mullen, president of the West Seattle Chamber of Commerce cut the ribbon to Santa's House which Crandall designed and built.
Participating merchants donating food included Wyatt's Jewelers, Chicos, Giannoni's Pizza, Reflections Dental Center, State Farm, Rain Day Spa, the Sub Shop and others.
The White Center Food Bank set out containers to donate food in Santa's House.
Nancy Woodland of WestSide Baby discussed the Santa Diaper Drive which supplies White Center Food Bank and West Seattle Food Bank with diapers. Diaper donations are also accepted at the Santa House.
"We are a neighborhood shopping center and so the whole neighborhood can shop here, said Crandell. "We have seen increased sales and anticipate a busy Christmas shopping season."
Click on the image to see a slideshow of the event.