ArtsWest 2010-11 season to include 5 Seattle premieres
ArtsWest 2010-11 season to include 5 Seattle premieres
Two Broadway hits and a "bloody good musical"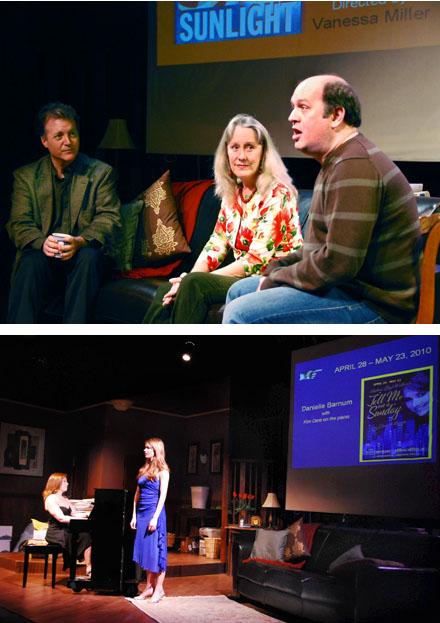 Patrick Robinson
Mon, 03/15/2010
West Seattle's own ArtsWest Theater announced it's 2010-2011 season of plays in a presentation on Mar 15 that was a mix of performance, interviews and discussion and included a performance by Danielle Barnum (with piano by Kim Dare) who sang the theme song, from their next production, Andrew Lloyd Webber's "Tell Me on a Sunday"
Featured in the upcoming season are 5 Seattle premiers including 2009 Tony Award nominee, reasons to be pretty, Evil Dead: The Musical, Emile: La Marquise Du Chatelet Defends Her LIfe Tonight, Distracted and Shipwrecked! An Entertainment. Beyond these a special holiday presentation of A Tuna Christmas will be staged.
"I'm so excited about this coming season, said Alan Harrison ArtsWest Executive Director, "This will be my sixth season, and it's replete with fantasy thrills, and chills, and spectacular stories.
"We've taken on a heavy dose of risk with these seasons of plays that are new to Seattle. But these are plays that fit our mission. We produce conversation, and doing so, offer everyone the chance to dig into the sumptuous buffet of issues in the world around us," Harrison said.
"The next season is full of adventure," said Christopher Zinovitch, ArtsWest's theater and education director, now in his tenth year. "These shows demand intensity and focus, and our three quarter thrust, 149 seat theater is the perfect space for this kind of surreal spectatorship."
"We're not doing this for us. We don't believe in art for arts sake. We believe in art for the sake of the community and the neighborhood around us," said Harrison. "Talk about it...and in doing so you're going to create the environment for yourself that you can make a better world. This is what the arts do really well. They can effect change without causing any harm."
The theater has had record breaking ticket sales every year, "and that's exciting,"Harrison said, "in these days of 'fiscal suckage' it's remarkable that we have the ability to offer a place to people to talk out their ideas in an entertaining way."
The plays
reasons to be pretty by Neil Labute was nominated for a Tony Award on Broadway last year. It will be directed by Katjana Vadeboncoeur and will play from Sept. 8 to October 2, 2010. It's a Seattle premiere. Vadeboncoeur was on hand for the announcement and gave a reading from the play."In this play my favorite part about it is that these characters are not written as they should be, they are written as they are," she said. The play is a story of four friends whose relationships crumble and they are forced to confront a "sea of deceit, infidelity, and betrayed trust in their journey to answer that oh-so American question: How much is pretty worth?"
The play has adult themes, language and situations. It's recommended for ages 17 and older.
Book and lyrics by George Reinblatt, music by George Reinblatt, Frank Cipolla, Melissa Morris, and Christopher Bond. Musical direction by Kim Dare.
Evil Dead: The Musical is set to appear next and it's going to be "A hoot" said Director Christopher Zinovitch. The play, another Seattle premiere, combines elements from three cult classic horror films Evil Dead, Evil Dead 2 and Army of Darkness and combines them to make a crazy theatrical experience. There's even a warning that the first few rows are likely to get blood spilled on them (it's not real blood of course and washes out easily). Where the show has played elsewhere it has become a fan favorite with people showing up in white T-Shirts to better display the blood.
LImbs are dismembered, demons tell jokes, and it is all set to music. Evil Dead does feature adult language, themes, graphic comedic scenes with "lots and lots and lots of blood" and is recommended for ages 15 and up. It runs October 20 - Nov 13, 2010.
For the holiday season ArtsWest presents A Tuna Christmas. This comedy features the citizens of Tuna, Texas in the 24 hours before Christmas as the "delightfully eccentric characters" attempt to cope with seasonal traumas like a disaster prone production of A Christmas Carol and a yard decorating contest being sabotaged by a Christmas phantom.
This is a play for the whole family, recommended for ages 9 and up. Dec 1 -24, 2010
Coming to Artswest in late January is Emilie: La Marquise Du Chatelet Defends Her Life Tonight by Lauren Gunderson and Directed by Susnna Wilson. It's the third of the Seattle premieres. Wilson did a reading from the play during Monday's announcement and explained that the story is based on a real woman who in 1851 chose to become both a mathematician and physicist (when this was not something that women did at the time). She later became romantically involved with the famous French playwright Voltaire. She comes back to life for one night in the play to answer the question she died with: Love or philosophy?, head or heart?
The play has adult themes and is recommended for ages 15 and older.
Distracted appears at ArtsWest in its Seattle premiere Mar 9 through Apr 2, 2011. This play about a modern family is "a riveting gaze at parenting, childhood and for fast answers in the age of Ritalin," It's a comedy that deals with potentially everyone in it having Attention Deficit Disorder. Distracted appeared on Broadway in a very successful run and has adult themes and language. Recommended for ages 15 and older.
The last play announced on Monday, and the fifth of the Seattle premieres will be Shipwrecked! An Entertainment--The Amazing adventures of Louis De Rougemont (As Told By Himself) that appears Apr 27 through May 21, 2011. Three performers enact a dazzling adventure tale using the simple magic of the theater. The title character unfolds a tale of sailing to a South Seas paradise to dive for pearls, evade monsters of the deep, and survive for decades among the natives. Two other actors not only play all 22 remaining roles from a crusty sea captain to a trusty dog the also create a world of live sound effects that bring the story to life. The play is directed by Christopher Zinovitch.
Season tickets are available through the ArtsWest website or through the box office and they have not gone up in price. The total cost for all six plays is $159. For those under the age of 25 the cost is only $48. New this year, ArtsWest is presenting special Friday Night events with themed parties, food, drink and special treats prior to each performance.
ArtsWest is located at 4711 California Ave SW in the West Seattle Junction. The phone number is 206-938-0339.