Ruling on Missing Link suit by April 2
Ruling on Missing Link suit by April 2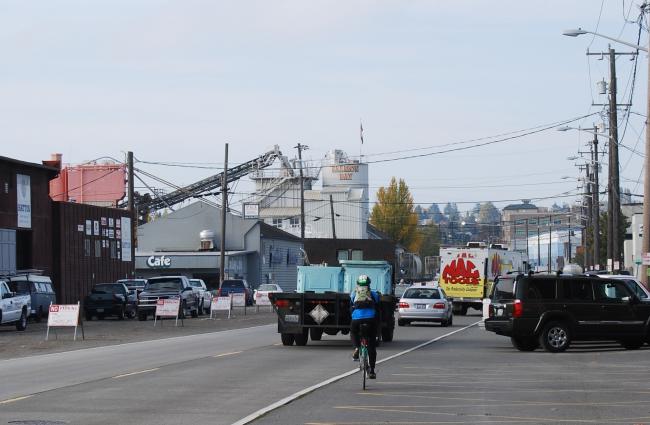 Michael Harthorne
Tue, 03/23/2010
On March 19, the King County Superior Court heard the case between the City of Seattle and representatives of Ballard industries over the completion of the Missing Link of the Burke-Gilman Trail. A ruling will be made in the case by April 2.
The hearing stemmed from a June 15 lawsuit filed by a group of maritime and industrial trade associations and businesses challenging the city's decision no to conduct a State Environmental Protection Act review on the Missing Link, which runs from 11th Avenue Northwest to the Ballard Locks.
The same group of business and industry representatives filed an appeal with the Seattle Office of the Hearing Examiner over the Seattle Department of Transportation's determination of nonsignificance on the environmental impacts of completing the trail in December 2009.
The hearing examiner ruled in favor of the city June 9.
David Hiller, advocacy director for the Cascade Bicycle Club, said neither side has an inside track on what the judge was thinking during the March 19 hearing, and the ruling could go either way.
But, the judge must give extra weight to the hearing examiner's earlier ruling, Hiller said.
In the lawsuit, the plaintiffs are asking the city to conduct the same level of environmental review required of any private applicant, which they don't believe happened.
"The city's decision is just another example of the Seattle Department of Transportation not treating people equally" Eugene Wasserman, president of the North Seattle Industrial Association, told the Ballard News-Tribune in June.
The lawsuit asks the King County Superior Court to order the city to prepare an environmental impact statement for the trail.
The suit was filed by Salmon Bay Sand and Gravel, the Ballard Chamber of Commerce, Ballard Oil, The Ballard Interbay Northend Manufacturing and Industrial Center, the North Seattle Industrial Coalition and the Seattle Marine Business Coalition.
Hiller said if the judge confirms the hearing examiner's decision and rules in favor of the city, Cascade Bicycle Club will be encouraging the Department of Transportation to break ground immediately on the Missing Link, which is planned to run along Shilshole Avenue with temporary routes along Ballard Avenue and Market Street.
The city is facing a second suit filed Feb. 8 over the completion of the Missing Link. The suit was filed against the city by five cyclists asserting they sustained injuries, both physical and fiscal, due to unsafe conditions on Shilshole Avenue Northwest where it curves underneath the Ballard Bridge.