SLIDESHOW: West Seattle Yoga goes to the dogs
SLIDESHOW: West Seattle Yoga goes to the dogs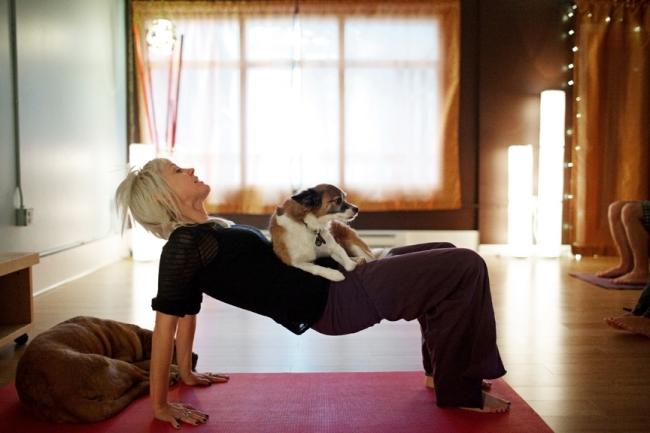 Photo By Keith Daigle
Wed, 09/08/2010
The yoga position downward dog takes on a whole different meaning when you take on of Brenda Bryan's classes.
At her classes it is perfectly normal for the participants to sniff each other and utter the occasional 'whoof!" Bryan teaches a doggy yoga class at her West Seattle yoga studio, which she shares with her business partner and fellow yoga teacher Kelly Page. Bryan is a licensed massage therapist and yoga/Doga instructor.
CLICK THE IMAGE ABOVE TO SEE MORE PHOTOS
She describes Doga as a great way to connect with your dog, as the focus is exclusively on them. When you sit with your dog, or are out walking with them Bryan said the focus is rarely completely on your pet, as you are watching television, or talking to someone on the phone.
Some of the poses in Doga include holding your hand over your heart while your other hand is on your dog's heart. Bryan said Doga gives you a deep connection to your pet.
While most of the pets have a mellow temperament before they do Doga, Bryan said the Doga has a calming affect on the dogs, which can be noticed in their behavior after a couple of sessions.
The creation of Doga happened almost as an accident five years ago when Bryan was volunteering at an event for the Seattle Humane Society. She was giving massages to shelter dogs when she was asked if she would ever teach a doggy yoga class.
Since then she has become recognized as a doggy yoga expert, being asked for poses and advice from people all over the world. She wrote a book of Doga stretches called the Barking Buddha in response to the demand for information.
She was surprised and intimidated by her new status as a Doga expert, she said, as well as a feeling of responsibility.
"If people are expecting me to know what I'm talking about, I want to make sure I know what I'm doing," she said. Bryan took classes on dog obedience, to go along with her knowledge of yoga and massage.
For the first four years Bryan taught Doga in local parks and at the Seattle Humane Society. The West Side Yoga/Doga Studio opened earlier this year, in Februarary. Bryan and Page describe their studio as unique, on their website (westsideyogaDoga.com). "We are a unique studio where we are the only Ashtanga and Doga studio in Seattle and the only Doga studio in the United States."
Page teaches Ashtanga Yoga and Bryan teaches Vinyasa Yoga and Doga. Beginning this Thursday Bryan will teach Doga twice a week, Saturday at 10:30 a.m. and a new Thursday Morning class that begins at 7:30 a.m.
Once a month Bryan and Page have hold fundraisers in their studio, raising money for various dog organizations. They are holding a Hawaiian themed benefit for Old Dog Haven this Thursday, beginning at 6 p.m. There will be hula dancers and a ukulele band, as well as a raffle.
During September West Seattle Yoga is showcasing petraits (or pet portraits) by artist Jessica Creager.