Anti Tunnel group delivers 27,000 signatures to put I-101 on the ballot
Anti Tunnel group delivers 27,000 signatures to put I-101 on the ballot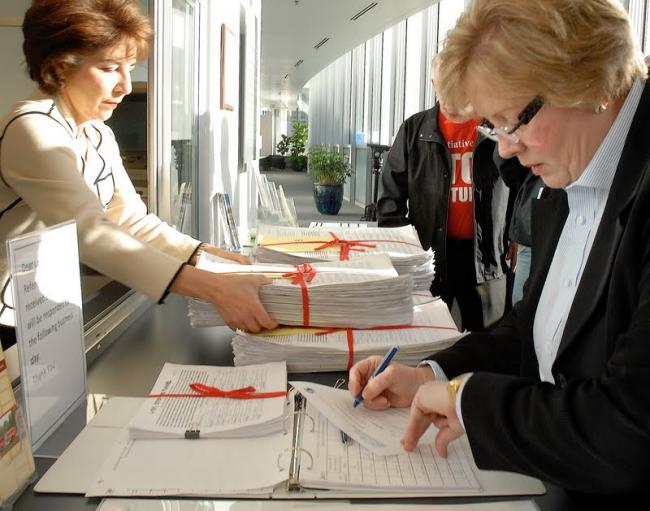 Steve Shay
Tue, 02/01/2011
Signatures to stop the tunnel were turned in yesterday at the community center in Ballard. 20,629 signatures are required to get this initiative on the ballot at the next election but as many as 27,000 signatures were raised.
It was an historic moment in the Alaskan Viaduct Replacement debate.
Seattle Citizens Against the Tunnel (SCAT) actually raised more signatures but 19 kiosks around town were stolen, including one in front of LT Nails on Market Street.
"I don't know who would steal them. They were little wood structures about five feet tall," said Elizabeth Campbell, one of the coordinators of Seattle Citizens Against the Tunnel. "That was fairly expensive."
The signatures were turned over to the City Clerk's Office this morning to place Initiative-101 on a ballot.
"The tunnel is not a done deal, and the future of this project should be decided by the will of the people," Campbell said.
Over the next couple of weeks King County Elections will process the petitons and verify the signatures. At the conclusion of that process, if SCAT does not have enough votes, they will have an additional 20 days to go out and gather a sufficient number of signatures to make up for any deficiency in valid signature numbers.
"We've done really well and validated our signatures as we went along," Campbell said. "We're in good shape. I'm pretty optimistic."
Campbell said this campaign has been a nice thing to be involved with . "It's been good to participate in the democratic process."