Summer's bounty, or please take these tomatoes
Summer's bounty, or please take these tomatoes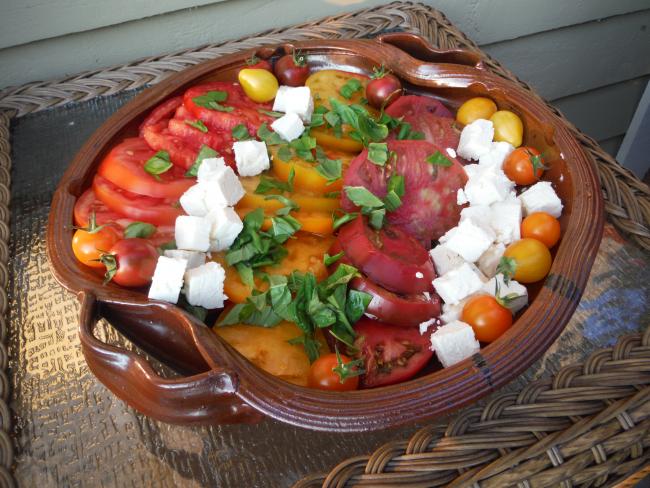 Katy G. Wilkens
Mon, 09/18/2017
By Katy G. Wilkens
Every year I plant too many tomatoes. I try not to, but the little starts look so lonely there in the ground. Someone please remind me next spring that those little sprouts can grow to 6 feet high. 
Tomatoes are a high potassium food, and a diet high in potassium helps control blood pressure. That's the opposite of table salt (sodium chloride), which is also used as a preservative. 
Food manufacturers have begun adding potassium chloride in place of sodium chloride to many prepared foods such as breakfast cereals and organic soups. Check the nutrition label. Many foods advertised as low-sodium include potassium chloride.
Potassium additives in processed foods come with the disadvantages of foods that have been altered from their natural state. Processed foods are generally lower in fiber, lower in antioxidants, contain synthetic vitamins in place of natural vitamins, and are higher in sugar and refined carbohydrates. 
Fresh tomatoes are a healthy, low-calorie way to get all the potassium you need. Try homegrown or farmers market varieties. They are cultivated for their flavor, not just so they transport well. This time of year, eat tomatoes in, and on, everything, while their sweet flavor is at its peak! 
End of Summer Bruschetta
5-6 ripe tomatoes, variety of colors and sizes
¼ cup olive oil
1-2 tablespoons balsamic vinegar
1-2 teaspoons minced garlic
¼ cup fresh basil leaves, rolled and sliced in thin strips
black pepper, to taste
French bread
Heat oven to 450 degrees. Slice French bread, brush slices with light coating of olive oil and toast for about 5 minutes, watching carefully. Meanwhile, dice tomatoes. For a thicker, less seedy bruschetta, put tomatoes in boiling water, remove the skins, squeeze out the seeds and dice the pulp (however, I find that gets rid of the lovely sweet tomato essence I enjoy). 
Mix tomatoes with remaining olive oil, adding more if needed. Add balsamic vinegar, garlic and basil. Grind fresh black pepper over the top, stir and serve. Let guests put the topping on their toast themselves so the bread doesn't get soggy. 
Nutritional Information (serving size: 1 ounce):
Calories: 44, Carbohydrates: 1 gram, Protein: 0 grams, Sodium: 1 milligram
Tomato Feta Salad
5-6 heirloom tomatoes, different varieties, cut in wedges. Cut cherry tomatoes in half
1 green pepper, sliced thinly
¼ purple onion, sliced thinly
1½ cucumbers, sliced thickly and cubed, or cut in half
4 ounces feta cheese, cubed or crumbled
¼ cup fresh basil leaves, rolled and sliced in thin strips 
¼ cup olive oil
½ cup white or clear balsamic vinegar
black pepper, to taste
Cut tomatoes into bite-sized wedges and put in large flat bowl. Add cucumber, peppers, onion, feta and basil. Drizzle with olive oil and white balsamic vinegar. Grind fresh black pepper over the top and toss. Let stand for 30 minutes at room temperature for flavors to develop. Makes 4 servings.
Nutritional Information:
Calories: 214, Carbohydrates: 17 grams, Protein: 4 grams, Sodium: 97 milligrams
The information in this column is meant for people who want to keep their kidneys healthy and blood pressure down by following a low-sodium diet. In most cases, except for dialysis patients, a diet high in potassium is thought to help lower high blood pressure. These recipes are not intended for people on dialysis without the supervision of a registered dietitian. 
Katy G. Wilkens is a registered dietitian and department head at Northwest Kidney Centers. A recipient of the Susan Knapp Excellence in Education Award from the National Kidney Foundation Council on Renal Nutrition, she has a Master of Science degree in nutritional sciences from the University of Washington. See more of her recipes at www.nwkidney.org.
Comments
Thanks for putting this together, gave me a great idea on how to expand an already budding idea? One of the best posts I have read. I loved it. Thanks for sharing with us.
https://www.triumphessays.com/