Good For you: The sophisticated navigator
Good For you: The sophisticated navigator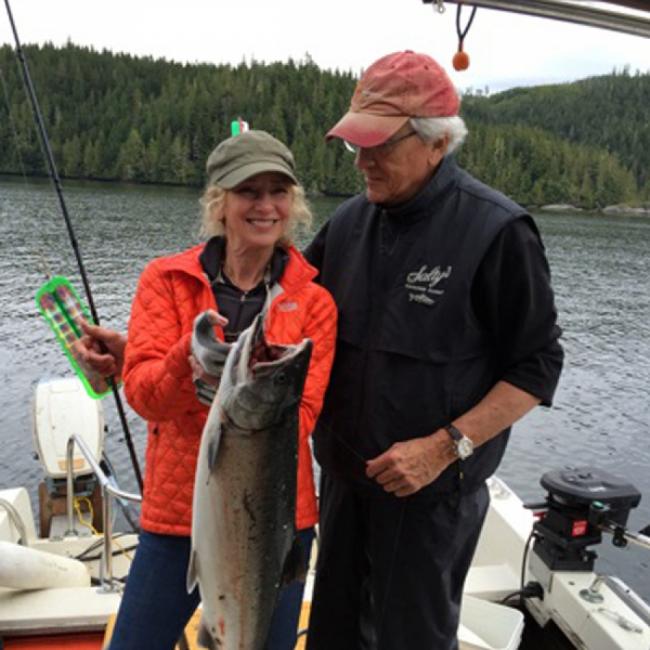 Tue, 10/03/2017
By Kathryn Kingen
I'm going on an exciting and very remote, seventy-mile kayaking trip. On my list of things to pack is a compass, so I can find my way. I won't be able to navigate without one. The Rangers also suggest another important precaution; be sure to brush our teeth very well at night or bear will be able to smell the remnants of food. What?!? Who would ever think that a bears' sense of smell was that sensitive? Well animals in the wild have both these gifts, a sense of navigation and sense of smell and both are paramount to survival. (I guess mine will be too!) 

Salmon are a terrific example of this brilliance, they use both of these skills, their brains' gyro and their keen sense of smell to find their way. Salmon actually imprint, with their internal compass, the place where they are born. This is called geomagnetic imprinting. We don't really understand how this works but it does. For instance, Sockeye salmon from the Fraser River of British Columbia stay in its fresh water for a couple of years after they are born. When they are strong and mature enough they venture out hundreds of miles to the salty waters of the Northern Pacific Ocean, migrating west to the outside of Vancouver Island. This enormous island is 285 miles long and 60 miles wide.
They stay in the Pacific Ocean for a few years until the strong yearning for home overtakes them. At this point, they read their brainy internal compass and begin to navigate the waters to swim hundreds of miles home. Complicating matters is the fact that the Earth's magnetic field is shifting ever so slightly. It used to be that salmon would swim south from the western side of the island to get back to the Fraser River. Now-a-days many of these salmon are swimming north instead. It is believed this is due to the Earth's shifting magnetic fields, their geomagnetic imprinting is so sensitive it helps them understand this. (On my trip, I'll plan to ask a salmon for the best navigation advice.) 

Like the bear, salmon have a highly refined sense of smell. They can smell an essence in parts per billion. When the salmon get close to their river they can "smell" the familiar location of their birth. They love their river so much they want to beget in the same place, so struggle up the currants they do, to spawn in the place they call home. In order to make this huge migrant journey, salmon have to eat like crazy to build up their fat stores. In fact, once their geomagnetic compass finds their river they don't stop for anything, they just swim like crazy. To power this upriver swim, they create enormous fat stores in their flesh. This is what makes salmon one of the most nutritious foods on the planet. It's omega three powerful antioxidant capacities are incredibly anti-inflammatory, mitigating the damage aging does to us. 
Our reverence for salmon, its protection and appreciation are well deserved. Sadly, September is the tail end of the Pacific wild salmon runs. Now is the time to come in and get this fresh delectably wild delicacy or you will have to wait until next spring. Come see how our creative chefs are deliciously honoring the salmon. And follow our Chef Jeremy as he navigates some pretty delicious salmon ideas for you. (Preserving Salmon)
Kathryn Hilger Kingen
Award-winning food blogger, Kathryn Hilger Kingen is Salty's co-owner along with husband Gerald Robert Kingen who founded this seafood restaurant group. Seattle's Eastside magazine 425 readers voted Kathryn Food Blogger of the Year 2015 and 2014! (Read more on 425 Magazine.com). Kathryn has a degree in Nutrition from the University of Washington.
Kathryn Kingen has been blogging about nutrition since the early days of Red Robin - see her first "blog" (they weren't called blogs back then) on "What's the Stuff on Roughage?" You'll want to read it for the recipe Oat Bran Muffins.