Want to make Seattle safer? Take part in the Public Safety Survey
Want to make Seattle safer? Take part in the Public Safety Survey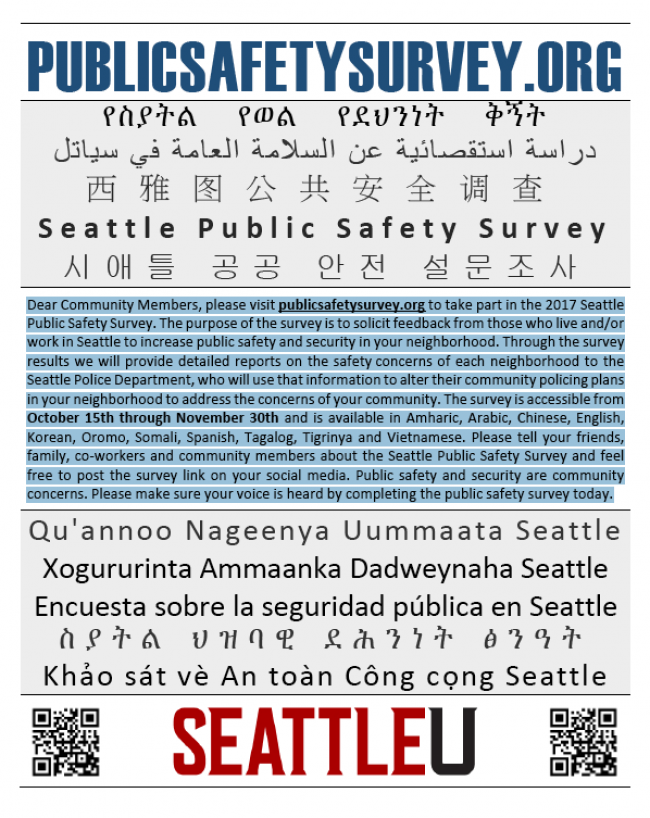 Tue, 10/31/2017
The Seattle Police Department is urging people to visit publicsafetysurvey.org to take part in the 2017 Seattle Public Safety Survey.
The purpose of the survey is to solicit feedback from those who live and/or work in Seattle to increase public safety and security in your neighborhood.
Through the survey results we will provide detailed reports on the safety concerns of each neighborhood to the Seattle Police Department, who will use that information to alter their community policing plans in your neighborhood to address the concerns of your community.
The survey is accessible from October 15th through November 30th and is available in Amharic, Arabic, Chinese, English, Korean, Oromo, Somali, Spanish, Tagalog, Tigrinya and Vietnamese.
Please tell your friends, family, co-workers and community members about the Seattle Public Safety Survey and feel free to post the survey link on your social media. Public safety and security are community concerns. Please make sure your voice is heard by completing the public safety survey today.
Comments
Survey link is broken on the site.