Dishing it up with chef Larkin Young: 10 tips for holiday meal planning
Dishing it up with chef Larkin Young: 10 tips for holiday meal planning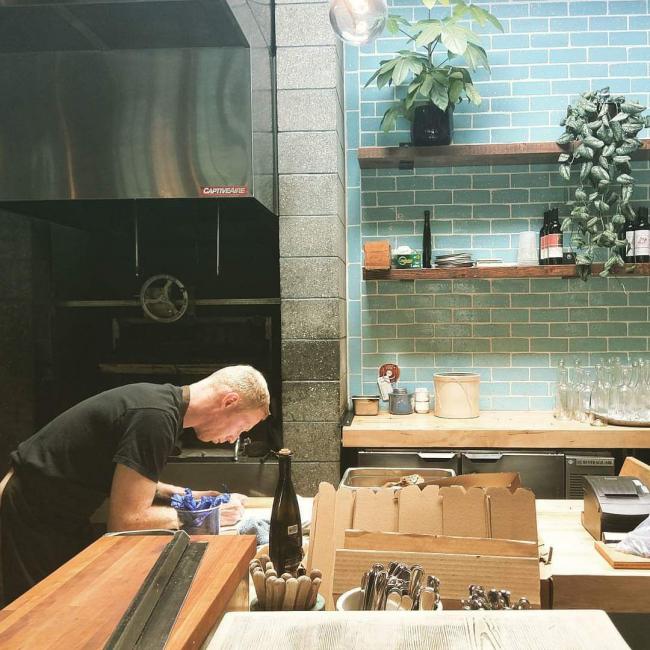 Mon, 12/18/2017
As the holiday season falls upon us, some of us anticipate cooking for our families -- the delicious aromas coming from the kitchen, the hum of conversation and the starry gaze of your guests eyes as they look upon their upcoming feast.
On the other hand, some may not be as eager to step into the kitchen this time of year. There's already enough stress surrounding the holidays -- buying and wrapping of gifts, trimming the tree and decking the halls.
I'd like to pass on a few tips and tricks to help your holiday cooking go a little bit smoother, because no one wants to be cooking and stressing, while everyone else is enjoying themselves.
Here's what I recommend:
Supply light snacks for your guests as they show up and give them a few options to nibble on as the evening progresses. Nothing helps smooth over an awkward moment more than some chips and dip or a veggie plate. These are also easy items to prepare and help to keep everyone from getting "hangry" or overly egg-nogged. Make sure to serve snacks throughout the evening. As we dive into our after dinner drinks and unwrapping of presents , something to nosh on will keep guests from getting too tipsy. Keep your pre- dinner snacks light. Cheese balls, seven-layer bean dip and tamales should be left for another occasion. No one wants to fill up on tasty goodies and miss out on the delicious dinner that someone worked all week preparing. But if your hors deouvres are too filling, that's exactly what they'll do.
Share the work. If you're having guests over, feel free to ask people to bring a dish or a snack. People are often eager to help in any way they can, especially when they don't have to cook the entire meal. Make sure to suggest items for people so you don't end up with two of the same thing at your table.
Don't forget to visit some of your local businesses for your dining needs. On the west side of town, Old Ballard Distilling Company has a quince brandy that is out of this world -- or visit Viscon Cellars to grab the bottle of wine that will wow everyone.
Shop local / shop often / shop early. Hit up your local farmers market to ensure your product is fresh and delicious. Both Ballard and West Seattle have awesome markets on Sunday. Then just grab whatever's left on your list at your local grocery store. Pick up dry goods, pantry items and things from the freezer early – then cross them off the list before the shopping chaos sets in.
Know your limitations. Everyone wants to impress their guests with their expert culinary skills, but sometimes we bite off a little bit more than we can chew. Don't be afraid to use tried-and-true recipes that will always get a standing ovation. Sometimes the best meals are simple – a well-cooked protein, a starch and some vegetables.
Prep and cook ahead of time if possible. The night before the big dinner is the time to get ready for the next day. Cut all your vegetables and assemble long baking items so you can toss them in as soon as you wake up the day of your meal. You can also premix all of your salad ingredients – and then just add the viniagrette right before serving.
To ensure that you don't over shop -- or forget anything -- make a list. Nothing messes up your flow in the kitchen like forgetting something as simple as salt or butter and having to ask a neighbor or cuising back to the store.
As you shop, remember to stay flexible with your ingredients. Sometimes what you need is what everybody else needed and now nothing is left. It's not the end of the world if there's no more Lacinato kale and the only thing left is red Russian kale. Your guests will never know the difference.
Choose your high-dollar items carefully and early. Everyone and their grandmother wants to give the best quality product to their guests, and it's up to you to decide what you'll be serving. Try pre-ordering from local butcher shops. For something extra special, stop by the Swinery and pick up some delicious locally raised meat. Or if you're closer to White Center, head to Meat the Live Butcher.
Clean as you go. No one wants to be left with a mountain of dishes -- and usually someone will offer to help if there are only small amounts left to do. The kitchen is also a great area to engage in conversation giving your guests more places to interact with each other. So why not let them chat with a little dishsoap in hand?
West Seattle chef Larkin Young is all about making cooking fresh, fun and easy. He'll even come to your house if you want to eliminate the work all together. To learn more about his private dining services, special events and classes, visit cheflarkinyoung.com.