Mitzi Johanknecht sworn in as new King County Sheriff
Mitzi Johanknecht sworn in as new King County Sheriff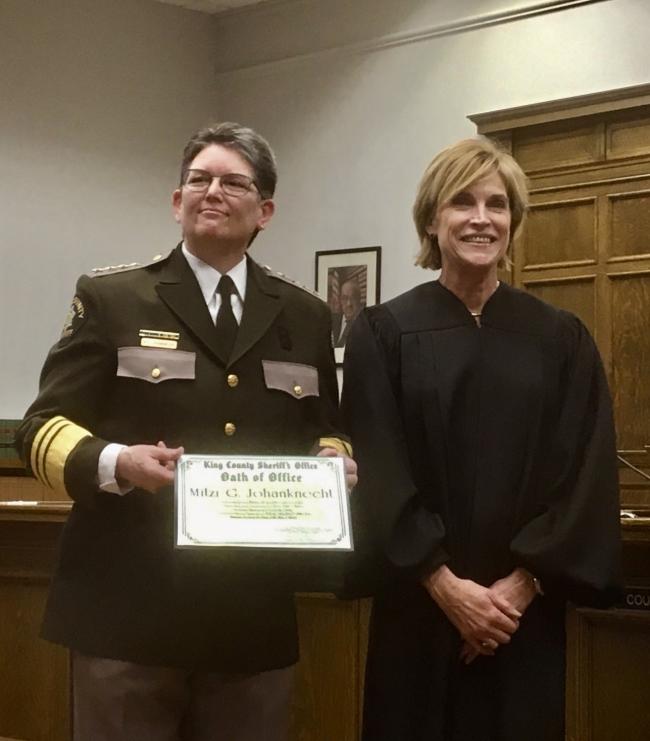 King County Sheriff
Tue, 01/02/2018
The swearing-in ceremony for new King County Sheriff Mitzi Johanknecht took place at the King County Courthouse on Tuesday Jan. 2.
Johanknecht joined the King County Sheriff's Office in 1985 spending her first years at an experimental police substation in Kent, assisting in undercover investigations and serving as a community liaison.
Promoted to the rank of sergeant, she served as the second-in-command at the Shoreline precinct until 1997.
 She was transferred to the Kenmore precinct following controversial comments she made on behalf of a city council candidate. They were considered inappropriate for a high-ranking officer and she was demoted. The transfer led to a protest by her supporters outside Shoreline's city hall.
She was promoted to the rank of Captain in 1998 and went on to become the first female deputy to lead the office's SWAT team.
 In 2013, she was made Commander of the Criminal Investigations Division and the Southwest Precinct in Burien.
Johanknecht lives with her wife Maureen in West Seattle.