Here comes comfort food: Hungarian Goulash and Apple Dumplings
Here comes comfort food: Hungarian Goulash and Apple Dumplings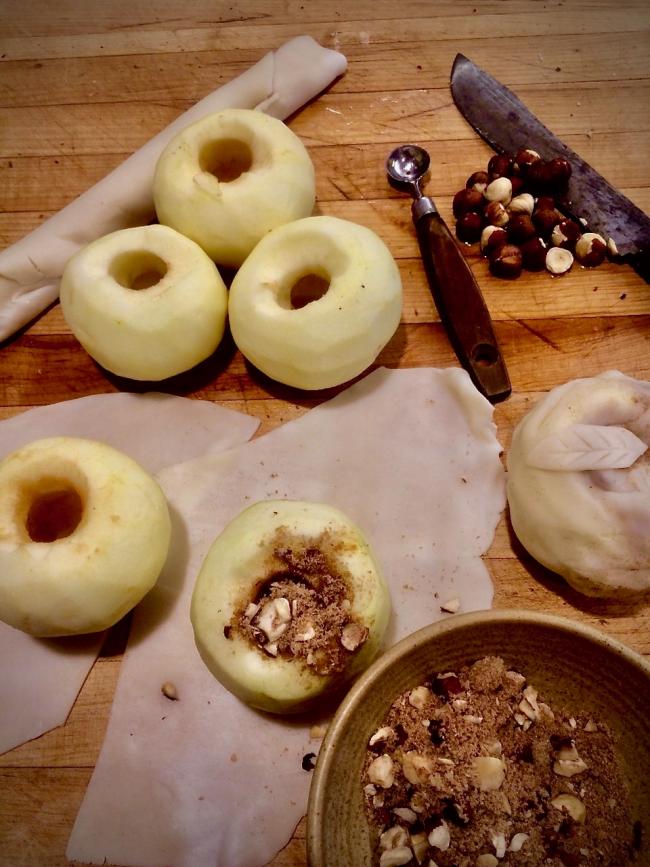 Mon, 01/08/2018
By Katy G. Wilkens
Just when I tire of cooking the same old things, the season changes and my garden is filled with a variety of new choices. Right now I have buckets of squash and apples. I also have a yearning for warmer, more substantial comfort foods. 
One of my favorite fall meals is a goulash made with lots of smoked paprika. I serve it with homemade egg noodles, a salad of late-season kale, goat cheese and figs and a dessert of apple dumplings.  
The secret to this goulash recipe is the onions. Six may seem like a lot, but sautéing them slowly until they are translucent brings out their sweetness. The umami flavor they give this dish means you don't have to add blood-pressure-raising salt, making it kidney healthy. If you make your own broth, this dish will be even tastier and lower in salt. 
This year I got buckets of apples from my Melrose apple tree. Dumplings made with these tart apples taste like apple pie, but they have a lot less sugar and are much easier to make than pie. Let them bake in the oven while your goulash simmers and you watch a harvest moon rise over your garden. 
Hungarian Paprika Goulash
¼ cup butter
2 tablespoons vegetable oil
6 onions, sliced
1 head garlic, chopped
½ cup Hungarian paprika
¼ cup red wine vinegar
3 pounds chuck or round steak, cubed
¼ cup flour
1 can tomato paste
¼ cup fresh thyme or 2 teaspoons dried
2½ cups homemade or low sodium beef or chicken broth
Sauté onions in butter in large saucepan on stove top. You may need to do this in two batches if they don't fit in your pan. Toss cubed meat with flour, add to fry pan with oil and lightly brown. Transfer meat and onions to large pot or large slow cooker. Add all other ingredients. Simmer on very low heat at least 1-2 hours or in slow cooker for 6-8 hours. Serve over egg noodles. This dish freezes well. 
Nutritional Information:
Calories: 34, carbohydrates: 20 grams, protein: 37 grams, sodium: 158 milligrams
Fall Apple Dumplings
6 baking apples
¼ cup brown sugar
1 teaspoon cinnamon
½ cup fine chopped hazelnuts or walnuts
1 package Pillsbury roll-out pie crust
Preheat oven to 400 degrees. Peel apples. Use a melon baller or another sharp tool to hollow out the center of the apples. Mix sugar, cinnamon and nuts. Roll out pie crust and cut into thirds. Set apple on top of crust, fill with brown sugar mixture, fold crust over the top of the apple on all sides, squeezing and stretching crust to cover the apple. Do the same for all apples. Put into glass baking dish and bake about 30-40 minutes. Remove from heat and let cool 10 minutes before serving. Heat leftovers for breakfast the next morning. 
Nutritional Information:
Calories: 330, carbohydrates: 46 grams, protein: 4 grams, sodium: 191 milligrams
The information in this column is meant for people who want to keep their kidneys healthy and blood pressure down by following a low-sodium diet. In most cases, except for dialysis patients, a diet high in potassium is thought to help lower high blood pressure. These recipes are not intended for people on dialysis without the supervision of a registered dietitian. 
Katy G. Wilkens is a registered dietitian and department head at Northwest Kidney Centers. A recipient of the Susan Knapp Excellence in Education Award from the National Kidney Foundation Council on Renal Nutrition, she has a Master of Science degree in nutritional sciences from the University of Washington. See more of her recipes at www.nwkidney.org.