Is kale really that super? 
Is kale really that super?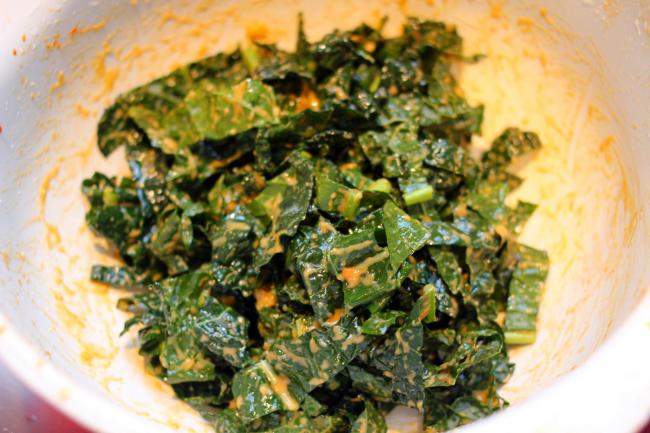 Katy Wilkens
Mon, 01/15/2018
By Katy G. Wilkens
Foods packed with good nutrition, vitamins, minerals, antioxidants and fiber, but low in fats and sugars are sometimes called "superfoods." In truth, they are just whole foods that haven't been processed with lots of additives so their natural nutrition is not compromised. 
Kale is on most people's superfoods list. It's in my garden now because I can harvest it all winter, when most other veggies are long gone. 
Kale comes in many varieties including curly, red and Russian. My favorite is the traditional Lacinato kale, sometimes called dinosaur kale because the leaves are wrinkled and pitted like dinosaur skin. Lacinato kale does well in my winter garden and is great in Italian wedding soup, curried sauteed greens and bruised kale salads. I also grow Russian kale, which I can add to winter salads to perk them up. It's also pretty enough to put in a pot by your front door all winter long. 
One challenge with this particular superfood (and most leafy greens) is that you may not be absorbing all of the great nutrition you think you are getting. That's because of phytates. They are the natural compounds in leafy greens that bind with certain dietary minerals including iron, zinc, manganese and calcium, and slow their absorption. Your body will absorb only about one-quarter to one-third of the minerals. 
If you tried to get all of your iron from a similar, leafy green such as spinach, you would need to eat about 12 cups of cooked spinach each day. The fiber, vitamin A and C and other nutritents you get from kale are real. But you don't get all the nutrition you need from it. 
Though not glitzy or glamorous, the best way to be sure your diet is healthy is to eat a wide variety of foods in moderation. You'll be off to a good start by cooking up a beautiful dish of winter kale. 
Curried Kale
4 cups of Lacinato or other kale, sliced lengthwise, then chopped. 
1 tablespoon oil
½ yellow onion, sliced 
1 teaspoon curry powder or garam masala
1 teaspoon turmeric
½ cup water or low-sodium chicken broth
¼ cup rice vinegar
1 tablespoon low-sodium soy sauce 
2 tablespoons sesame seeds
Dash of sesame oil 
Wash kale and cut out the tough, central ribs of the leaves. Slice in long strips, and then cut crosswise about every 3 inches. 
Saute onion in oil until translucent. Add curry powder or garam masala and turmeric, and let roast a minute or so. Add kale and water or chicken broth. Cover and watch. If it needs more liquid, add ¼ cup water. Keep covered, and stir occasionally until kale turns bright green and wilts. Don't overcook (kale will turn very dark). Remove kale from pan, leaving juices behind. Add rice vinegar, soy sauce and sesame seeds. Stir until sauce thickens and sesame seeds start to pop. Remove from heat, stir in sesame oil, pour over kale and serve. Makes 4 servings.
Nutritional Information:
Calories: 72, Carbohydrates: 5 grams, Protein: 2 grams, Sodium: 166 milligrams
The information in this column is meant for people who want to keep their kidneys healthy and blood pressure down by following a low-sodium diet. In most cases, except for dialysis patients, a diet high in potassium is thought to help lower high blood pressure. These recipes are not intended for people on dialysis without the supervision of a registered dietitian. 
[Katy G. Wilkens is a registered dietitian and department head at Northwest Kidney Centers. A recipient of the Susan Knapp Excellence in Education Award from the National Kidney Foundation Council on Renal Nutrition, she has a Master of Science degree in nutritional sciences from the University of Washington. See more of her recipes at www.nwkidney.org.]
Here's another story on kale: https://happydiyhome.com/lacinato-kale/