Reach for the rhubarb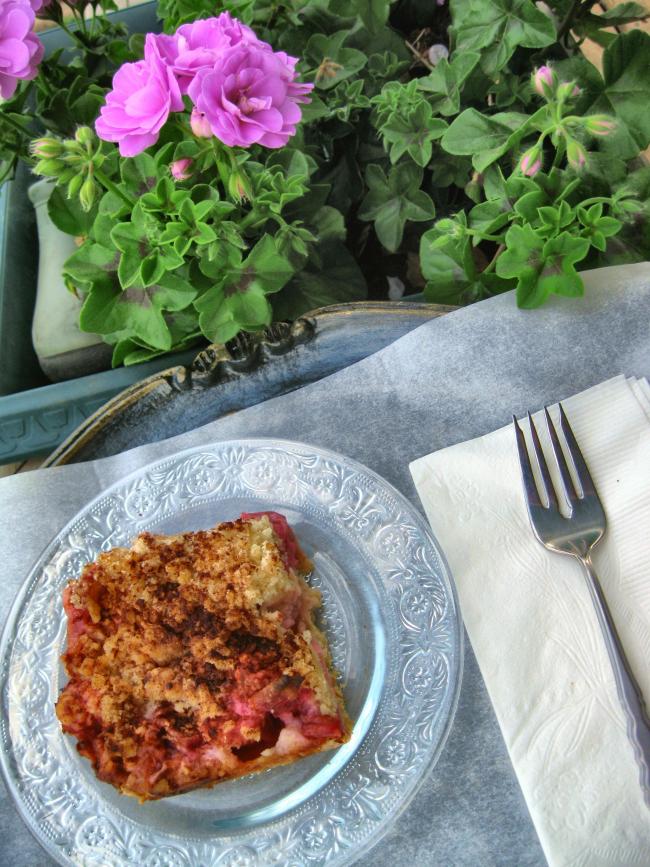 Mon, 05/14/2018
By Katy Wilkens, MS, RD
Did you know that rhubarb is actually a vegetable? Many people are surprised as they're familiar with it being used in desserts.
The extremely tart stalks are the only edible part of the plant; the leaves contain poisonous oxalic acid and should always be snipped off and discarded. Although rhubarb looks like an exotic tropical plant, it prefers a cool climate, like the one we have here in the Pacific Northwest. Now is a great time to find rhubarb at your neighborhood farmers' market or grocery store.
Low in calories and low in starch, this high-fiber food is a good source of magnesium, vitamins C and K, calcium and manganese. A half of a cup serving is low in potassium, which is good for people who have kidney disease and need to watch their potassium intake.
Rhubarb can be stewed or used to make jam, fill pies, crisps or tarts. It can also be mixed 1-to-1 with strawberries or apples and is delicious when flavored with grated orange peel, ginger or cinnamon.
Intrigued? Here are some recipes to enjoy.
Rhubarb Chutney
A sweet and tart condiment, use it like applesauce with meats and poultry.
2 pounds fresh rhubarb, chopped
2 cups onion, chopped
1-1/2 cups brown sugar
2 teaspoon cinnamon
1 teaspoon ground ginger
1-2 teaspoons ground cloves
1 cup vinegar
Combine ingredients in large, heavy saucepan. Cook until thickened, stirring often (about 30 minutes). Refrigerate and use within a month or two, or pack into hot sterilized jars and cover with canning lids. Set aside to seal. Makes 2 pints.
Rhubarb Squares
1 cup all-purpose flour
3/4 cup oatmeal
1 teaspoon cinnamon
1 cup brown sugar
1/2 cup unsalted butter, melted
4 cups rhubarb, chopped
1 cup granulated sugar
1 cup water
3 tablespoons cornstarch
Preheat oven to 350 degrees. Mix flour, oatmeal, cinnamon and brown sugar together. Add melted butter and mix until crumbly. Press 2/3 of the mixture into a 9-by-9-inch baking pan. Cover with chopped, raw rhubarb. Combine sugar, water and cornstarch in a small saucepan, and then boil for one minute or until thickened. Pour over rhubarb. Sprinkle remaining crumb mixture over top. Bake 1 hour. Cut into 12 squares.
Rhubarb Custard Pie
Make a two-crust pastry using your favorite recipe.
Filling
3 eggs, beaten slightly
3 tablespoons milk
4 cups rhubarb, chopped
2 cups sugar
1/4 cup flour
3/4 teaspoon nutmeg
1 tablespoon butter
Preheat oven to 375 degrees. Mix together eggs and milk. Set aside. Microwave the rhubarb: if fresh, microwave for 3 minutes; if frozen, microwave until soft. Add the rhubarb, sugar, flour and nutmeg. Combine the two mixtures and pour into prepared pastry. Dot with butter.
Moisten rim of bottom crust with water and then add the top crust. Press crusts together by pinching around the edges. Cut vent holes into the top crust. Place the pie pan on a cookie sheet covered with foil for easy cleanup. Bake for approximately 40 minutes.
The information in this column is meant for people who want to keep their kidneys healthy and blood pressure down by following a low-sodium diet. In most cases, except for dialysis patients, a diet high in potassium is thought to help lower high blood pressure. These recipes are not intended for people on dialysis without the supervision of a registered dietitian.
[Katy G. Wilkens is a registered dietitian and department head at Northwest Kidney Centers. A recipient of the Susan Knapp Excellence in Education Award from the National Kidney Foundation Council on Renal Nutrition, she has a Master of Science degree in nutritional sciences from the University of Washington. See more of her recipes at www.nwkidney.org.]