His kidney cancer began at age 4
His kidney cancer began at age 4
It's National Kidney Month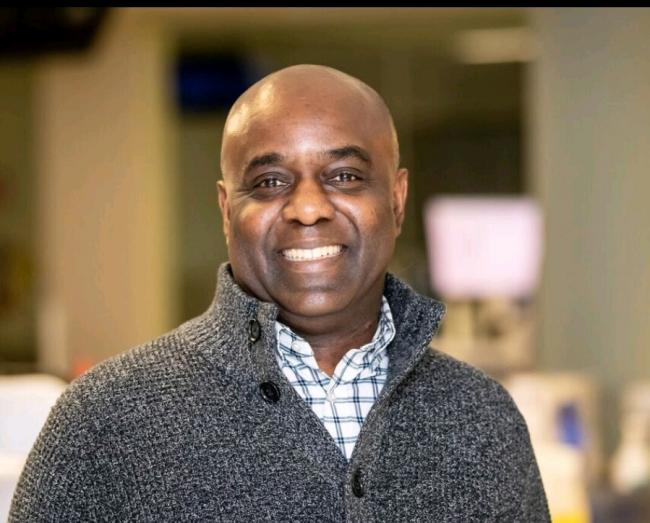 Mon, 03/11/2019
By Cynthia Flash
When Pierre Newsome was in high school in Anchorage, Alaska, he looked forward to a promising college basketball career – and perhaps even a chance at the NBA.
But the kidney cancer that he developed at age 4 started getting in the way and colleges were concerned. The All-American basketball player eventually landed a spot on the Seattle Pacific University team. But his kidneys failed his sophomore year. He ended up back in Alaska on kidney dialysis four hours a day, three days a week.
The most common treatment for kidney failure, dialysis is an artificial system that does the work kidneys no longer can do: remove waste and extra fluids from the body. In addition to requiring patients to be in a dialysis center for four hours a day, three days a week for treatment, dialysis often leaves patients fatigued.
Fast forward to today. Pierre now lives in West Seattle, enjoying life two decades after receiving a transplanted kidney donated by his pastor. He's married with an adult son and two teenage daughters and is running two businesses – a professional staffing agency and a mobile notary service. That business offers notary services to patients of Northwest Kidney Centers, where Pierre received dialysis treatment in the mid-1990s.
These notary services are for patients needing to sign power of attorney documents or documents declaring how they want to be treated at the end of their lives.
"I say `yes, I was in the center' and even show them the scars on my arms when I had my fistula (a surgical implant that allows for easy access to the bloodstream). They say 'oh wow.' I tell them to hang in there, I've had a transplant for 22 years."
Pierre said it's sometimes challenging to go back to the dialysis clinic where he used to receive treatment. "There are a lot of physical memories you have and mental memories of being depressed, being down. The physical part is you don't have energy, you're tired all the time. But once I get over myself, I can relate to the person in front of me and have a conversation. I'm not a random person, I have experience."
Pierre returned to school after his transplant to earn his undergraduate degree and Master of Business Administration. Then he started his two businesses. "All this I was able to do because of having a transplant."
This month Pierre is commemorating National Kidney Month, and is working to raise awareness of kidney disease, which affects one in 10 people. Those at highest risk include anyone with diabetes or high blood pressure, those who have a relative with kidney disease, those who are overweight or over age 60, those who are of African, Asian, Pacific Islander, Native American or Hispanic descent.
Anyone who is at risk should talk to their doctors and get tested. Kidney health tests are simple and inexpensive: a blood test, urinalysis and blood pressure measurement. Other ways to keep kidneys healthy are to reduce salt, avoid over using over-the-counter pain medications such as ibuprofen, and to stay fit.
Find more information about kidney disease prevention and treatment at www.nwkidney.org.
Comments
This was a very touching and inspirational article. I know Pierre Newsome I went To High School With Him And We Both Played Basketball At West Anchorage High School Where We Won The State championship In 1988. Back I Had Heard Of Pierre's Kidney Situation, I Wanted To Ask Him Questions But I Was Afraid That It May Have Made Him Feel Uncomfortable. P Was Our Star Guard So As A Teammate I Respected Him And I Always Tried To Do My Best For Him And Coach Cleveland Zachery While Out On The Court. It Feels Good To Still Be In Contact With Pierre After So Many Years Plus Its Great To See Him Prospering And Helping Others. Best Wishes To The Newsome Family Always.
Sincerely
Andre McDonald (Dre' Rock)
Margurite McDonald Music
mmcdonaldm71@gmail.com
drerockmusic.com
This is very inspiring and a testament to perseverance and desire to help others. Pierre Newsome is providing a bright light to those in need of encouragement and hope.
Add new comment