Great Escapes: Liberty Bell Mountain looms above pass
Great Escapes: Liberty Bell Mountain looms above pass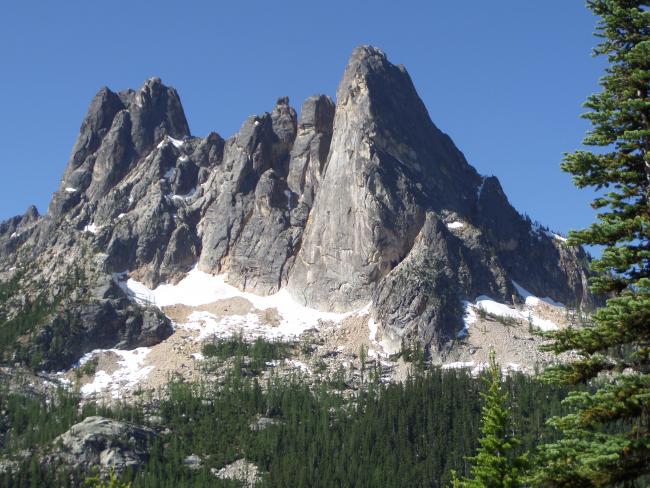 Tim Clinton
Thu, 07/02/2020
By Tim Clinton
SPORTS EDITOR
When most people hear the phrase Liberty Bell, they think of a giant cracked bell in Philadelphia.
But to many travellers in the state of Washington it is an even more gigantic monolith known as Liberty Bell Mountain on the North Cascades Highway. It towers above Washington Pass on Highway 20, with the northern portion of the natural granite structure resembling its patriotic namesake in Pennsylvania.
You can see the mountain looming for miles ahead, with the best place to stop being the Washington Pass Overlook.
It is partway up the mountain but out a ways, presenting a view of the east side of the mostly north-south running ridgeline.
Technically the whole cathedral like cluster of spires is known as the Liberty Bell Group.
Liberty Bell is the tallest point on the right from the overlook, standing at 7,720 feet above sea level. The Early Winters Spires South stands out like a lookout tower on the left side, with the Concord Buttress in between. The overlook is at the end of a short pull off road and features a wide parking area and a short walk to the viewpoint.
The spires stand like a lure for very adventurous climbers.
Liberty Bell's peak was not reached until 1946, when the trio of Fred Beckey, Jerry O'Neal and Charles Welsh made the ascent.
The Liberty Bell Group stands out at the head of the Methow Valley, with the overlook also offering a view down toward Mazama and Winthrop.
Liberty Bell and it's neighboring spires can be viewed the best going east to west on Highway 20 from the Methow Valley, although the Washington Pass Overlook itself can be accessed going west to east from I-5 near Burlington.  From there you go through Sedro-Woolley, Concrete and Newhalem and between the portions of North Cascades National Park.
The North Cascades Highway is now open after being closed for the winter.