Seattle Police Chief Carmen Best resigns after 28 years with the department
Seattle Police Chief Carmen Best resigns after 28 years with the department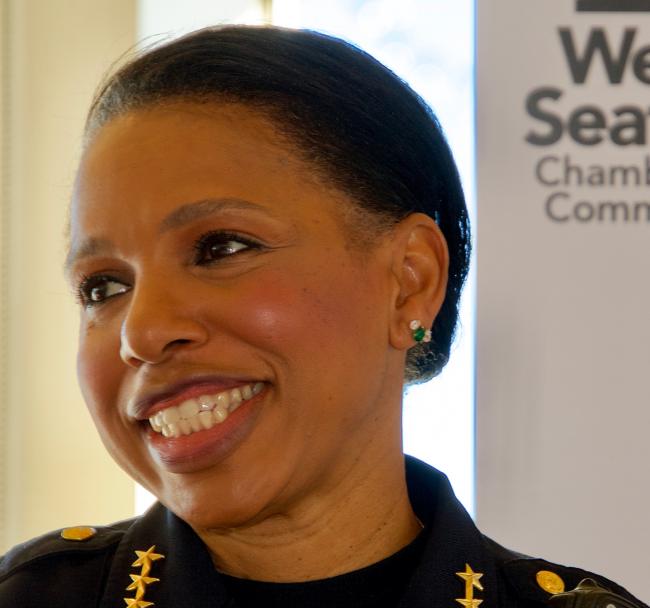 Tue, 08/11/2020
After working for the Seattle Police Department for 28 years Carmen Best announced she will resign effective Sept. 2. This follows the historic vote by the Seattle City Council on Monday. She was the first Black police chief in the city's history. She became chief of police on Aug. 13, 2018.
Here's the the text of the letter she wrote to her department:
"To the Women and Men of the Seattle Police Department –    
"I wanted to notify you that I will be retiring from the Seattle Police Department, effective September 2nd, 2020. I wanted you to hear this from me, but some media have reached this conclusion on their own.   
"This was a difficult decision for me, but when it's time, it's time.  
"I want to thank Mayor Durkan for her continuous support through good times and tough times.
"I am confident the department will make it through these difficult times. You truly are the best police department in the country, and please trust me when I say, the vast majority of people in Seattle support you and appreciate you.   
"I am impressed daily at your skill, your compassion, and your dedication. I am thankful my command team has agreed to continue serving the department, and that Mayor Durkan has appointed Deputy Chief Adrian Diaz as the interim Chief of Police. Chief Diaz shares my commitment to this department and has the trust of the community.   
"I look forward to seeing how this department moves forward through the process of re-envisioning public safety. I relish the work that will be done by all of you. 
"After more than 28 years, I am so thankful for the time I spent at SPD. You are my family. You will always be in my heart. We have had tough times before and come out better on the other side. I am glad I pushed through each of those tough times with you.   
"I am grateful for the opportunity to have served as your Chief.  
"Remember to take care of one another."
Seattle Mayor Jenny Durkan also issued a response to the news, saying in part: 
"Know that while I understand the Chief's reasons, I accepted her decision with a very heavy heart. I have had the privilege to be with Chief Carmen Best in so many situations: with her family, at roll calls, in community meetings, and in nearly weekly meetings addressing public safety in Seattle. Her grit, grace and integrity have inspired me and made our city better. These last months, I knew Chief Best was the person to lead our city through this challenging time, to reimagine policing and community safety. Her leadership is unmatched nationwide, which is why it is a sad day for our City to lose her.
"Carmen Best is still devoted to this department and our city. I regret deeply that she concluded that the best way to serve the city and help the department was a change in leadership, in the hope that would change the dynamics to move forward with the City Council." 
The City of Seattle provided this press release on the matter
Following the announcement by Chief of Police Carmen Best that she would be retiring from the Seattle Police Department, Mayor Jenny A. Durkan thanked the Chief for her tremendous contributions to our community through her nearly 30 years of service to the people of Seattle. In addition, the Mayor has appointed Deputy Chief Adrian Diaz to serve as Interim Chief of Police beginning in September.
"For almost 30 years, Chief Carmen Best has worked to serve and protect the people of Seattle. She rose through the ranks during a time when doing so was unprecedented and extraordinary for a woman – particularly a Black woman. She defied institutional barriers and always sought to lift others up along the way. Over the course of her career on the force, she established herself as a national leader in community-based policing and I believed she was the person to help lead our City forward to truly reimagine policing. While I understand the Chief's reasons for retiring, I also accept her decision with a heavy heart. I believe she has been the leader Seattle and SPD needs and her retirement will be a significant loss for me and the city. I hope that going forward, all of Seattle can engage in hard and necessary conversations about policing and community safety and that we can do so from a place of mutual respect - even when we disagree," said Mayor Durkan.
"I want to thank Mayor Durkan for the opportunity to serve as Chief of the Seattle Police Department. After nearly three decades serving the people of Seattle, it was an honor to do so as Chief. I truly love the Seattle Police Department and the people who choose to serve their community as members of a national leader in modern, community-based policing. I have such a deep connection to this city and to so many people who call it home. I want to thank them for their support as well. I know interim Chief Adrian Diaz will continue and enhance SPD's commitment to being a part of the community. He is a proven leader in working with community, and he will work tirelessly to push this department forward," said Chief Best.
Chief Best made great strides in changing the culture and performance of the Seattle Police Department. Under her leadership the department completed the requirements of the sustainment period of the federal consent decree. She implemented the Collaborative Policing Bureau and oversaw the relaunch of the City's Community Service Officers. She regularly met with community members and worked to advance a customer service approach to policing. She led the department toward a dramatic reduction in use of force against people in crisis as well as a decreased major crime rate in 2019. In addition, she fulfilled a mandate from both the Mayor and Council to hire more diverse officers and in 2019, the department hired its most diverse class in recent memory at 39 percent people of color. And, to ensure officers were at their best and committed to serving the community for years to come, she launched the department's first wellness unit.
Mayor Durkan has named Adrian Diaz Interim Chief of the Seattle Police Department (SPD), effective September 3, 2020. This interim position does not require Council confirmation. Deputy Chief Adrian Diaz has been a dedicated member of the Seattle Police Department for more than two decades. His work building relationships can be seen across the department and in every neighborhood in Seattle. Deputy Chief Diaz served as the Assistant Chief of the Collaborative Policing Bureau, overseeing community outreach, crisis intervention, community service officers, and other partnerships, before assuming the deputy chief position.
"Seattle is fortunate to have Deputy Chief Adrian Diaz as the person stepping into the position. I have seen his deep engagement in community. Serving nearly two decades in the department, Deputy Chief Diaz has led the innovative Collaborative Policing Bureau and he will work with community members and officers to protect community safety and reimagine policing in Seattle," said Mayor Durkan. 
"I am honored to be asked by Mayor Durkan to lead the Seattle Police Department," said Deputy Chief Adrian Diaz. "I have had the privilege to learn from Chief Best and so many other amazing national leaders in policing. My career has been marked by a deep commitment to community engagement, and that will continue to be my focus while I serve in this role. I believe the Seattle Police Department has some of the best police officers and civilians in the country. I will turn to them – and the community – for advice and guidance as we engage in what hopefully will be an inclusive conversation about the future of community safety here in Seattle. My commitment will be to ensure the Seattle Police Department provides equitable justice for all."
Deputy Chief Diaz began his career in Patrol and served with the Bike Unit and as an undercover officer with the Anti-Crime Team before joining the Investigations Bureau. Throughout his career, he has been an architect of several citywide youth violence reduction initiatives, and was instrumental in setting up the partnership with the Alcohol, Tobacco, Firearms and Explosives Puget Sound Crime Gun Task Force.
Deputy Chief Diaz holds a B.A. in criminal justice from Central Washington University and a master's degree in Public Administration from the University of Washington. He has completed the Cascade Executive Program, the Senior Management Institute of Policing, and the Police Executive Leadership Institute. Deputy Chief Diaz has also authored numerous national publications in community policing and juvenile justice.
Following 2021 budget deliberations later this year, the Mayor will announce next steps for a search process for the next Chief of Police.
AUDIO: Chief Carmen Best, Mayor Jenny Durkan and Deputy Chief Adrian Dias Press Conference