King County Parks Family Spooky Town Grab and Go is coming up Sat., Oct. 24
King County Parks Family Spooky Town Grab and Go is coming up Sat., Oct. 24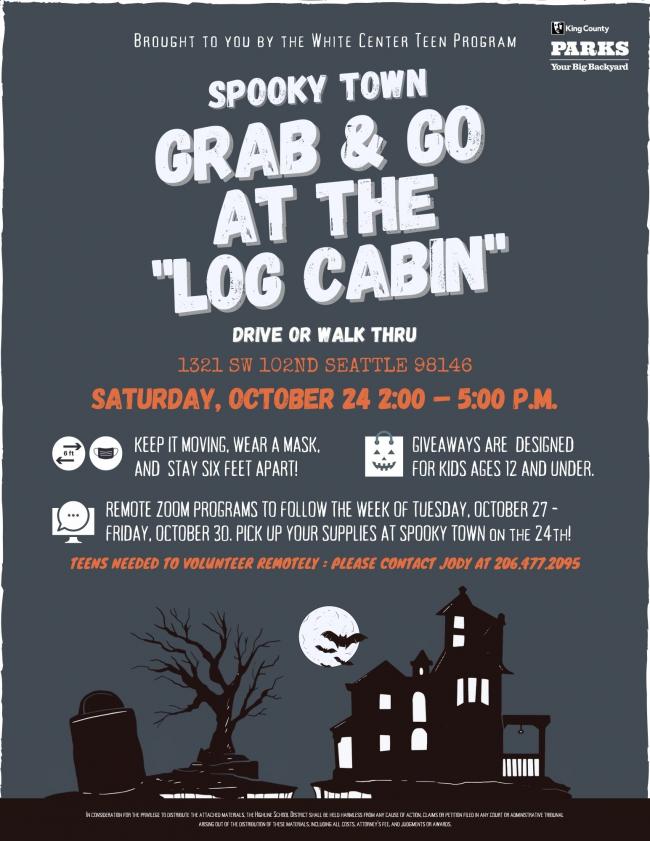 Wed, 10/14/2020
King County Parks Family Spooky Town Grab and Go is coming up on Saturday, October 24th from 2-5pm at Steve Cox Memorial Park (1321 SW 102nd st 98146.)
In lieu of the Annual King County Parks Halloween Carnival, this year the White Center Teen Program is hosting a FREE outdoor Grab and Go distribution extravaganza! Over thirty teens are volunteering remotely to help decorate the park, and families are invited to drive or walk thru (following all social distancing best practices) on the 24th.  In addition to the Grab and Go, families are also invited to join us the following week to participate in a series of remote Spooky Town zoom programs.  
SPOOKY TOWN GRAB and GO on Saturday, October 24th from 2-5pm
Families are welcome to drive or walk thru the park to pick up goodie bags packed with face masks, DIY arts and crafts projects, official Spooky Town slime, candy, prizes and even pumpkins (while supplies last.)  Families walking through the Park can also keep it moving through a "Pumpkin Patch Maze" on the outdoor basketball court, a Dragon Eye hunt on the multipurpose field, the I Spy Spooky Town Adventure in the windows of the Log Cabin, and a step and repeat photo opportunity on the steps of the Historic White Center Field House.
SPOOKY TIME REMOTE PROGRAMS  between October 27th – 30th
Pick up the full schedule of remote Spooky Town programs during the Grab and Go on the 24th.  Highlights to include:    
Not so Spooky Stories from the WCTP staff and special guests on Tuesday, October 27th

Fun At Home Fall crafts and games on Wednesday, October 28th

Spooky Magic Show" with the amazing Jeff Evans on Thursday, October 29th

October Bingo with Manny and Sunny on Friday, October 30th
This year's festivities are sponsored by the Teens and Staff of the White Center Teen Program. The WCTP offers free recreational, educational and social enrichment programming to youth ages 12-19 between Tuesday – Saturday from 3-8pm.  The WCTP is currently offering remote programs as well as 1:1 in person assistance with homework help and job readiness.
For additional Information, please contact Vana Danh at 206.477.2105