Sportswatch
Sportswatch
Sporting events worth keeping an eye on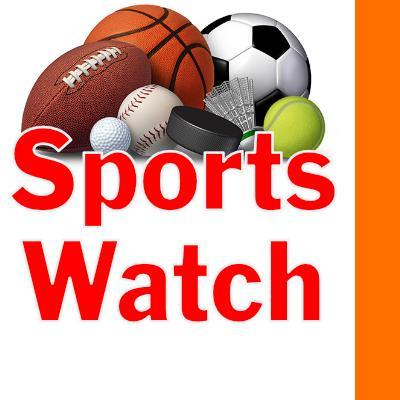 Mon, 01/25/2021
By Tim Clinton
SPORTS EDITOR
Colleges
Husky men
Next up for the University of Washington men's basketball team is a 5 p.m. Sunday home game against Washington State University that can be seen live on the Pac-12 cable television network.
The Huskies won their second game of the year last Wednesday, knocking off Colorado by an 84-80 score.
Marcus Tsohonis tallied 27 points off the bench to lead the UW to victory.
Erik Stevenson scored 17, Jamal Bey 14 and Quade Green 11.
Green led with four assists and Stevenson tied Nate Roberts for the rebounding lead at seven apiece.
Washington followed up by outgunning Utah by an 83-79 score Sunday.
Bey led the way with 28 points as Green hit 20 and Stevenson 18.
Roberts led with seven rebounds and Green with four assists.
Bey was named as the Pac-12 Player of the Week.
Husky women
Washington gets a visit from No. 1-ranked Stanford at 1 p.m. Sunday on the Pac-12 network.
The Huskies journeyed to Oregon to play the Ducks Sunday and took a 69-52 loss.  It was their first action after a three week layoff for Covid protocols.
"We had a tough time finding our rhythm the first half with some uncertainties," said UW head coach Jody Wynn.
Haley Van Dyke led with 13 points and had six rebounds and three steals, while Tameiya Sadler hit 10 points and had seven rebounds, four steals and four assists.  Darcy Rees also scored 10.
Cougar men
Washington State University pays a 6 p.m. Wednesday visit to Colorado before going to the University of Washington for a 5 p.m. Sunday game on Pac-12 cable.
Noah Williams sank 17 points and Efe Abogidi 12 as the Cougars went down to a 71-56 home loss to Utah this past Thursday.
WSU took a 70-59 loss to Colorado this past Saturday.
Isaac Bonton led with 21 points and Williams swished in 16.
Cougar women
Top-ranked Stanford visits the Cougars at 6:30 p.m. Wednesday and Friday and California comes to Pullman at noon Sunday.
WSU took a 58-50 loss at Oregon on Friday.
Charlisse Leger-Walker led with 24 points, eight rebounds and three steals.
Krystal Leger-Walker tallied 23 points and Charlisse Leger-Walker 22 as the Cougars defeated Oregon State in double overtime Sunday, 77-75.
Cherilyn Molina added 15 points.
Redhawk men
Seattle had this coming Friday and Saturday's home games against Chicago State cancelled by Covid issues.
Covid also wiped out this past weekend's action
Redhawk women
Seattle U cruised to an 86-54 win over Tarleton State Friday, led by the 20 points of McKenzi Williams.
Hailey Vice-Neat was next with 17 as Bree Calhoun finished with 14.  Irena Korolenko and Georgia Kehoe added 10 apiece.
The Redhawks dealt the same team a 59-47 defeat the next night.
Calhoun, Kehoe, Korolenko and McKenzi Williams led with nine points apiece.
Seattle visits Chicago State for action at 1 p.m. Friday.
Falcon men
Seattle Pacific University hosts Lewis and Clark for games at 6 p.m. Wednesday and Thursday of this week at Royal Brougham Pavilion.
SPU scored a 91-80 victory at Saint Martin's last Wednesday.
Kelton Samore led with 25 points and nine rebounds.
Sharif Khan scored 18 points as Mehdi El Mardi hit 13 and Zack Paulsen and Harry Cavell 11 apiece.
Divant'e Moffitt and Cavell led with seven assists each.
The Falcons used a balanced scoring attack in topping Saint Martin's again Thursday, 70-62.
Samore scored 13 along with Cavell and Khan as Paulsen hit 11 and Moffitt 10.  El Mardi added eight.
Paulsen led with nine assists and Cavell with nine rebounds.
Falcon women
SPU will be home playing the College of Idaho at 6 p.m. Friday and 2 p.m. Saturday.
The Falcons fell short against Lewis and Clark State this past Friday, 68-67.
Rachel Berg led SPU with 14 points as Malia Masters hit 13 and Ashley Alter 10.
Kaprice Boston led with eight rebounds.
It was a different story the next night as the Falcons won over the same team by a 72-63 score Saturday.
Alter scored 17 and had six rebounds and Kayla Brunbridge scored 16 with eight rebounds.
Berg added 13 and was named GNAC Player of the Week.
Bulldog men
No. 1 Gonzaga University visits San Diego at 6 p.m. Thursday before going to Malibu to take on Pepperdine at 5 p.m. Saturday.
The Zags plastered Pacific by a 95-49 score Saturday, led by the 22 points of Drew Timme.
Corey Kispert added 16 as Joel Ayayi hit 12 and. Dominick Harris 11.
Jaylen Suggs flirted with a triple double, leading with 10 rebounds and eight assists to go with nine points.
Bulldog women
Gonzaga will be at home in Spokane playing Pacific at 7 p.m. Thursday before visiting Saint Mary's at 1 p.m. Saturday.
The Zags were 79-61 winners at Portland on Sunday after having Saturday's game against Brigham Young postponed by Covid.
Kayleigh Truong led with 17 points against Portland's Pilots as Jenn Wirth hit 14 and Jill Townsend 11.
Husky volleyball
Washington visits Arizona for 4 p.m. action Friday and a 5:30 p.m. match Saturday.
The Huskies were knocked off by Arizona State in their opener Friday, 25-20, 25-15, 28-26.
Claire Hoffman racked up 21 kills in the loss and Ella May Powell had 24 assists, 11 digs and five aces.  Sophie Summers had six kills and five blocks.
The UW gained revenge against the Sun Devils in a Sunday rematch, 26-24, 23-25, 25-21, 25-23.
Samantha Drechsel led with 21 kills and Lauren Sanders had 12.
Cougar volleyball
WSU goes to Arizona State for 11 a.m. Thursday and 10 a.m. Saturday action.
The Cougars fell to Oregon on Friday, 25-20, 19-25, 25-22, 25-22.
Pia Timer paced WSU with 16 kills.
The Cougars took the Ducks to five sets Saturday and lost, 25-19, 20-25, 25-19, 20-25, 15-8.
Julianna Dalton reached a career high 14 kills for WSU.
Pros
Stars
Tacoma's indoor soccer team that plays home matches at the Showare Center in Kent soared to a 6-5 overtime victory at the home of the Kansas City Comets on Friday.
It was the opening match of the season for the Stars, coming about two months late because of Covid.
Covid also came into play in a 5-3 loss to the St. Louis Ambush Sunday as the Stars were without four players because of virus protocols.
Next on the schedule is a 5:05 p.m. match Saturday, Feb. 6 at the Dallas Sidekicks.