New plans from Seattle Goodwill cut donation wait times following busy reopening of stores amid pandemic
New plans from Seattle Goodwill cut donation wait times following busy reopening of stores amid pandemic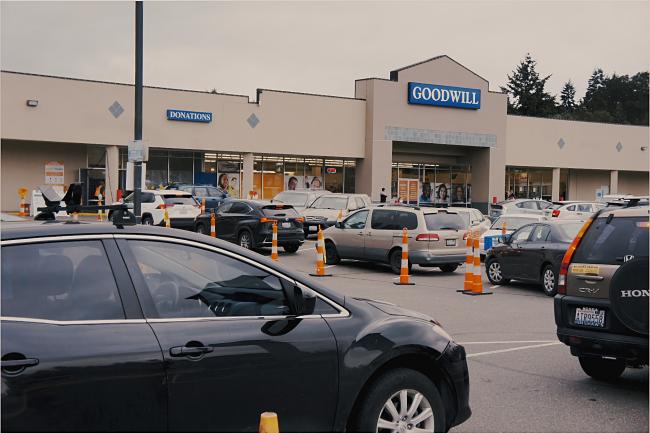 Mon, 02/22/2021
By Jean Wong 
New initiatives from Seattle Goodwill aim to speed the process of accepting donations, while maintaining COVID-19 safety precautions following CDC guidelines. 
In March of last year, as the pandemic was starting to spread, Seattle Goodwill temporarily closed all store and donation locations for around 90 days, and locations gradually reopened in conjunction with the state's reopening plans. 
"We were overrun," said Brent Frerichs, who is the vice president of stores, donations, and e-commerce for Seattle Goodwill.
"Even before we opened the stores, we opened about four donation centers and they were overrun with donors because people had completely 'Marie-Kondo'-ed their houses and they were just waiting to give us all this stuff. So it resulted in a lot of donations, and a lot of long lines," Fredrichs explains, "Donors were extremely patient."
Since reopening, it isn't an uncommon sight to see long lines of people in cars waiting outside donation centers waiting to drop off their items. While still prioritizing staff and customer safety, Seattle Goodwill has made a few minor changes to increase efficiency of the donation process. 
"Right now, we are happy to say that we have streamlined this process as recently as two weeks ago," Fredrichs said, "Versus what you were seeing four weeks ago — lines are shorter. Lines are moving faster." 
Donors now have the option to receive help in unloading the car by donation attendants, while maintaining social distancing. The number of cars unloading has been increased from one to two, saving time and making the donation process more manageable. 
Additionally, although donations are no longer placed in quarantine upon drop off, items are still sprayed with a strong bacteria-killing disinfectant by staff members wearing protective equipment. With the new changes, Frerichs emphasizes that safety is still of the utmost importance. 
 "We require our team to do a health screening at the beginning of every shift," Frerichs adds. "They must pass that health screening in order to work, and they must wear a mask on the job." 
As a private nonprofit organization, Seattle Goodwill has served the northwest Washington community by providing free job training and education services that help people in underserved communities.
Although lines to donate always seem busy, it is not an accurate reflection of the bigger story. The pandemic has significantly impacted Goodwill, as aspects of their operations and mission services have been disrupted in a number of ways for the last year. 
While the non-profit has had an excellent response from the community for donations in 2020, total donation visits are down from 2019. In 2019, Seattle Goodwill had about 2.5 million donation visits, and in 2020 the number decreased to just over 1.3 million donation visits across the region.   
The pandemic has also negatively impacted in-store sales, as it has for most other retailers. In 2019 they had about 10.7 million customer visits overall. In 2020 that decreased to 5.9 million customer visits.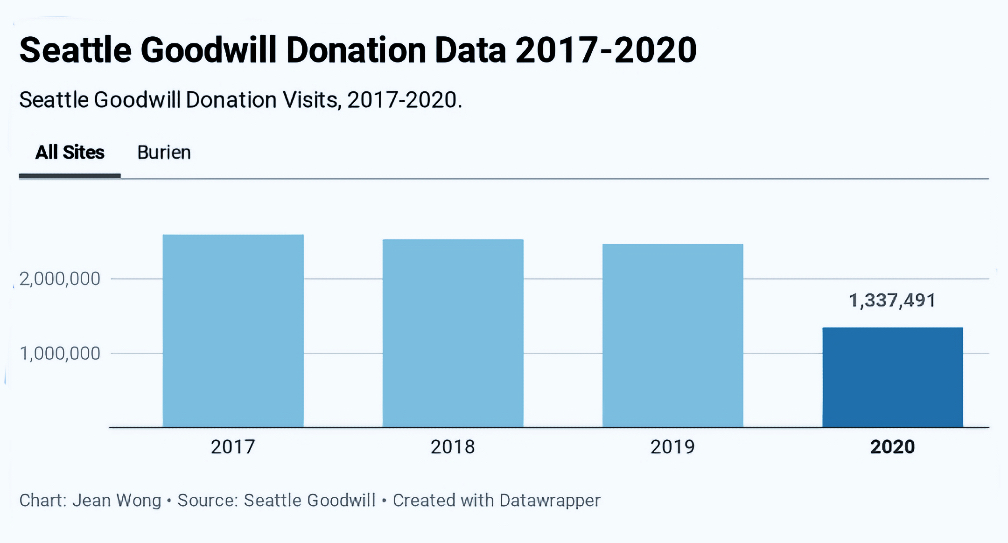 As upwards of 70% of the funding needed for job training and education programs are generated through the purchases made at the nonprofit thrift stores, it's clear that the tribulations of last year has taken a toll on Goodwill operations. 
Tammy McKenzie is the senior director of marketing for Seattle Goodwill, and she explains how job training and education programs have been affected by the pandemic. 
"We do a lot of adult basic education. A lot of that is in person so it was a real challenge for us to do what we do," explains McKenzie. "So we developed quickly essentially a remote model. It's predominantly online, and there are some in-person services when you cannot do it remotely."
"COVID has definitely increased the need for this program. People lost their jobs, and what we do is about employment and helping people get jobs," McKenzie adds. 
The community is the heart of Goodwill's service, and local stores serve as a hub for the local community to donate and shop to support other community members.

"I think everybody from West Seattle all the way to Normandy park — that's our spread of customers — all love coming here," said Katherine Riggans, general manager of the Burien store, "They know that the people that are here are working to better everything — it's really rewarding in that sense."
Local Arbor Heights resident, Mike Cervino, stopped by the Burien donation center on a Friday afternoon to drop off some clothing, books, and bedding. His car was guided by signs and cones that directed traffic to the donation center, where he handed a bag to the donation attendant. 
"I've been donating here for years, I've been shopping here forever too," said Cervino, "It's a great store." 
Another donor from Tukwila, Sandra K., dropped off a couple bags of clothing, "I was just cleaning out my closet and making space. I had the time to do it so here I am."
Riggans hopes to educate people about Goodwill's mission to help the community and to encourage people to rethink the life cycle of an item.
"It's really getting people who don't know what our mission is here at Goodwill and encouraging that support of donations and how it feeds back into the community." said Riggans.
"Seattle Goodwill does some amazing things for our job training and education programs and we can't do it without our donors coming to our store and dropping off their great donations."