King County Earth Day 2021 celebration goes digital, including Green Globe Awards program led by Executive Constantine
King County Earth Day 2021 celebration goes digital, including Green Globe Awards program led by Executive Constantine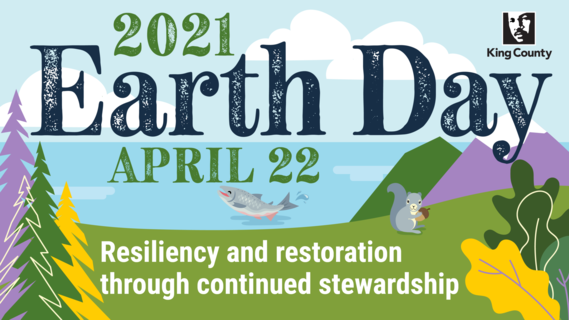 Sun, 04/18/2021
information from King County
King County is once again taking its annual Earth Week celebration digital in 2021 with a week full of quizzes, Earth-friendly actions around the home, and other activities – culminating on with a special video presentation of the 2021 King County Green Globe Awards on Earth Day, April 22, led by Executive Dow Constantine.
Beginning Sunday, April 18, and continuing throughout the week, each King County Department of Natural Resources and Parks (DNRP) division – Wastewater, Solid Waste, Water and Land, and Parks and Recreation – will highlight what they are doing to ensure clean water and healthy habitat – and offer suggestions on how we can all pitch in for a healthier environment at home and across the county.
Throughout the week, DNRP will be posting environmental quizzes and activities on Facebook, Twitter and Instagram, where families can test their knowledge about King County's remarkable environment.