2021 Q1 Shots Fired Report: Addressing the increase in violence
2021 Q1 Shots Fired Report: Addressing the increase in violence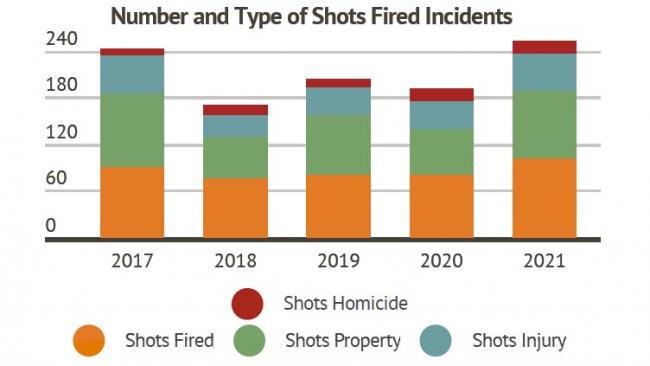 Tue, 06/15/2021
information from King County
In the first three months of 2021, there were 16 homicide victims across King County, another 53 non-fatal shooting victims and 253 total shots fired incidents.
"It's not just a King County issue, it's a national trend across America's largest cities where we've seen a murder rate increase of about 38 percent," King County Prosecuting Attorney Dan Satterberg told KIRO Radio.
Our office launched the Shots Fired project in 2017 to take a public health approach to gun violence — and through data analysis and our expanding community partnerships we are working to understand which individuals and communities are at highest risk, and utilize both prevention and intervention approaches to keep King County residents safe.
The 39 law enforcement agencies in King County collect the data and share it with us. We put together a quarterly analysis, and the Q1 gun crimes report for 2021 is available here. Follow this link to find King County shooting statistics for all of 2020.
"We know that it is concentrated on young people," Satterberg told KNKX. "Forty-two percent of people shot were 24 or under, 70 percent were people of color and 80 percent were young men."
The King County Prosecuting Attorney's Office is working with Choose 180 on a project — "Choose Freedom" — that uses our Shots Fired data to prioritize community engagement with those most at risk of firearm violence. Our office is also a participant in the King County Regional Approach to Gun Violence which is being led by Seattle-King County Public Health/Zero Youth Detention.
We also recently supported a $2 million gun violence prevention grant program through King County Council to fund community-based violence interruption work.
Additional coverage of the Shots Fired project and the efforts to reduce gun violence is below. Follow this link to see details on each of the murder cases filed in 2021.
Urgent gun violence prevention investments in Executive Constantine budget proposal
King County's public health approach to ending gun violence will expand the Regional Peacekeepers Collective, which includes partnerships with community groups around the county including White Center and Skyway, under a new emergency budget proposal by King County Executive Dow Constantine.
The emergency budget amendment, sponsored by King County Councilmember Joe McDermott, will include $1.47 million in investments to curbing gun violence through data-driven identification of the groups and neighborhoods at the highest risk of being involved in a shooting, increased community engagement, and increasing community staffing with employees to connect community members to services and support opportunities.
"Stopping the gun violence our community witnessed last weekend in the Central District, White Center, and Pioneer Square requires more than just a criminal justice response - it requires the upstream, public health-based interventions we know can help unwind conflict and prevent future tragedies," said Executive Constantine.
The proposed amendment to the omnibus budget includes:
$768,000 – Ten additional violence interrupters, case managers and life coaches hired through community partners to develop trusting relationships with clients (White Center, Skyway, Burien, Kent, and Central District).
$100,000 – Consultants to leverage the experience in Oakland to build problem analysis and provide other technical assistance such as identifying groups, neighborhoods and individuals at the very highest risk of being involved in a shooting.
$374,000 – Extend existing community contract positions to support violence interrupters, case managers, and life coaches
$227,000 – Additional staff capacity to launch and support the Regional Peacekeepers Collective
The proposal would expand the work of the Regional Peacekeepers Collective, which has been leading gun violence prevention efforts by the county, including distributing free lockboxes in Skyway and Kent. The Peacekeepers work on the principles of intervention, prevention, and restoration to stop violence help ensure wrap-around services and coordinated care.
"In what is shaping up to be a record breaking, heartbreaking year for gun violence in our country, interventions that place people and communities first are going to be integral to stop this pain," said King County Councilmember Joe McDermott. "And we know this pain too well here in King County, with the tragedy in White Center this past weekend still fresh and devastating for our community. From community violence to interpersonal violence, the Peacekeepers Collective can and will make a big impact once we deliver this support."
In addition to the shooting in White Center that killed two people and wounded two more, another person was shot in the Central District over the weekend. A total of 69 people were shot in King County during the first quarter of 2021, the vast majority of whom are male and people of color. 42% of the victims were between the ages of 18 and 24.