Keeping Track
Keeping Track
Where area sports stars meet their future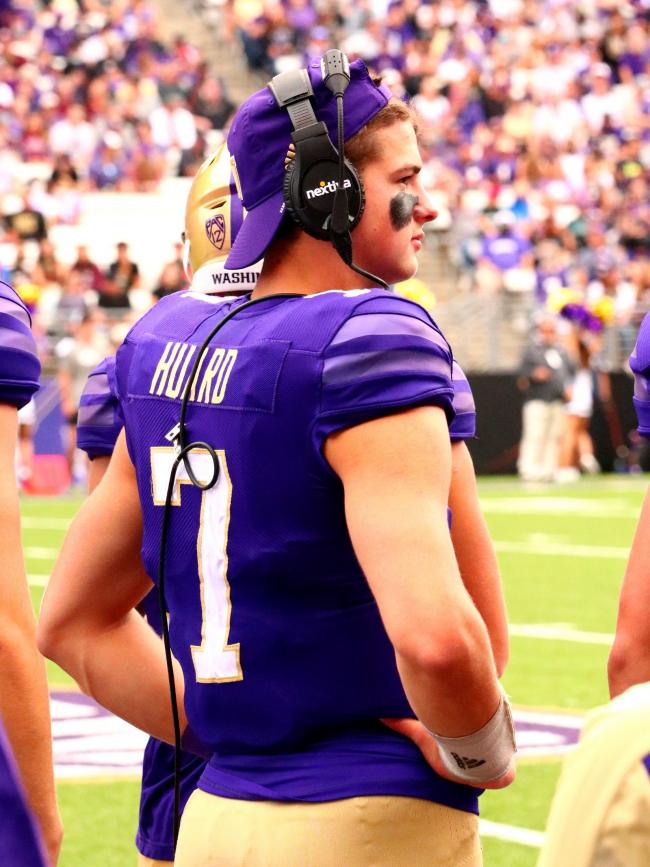 Chelle
Wed, 10/27/2021
By Tim Clinton
SPORTS EDITOR
Huard gets in on the action
Kennedy Catholic graduate Sam Huard saw game action as a true freshman in the University of Washington football team's 21-16 win at Arizona this past Friday.
Huard was called upon after starting quarterback Dylan Morris left the game with a nose injury suffered on a sack.
Huard handed the ball off to running backs five times out of six plays, but Huskies head coach Jimmy Lake later told the Seattle Times that putting him in at some point during the game was part of the pregame plan.
"Our plan was to get Sam in the game even before that happened," Lake said.  "We know Sam has come along every single day from spring football until now."
Huard comes into the UW program as a five-star recruit who passed for a state record 13,214 yards in only three and a half seasons of work at Kennedy Catholic.
He is a 6-foot, 2-inch and 190 pound left hander.
Also playing for the Dawgs this year are Kennedy Catholic graduates Sav'ell Smalls and Jabez Tinae.
Smalls is a true sophomore linebacker and Tinae is a true freshman wide receiver.
Two other former Lancers are also true freshman receivers in the Pac-12.
Junior Alexander is with Arizona State and Reed Shumpert at Washington State.
Arizona State visits the UW on Saturday, Nov. 13 and Washington State comes in Friday, Nov. 26.
Kelemete on the line for 49ers
Evergreen graduate Senio Kelemete is now an offensive lineman for the San Francisco 49ers in the National Football League.
He comes over as a free agent from the Houston Texans after coming to them from the New Orleans Saints.
The former University of Washington standout was traded to New Orleans after starting his career with the Arizona Cardinals.
Kelemete and the 49ers come to Seattle to play the Seahawks the night of Sunday, Dec. 5.
McCullough, Monarchs reign
West Seattle graduate Morgan McCullough connected for a two-run double in the sixth inning to help lift the Kansas City Monarchs to an 8-1 independent American Association championship victory over the Fargo-Moorhead Redhawks.
McCullough's hit gave the Monarchs a 7-1 lead at the time.
The team posted a 6-0 record in the postseason after going 69-31 during the regular season
McCullough, who plays shortstop, second base and third base, hit .345 (10-for-29) during the postseason with four doubles, four RBI and nine runs scored.
He hit for a .333 regular season average at 94-for-282 with 13 home runs, three triples, 18 doubles, 59 RBI and 66 runs scored.
The left-handed hitter who throws right previously played in the Los Angeles Angels organization in 2019 after being drafted out of the University of Alabama.
McCullough was drafted by the Seattle Mariners out of high school but went to the University of Oregon at the time instead.
Kela posts 2-2 record for Padres
Chief Sealth graduate Keone Kela finished with a 2-2 record over 12 games pitched for the San Diego Padres this season.
The hard-throwing right-handed reliever was hampered by injury problems and wound up with an earned run average of 5.06.
Kela enjoyed success previously for the Texas Rangers and Pittsburgh Pirates before signing with the Padres as a free agent.
He has a career ERA of 3.33.
Soto playing for Washington men
Mount Rainier graduate Christian Soto is roaming the midfield for a University of Washington men's soccer team that was undefeated and ranked No. 1 in the nation before taking a loss to Oregon State last week.
Knox, Nguyen play college golf
Mount Rainier graduate Kennedy Knox is now a freshman with the University of Washington women's golf team while West Seattle graduate Lauren Nguyen took her talents to Northwestern in Illinois.
Please contact us at timc@robinsonnews.com if you have information for Keeping Track.