SPD reports that crime is trending down in Seattle
SPD reports that crime is trending down in Seattle
Fri, 02/17/2023
Information from District 1 City Councilmember LIsa Herbold
Last week, SPD released their 2022 Year End Crime Report. This in-depth analysis was conducted by the SPD Data-Driven team and presented to the Public Safety and Human Services Committee this week. You can read the report in full via the SPD Blotter.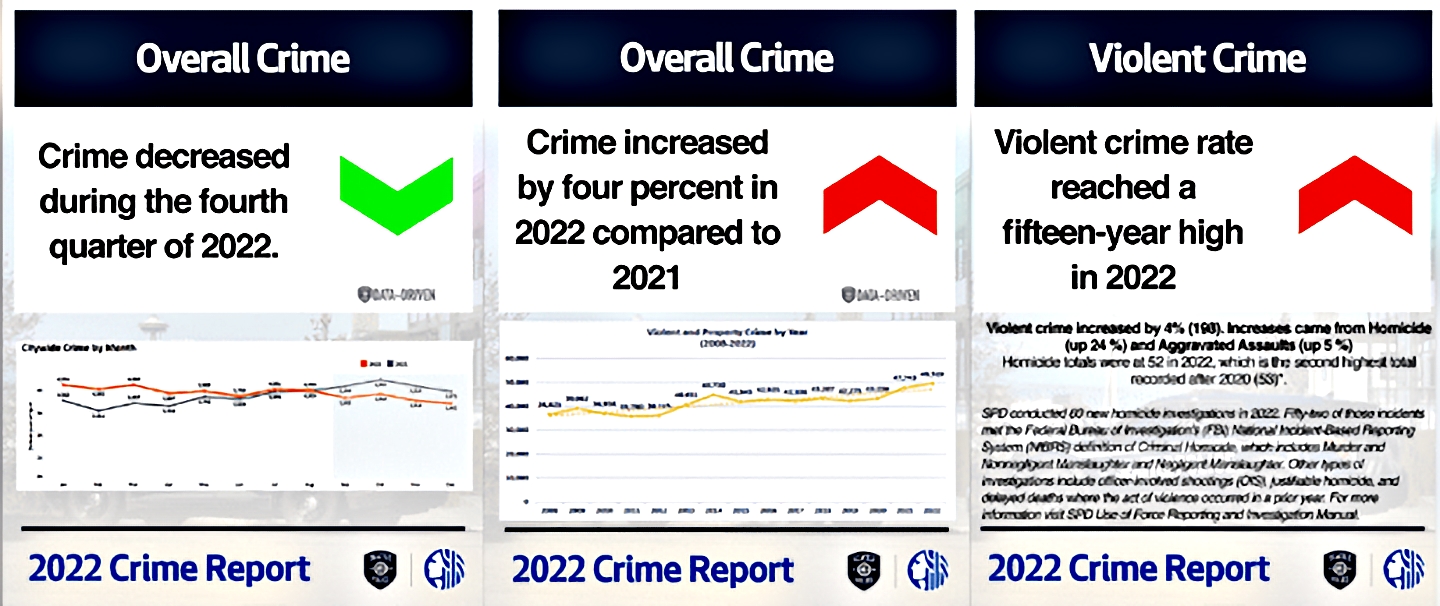 Overall crime: In summary, 2022 saw an overall increase in crime compared to recent years. The good news is that we saw a decline in the last quarter of 2022, dropping below the overall crime levels of the fourth quarter in 2021.
Further, Chief Diaz reported that, so far in 2023, we are still in that downward trajectory.
Violent Crime: Although, over the entire year, the data shows violent crime higher than it's been for years, the SPD Crime Dashboard shows that there were 363 violent crimes reported in December 2022; this is the lowest number of violent crimes reported for a month since February 2021, when 329 violent crimes were reported. The December 2022 figure is lower than the 403 violent crimes reported in December 2019 (before COVID-19, before the murder of George Floyd, and before 500 officers left SPD).
A further review of the SPD dashboard shows that moving into 2023 (the report only covers 2022), 371 reported violent crimes in January, slightly lower than January 2020, with 373 reported violent crimes.
Shots fired, while higher overall in 2022, are also dramatically declining, according to the Chief. This is at least partially due to SPD's great work in taking their second highest number of firearms on record into custody in 2022. In 2022, SPD received 1,349 guns which include surrenders, forfeitures, and found property as well as firearms seized during criminal investigations.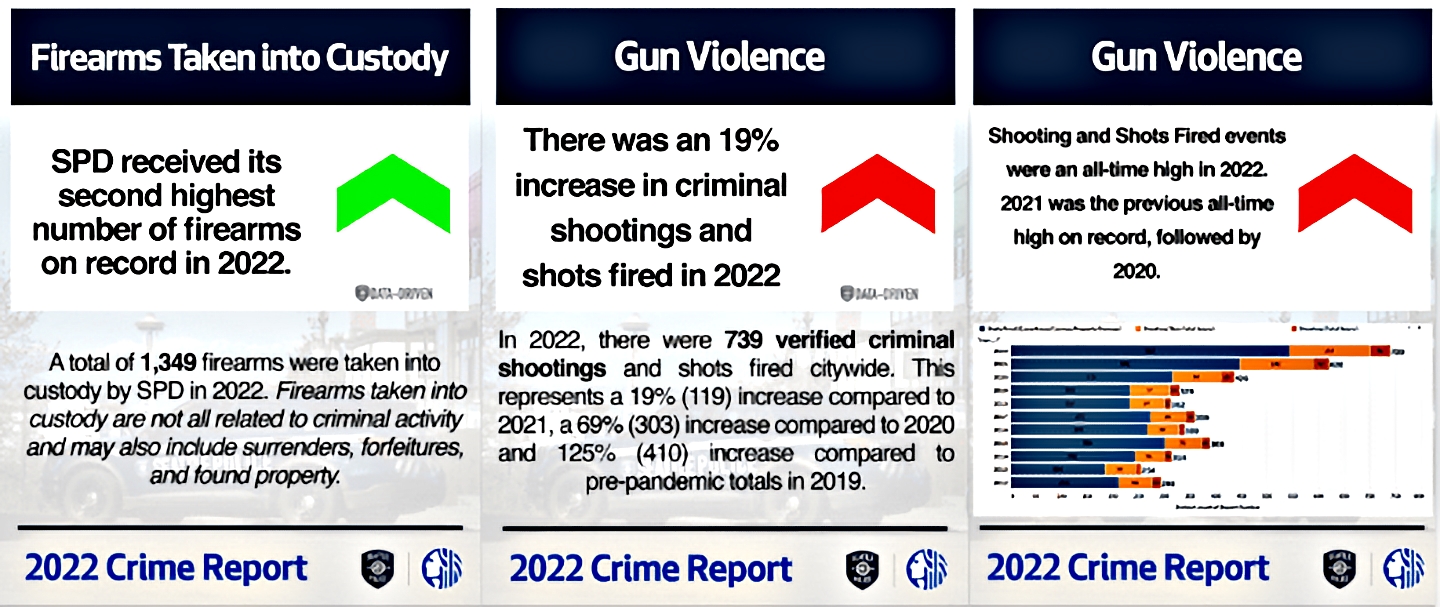 As provided for context about violent crime, last week Axios reported that:

"Many other cities with populations comparable to Seattle (population 733,919 in 2021) had far more homicides in 2022. 
For instance, Austin, Texas (population 961,855), reached 71 homicideslast year, while Denver, Colorado (population of roughly 711,000) had 88.
Several cities with less than 1 million people recorded 100 or more homicides for the year, including: Charlotte, North Carolina; Columbus, Ohio; Jacksonville, Florida; and Fort Worth, Texas.
Overall, U.S. homicide rates are still lower than they were in the 1990s, and Seattle's number of homicides trailed similar cities in 2022."

Property crime: 2022 reported incidents increased by 4% compared to the previous year, primarily from motor vehicle thefts. Seattle University found property crime to be the top public safety concern in their survey of Seattle residents.

Throughout the committee, Councilmembers and the Chief discussed the databeing presented, the strategies and programs that may have led to decreases in different types of crime, and what it will take to address the deeper roots of these trends.

This data analysis will help guide and inform the work of the Public Safety and Human Services Committee through this year. Continuous data collection helps to ensure that we are supporting evidence-based strategies and frameworks to build a safer Seattle for everyone. You can watch the full committee session here on the Seattle Channel.