Pat's View: Burgers I have known
Pat's View: Burgers I have known
Thu, 08/10/2023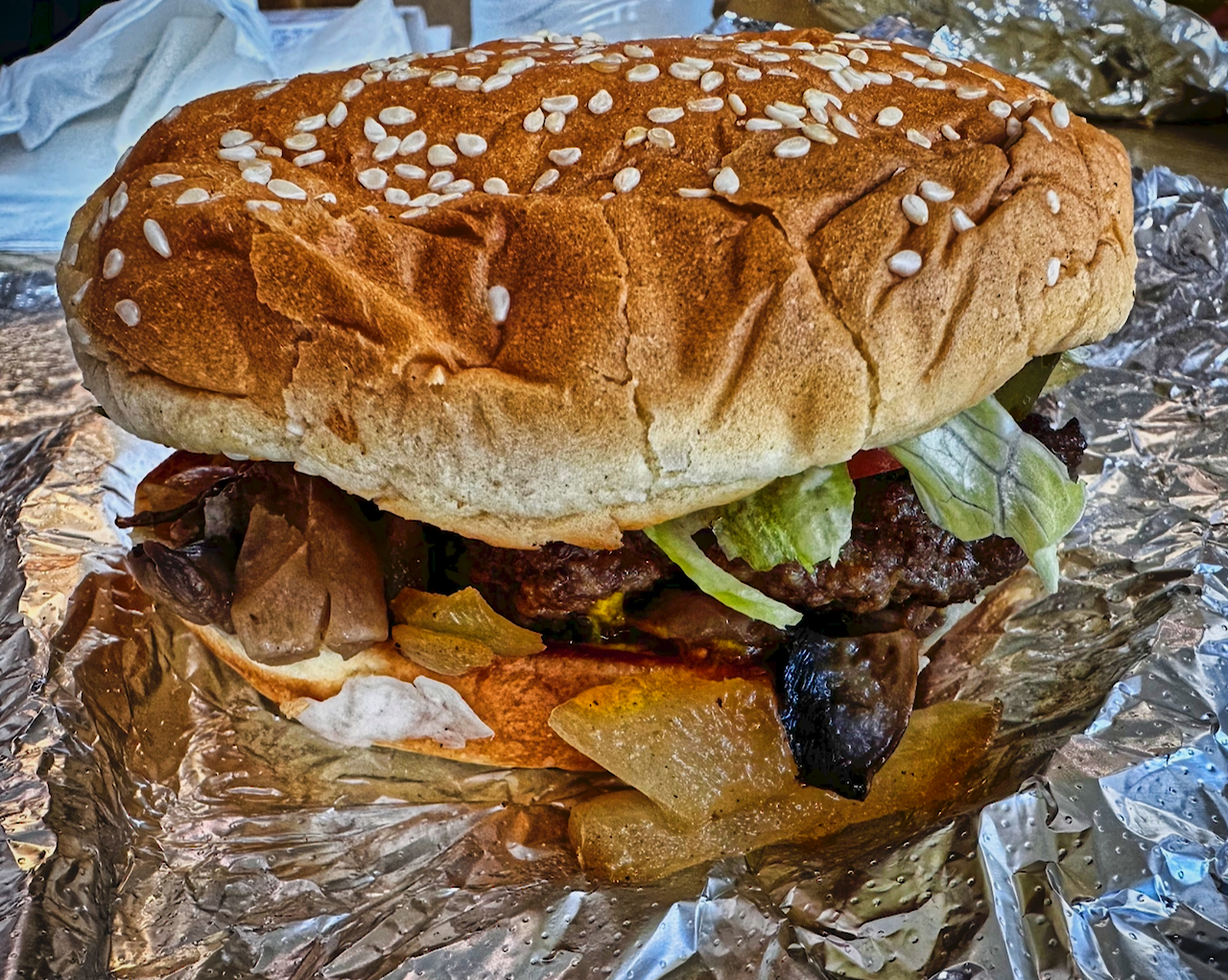 By Patrick Robinson
Hamburgers have been part of the human dining table for more than 200 years though their exact origin is a little unclear. In essence they are traditionally a meat (most commonly beef) with condiments between two slices of some sort of bun.They were meant to be a fast, easy convenience food. As with all foods widely known and enjoyed they have been the base for wild experimentation  with countless variations.
The earliest burger I remember was from Lou's in White Center and 19 cents got you a basic beef hamburger. Maybe two pickle slices, mustard and ketchup.
Hence a dollar got you five. Talk about an inexpensive family meal.  Which explains that concept spreading across the nation. 
This was in the late 1950's and Lou Dappas was so successful he opened one in Burien too. They had large coolers constantly recirculating Green River soft drink too. 
McDonalds came along and standardized the burger making process, kept the price low and the sheer volume of burgers made (their signs in the early days literally claimed how many they had served) led to their rapid expansion across the nation, and a bevy of imitators.
Out in North Highline there was a Joe's Burgers that specialized in big loaded burgers but oddly enough the most popular was the Ike Burger. That was a rectangular patty in a big french roll with onions and tomatoes. My mother took myself and my younger brother in tow and we'd all have an Ike Burger. It was so popular that when Joe (whoever he was) sold it, it was re-named Ike Burger.
Out in Ballard and in West Seattle there was Zesto's famous in Ballard for the car on the roof and for a good basic hamburger with not too many frills. They are still out there in other locations and actually started in Atlanta in 1945 and became a chain.
For many years A&W Root Beer battled with XXX Root Beer for burger and root beer dominance.

A&W was at the corner of 128th SW and Ambaum Blvd where the Jack in the Box is now. XXX Root Beer was on 1st Ave South near Top Hat. While XXX survives in a few places A&W evolved into a partnership with KFC.
The XXX was like a 1950's carhop service place with trays that hung on your car and people brought your food out to you.
By the time the 1960's rolled into the 1970's there was Herfy's (named after Hereford cattle) which had locations in White Center and  two in West Seattle (the West Seattle Nursery and Jack in the Box are there now) and it was famous for its condiment bar. I confess I too would buy a cheeseburger and put about a pound of pickles and onions on it. What a deal. It was not a gourmet experience however.  Dags was a local favorite too and I recall being 18, working in the circulation department for the newspaper on super hot summer days and digging into a Dag's cheeseburger and an ice cold coke after dropping the papers off  at the transfer station. Heaven.
Can't really leave out Dicks since who doesn't love a "bag full of Dicks" as they like to say. It's good basic burger food and classic for a good reason. 
An outlier perhaps but still going after many years on 4th Ave South is By's Burgers. Used to be a decent place to go after stopping at the Elephant Car Wash.
Groucho's was another West Seattle favorite that many people still recall fondly with good size burgers and good milkshakes and you might, if you have enough mileage recall The Shack on Harbor Ave SW whose sign survives to this day at The Spot on Avalon Way.  The Shack was another typical grill em and fill em style burger joint that could not afford to stay on such pricey real estate. Arctic Circle a national chain, was located at 35th SW and Roxbury and you could get an AyCee burger for under a dollar even in the 70's.
For a very long time the Nienaber family owned the Dairy Queen in White Center (it's now a kitchen rental space) and I had many flame broiled burgers from their hands. Note: Grilling involves heat radiating from below the food and is typically done on a rack or a flat-top griddle.  Broiling involves heat radiating from the top down. It results in a distinctly different flavor and personally I like broiling better. That's probably why I personally like Burger King and Habit Burger better than McDonald's or Wendy's. And I never did get the square patties. I did have a very good burger out at PigFish on 152nd in Burien.
Up north I had a few ordinary cheeseburgers at Burgermaster but they were among the last with car service so that was cool. Also in West Seattle and worth mentioning are Boss Burger, Pepperdock on Alki (still flame cooked and with great flavor), Blue Moon Burgers (they have a Keto burger which is not bad). Burger Madness down on 4th Ave South has quite an array of burger types too. They and Habit Burger by the way will do a lettuce wrap if you want to cut down on carbs. Others might too though I don't know who.
The burger at the Swinery in West Seattle was voted best in Seattle a few years ago. It truely was and still is a large, meaty burger on a very tasty bun with lots of cheese choices. But now we are moving into what emerged in the 1980's as gourmet burgers.  It costs 16.75 and honestly, it's worth it.
Lady Jaye in the West Seattle Junction is both a restaurant and a butcher shop and on Thursdays they feature a Smoked Wagyu Cheeseburger which is genuinely amazing and topped by Rocket Sauce for $28.99
Red Robin, under the guidance of Gerry Kingen expanded the whole concept of what burgers could be, making them delicious and fun at the same time. Others would follow but the idea of mixing up the toppings, breads, sauces, and much more was made popular nationally by Red Robin.
Among the best I've ever had, and most expensive is the AmbrosiaBurger at Nepenthe in Carmel California. It's ground steak (not hamburger) on a french roll with a their unique and amazing Ambrosia Sauce.  Sides are included. They get $23.75 for that meal. The price trend for the middle of the burger range has been trending upward lately. Five Guys which many people either love or hate gets 10.90 for a cheese burger. You do get a mountain of salty fries with it however, if that's your thing.
Obviously I have not had every burger from every burger place so if I missed one you love. I'm sorry.
 
It turns out that everyone has their favorite from In and Out to McDonalds to Lil Woody's to places you've never heard of. It's the universal food. Even if you are vegan since there are tons of bean, soy and other burger creations out there. It's about the convenience of holding your meal in your hand.  After all there are 91,990 Burger restaurants businesses in the US as of 2023, an increase of 2% from 2022. There is also no shortage of Best Of lists out there but you might find a list of the 50 Best Burgers in the World of interest since for what you might think is a typically American favorite, as Australian burger tops the list. 
or one from Seattle https://seattle.eater.com/maps/best-burgers-seattle