At 55, Ballardite gets a chance to represent his country on the court
At 55, Ballardite gets a chance to represent his country on the court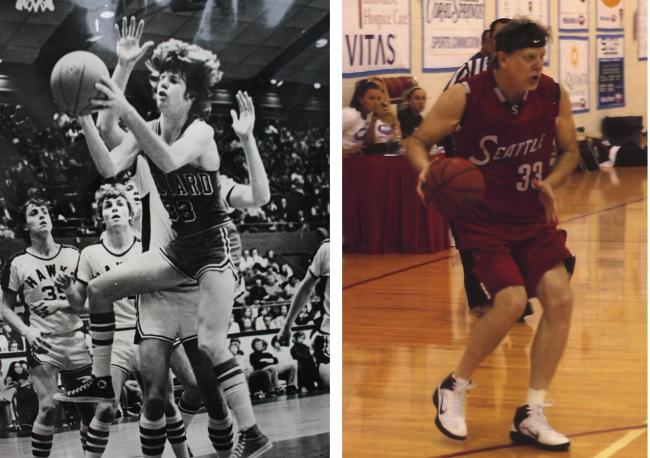 Black and White picture courtesy of Roger Larson. Current photo of Roger courtesy of Masters Basketball Association
Mon, 07/18/2011
By Chris Foster, Intern
Roger Larson is no stranger to playing in high-stakes basketball games. In 1974, Larson was co-captain of the Ballard High School team that included former University of Washington standout Kim Stewart, and Solsten Wims, who still holds the record for consecutive shots made in state playoffs (17. )That particular Beavers team, coached by Rod Pressey, made the state tournament, playing against some notable names.
"There were a lot of good players in Seattle back then," Larson stated. "James Edwards played 19 years in the NBA out of Roosevelt, and Clint Richardson out of O'Dea had a long career with the 76ers. Jawaan Oldham was just getting started at Cleveland High, and the Garfield Superdogs of that year have been rated by some as the best team in state history."
So when Larson got a chance to play for the USA 50 and older team in the World Maxibasketball Championship last month in Brazil, there was no hesitation.
"They needed some height so Coach Kevin McNamara picked up Jay Chessman, who played at BYU, and me off of the Seattle Total Package team to fill out their roster," he said. "I was so happy to get that call."
The tournament, according to the Maxibasketball website, included over 200 teams and 3,000 athletes from over 70 different countries. Larson got involved in the Masters tournaments around five years ago, through a series of organizing teams and recruiting players.
"I helped organize the Seattle 'Total Package' 50 and over basketball team … We'd recruit guys we used to play with. You'd go to one guy who's out; he's got a knee replacement. Another guy is 50 pounds overweight, or has a bad back. So it took a year and a half to put together".
Larson himself had to lose 30 pounds before he could start playing competitively again.
"I started out by playing Sunday mornings down at the Ballard Boys Club, there's a run down there that really helped out a lot," he said.
Finally in May of 2008, the team was ready to participate in the Masters Basketball Association National Senior Championships in Coral Springs, Florida. The team included Chessman and Wims, Larson's high school teammate and friend. Since then, the team has gone every year, winning two gold medals, a silver and a bronze.
Larson's off-the-court contributions to basketball are a family tradition of sorts. Growing up with six brothers who also went to Ballard, his mom became the team's unofficial barber.
"After the varsity squad was selected, Mom used to buzz cut the Ballard teams' hair, and then place a knitted Ballard beanie on their head as they walked out the door. It was a right of passage that thankfully ended before my senior year."
When his two sons became involved in basketball, Larson again found himself in the role of team organizer. He set up and coached the fall-league teams for Ballard, Shorecrest and Ingraham high school, his son's team, and eventually created a select team with Wims based in Ballard called the Blaze.
"I sold candy, chips and soda as a fundraiser," Larson said. "We raised 20,000 dollars over four years, which funded the Ballard Blaze".
He even took the Blaze to play in their own high stakes tournament. After four years of playing in local leagues and regional tournaments, they participated in the "Big Time Tournament" in Las Vegas, which included notable NBA stars such as O.J Mayo, Greg Oden and Mike Conley.
"What's nice now is after all the coaching, you see the kids later and they come up and thank you. It's nice to see how they're doing."
Although Larson's team found success in the Maxibasketball World Championship Tournament in Brazil — going 5-1 and taking home the bronze medal after loosing to the home team in the semi-finals — it was the friendships and experiences that he valued most.
"There's a lot of fellowship in Master's Basketball. Seeing the same players year after year, you really develop some good friendships."
Larson is scheduled to play in six major tournaments over the next year, including January's National Invite in Jacksonville, Fla., where he hopes to play against NBA great Artis Gilmore. It just goes to show that with hard work and determination, it's never too late to accomplish a dream.
"It was the trip of a lifetime for me," Larson admitted. "After all the years of playing, organizing and volunteering, to go down there and play for Team USA 50 with their first class organization and players, it was a dream come true."