Green Ambrosia now Grow Ambrosia
Green Ambrosia now Grow Ambrosia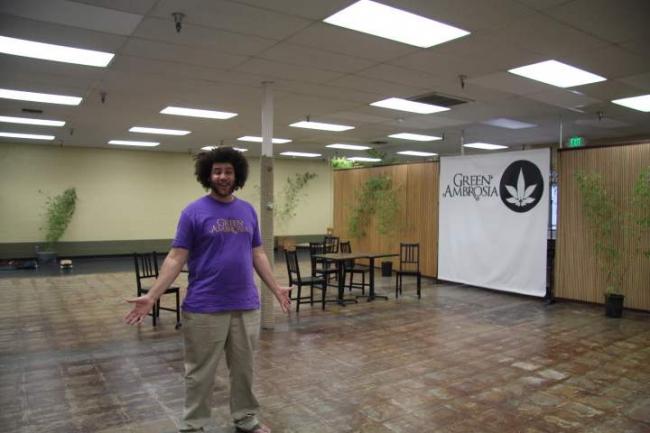 Photo by Shane Harms
Sat, 12/07/2013
One of the few remaining cannabis collective in Ballard closed last week. Green Ambrosia, the medical marijuana store on 15th Avenue N.W. is shutting its doors while they rethink their business plan.
One of the store's owners, Dante Jones, said he is staying in the industry but refocusing what he will be doing.
"Oh, I'm just as busy as I was before, I don't get to go home when I want to," said Jones.

Jones, who has a background in technology and marketing, is originally from California but grew up in Seattle.
Jones said he has closed his MMJ shop after being a collective for two and a half years, one of which was in Ballard. Jones said he and his partners are now opening a hydroponic equipment retailer and servicer.
The store will be named Grow Ambrosia, and will be opening in a few weeks.
Jones said what spurred the closure was the zoning for all three types of licenses declared by the Washington State Liquor Control Board (WSLCB). Jones is in the process of applying for a grower/processor license.
"I am way outside the zone for all three licenses and that means we need to look elsewhere, however we can still sell the supplies for production engineering and offer consultation to private and recreational growers."
Jones said he would be modeling his business on the Microsoft and Sysco software business plan, where consumers not only are paying for their equipment but also the service they will provide.
"We have a proven track record of being successful in growing cannabis and with insight in design and production engineering we can offer our customers something unique."
Jones and the Green Ambrosia crew plan to implement their production skills in not only the equipment sales and consulting, but also in cannabis products. Contingent on obtaining a grower processor license, Jones said they plan on finding a commercial kitchen and producing the edible delights their patients had come to love.
One of these products is known as Glory – O, a peanut butter cup within a cookie. Another is the "Wow Bar." Jones said that the "Wow" in the name came from the affects of the potent chocolate caramel "medible."
If Jones and his crew get their license they plan to specialize in three cannabis strains: Fire Crotch, Tahuya and Frankenstein used for producing the infused products.
According to the WSLCB website, the closing day for applications recreational licenses is Dec. 17th. Since the application phase opened earlier in Nov., the control board has seen over 800 applicants. 200 of that were applications for retail licenses.
Although the number of grower/processor licenses has yet to be announced, the Control Board will only be issuing 334 retail licenses. If an individual receives a retail license they are not eligible for a grower/processor and vice versa.
Jones is hoping for the grower/processor licensed.
"We had a pretty strong application and feel like we have a pretty good shot at getting in the lottery."