Maritime Machine
Maritime Machine
Scott Anderson of CSR Marine talks shop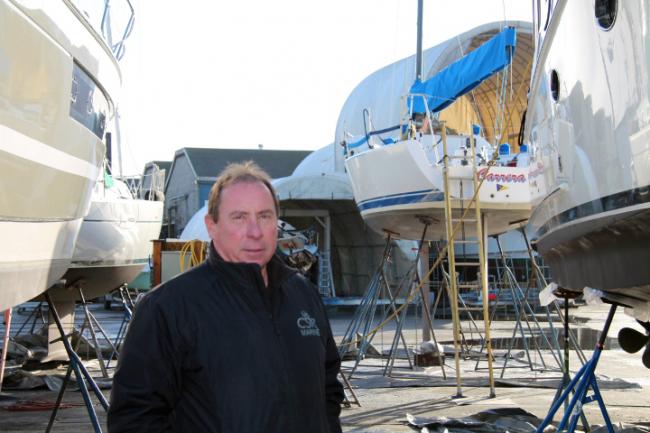 Photo by Shane Harms
Tue, 01/07/2014
"We are a machine. We do pretty much everything."
Those are the words of Scott Anderson, CSR Marine co-owner with Tim Ryan, describing the things his team of over 40 workers perform every day for their customers.
In lieu of a maritime economic study released last November, a profile of one of the community members working in the industry seemed appropriate. Anderson was kind enough to show the Ballard News Tribune around his boat yard located along Shilshole Avenue and in the waters of Salmon Bay. The BNT arrived just in time to see the CSR crew using a huge crane to ease a mast into a beautiful 39-foot R Boat named Pirate, flag ship of the wooden boat collection at the Center for Wooden Boats.

There's a huge blue building that runs along Shilshole Avenue where beautiful boats rest like heaping whales. They look out of place being out of water and balanced on jack stands, awaiting anything from paint jobs to complete overhauls and custom fabrications.
Anderson knows boats. A life long resident of North Seattle and Ingram High graduate, he said he practically lived at Golden Gardens, spending summer days and nights at the park and on the water. Anderson developed an early love for sailing and sailboat racing, going as far as Hawaii and Alaska by care of the wind.
"I've been racing sail boats since I was ten and took lessons at Green Lake. What keeps me going is every time I go out sailing its always something new and different," said Anderson.
A lifetime resident of North Seattle, today Anderson lives in Carkeek Park, and boats are his life. He plays with boats, as well as works with boats.
CSR Marine has been in business 37 years, but it's the third year at Salmon Bay. Anderson said CSR started on Lake Union and then opened another yard in Des Moines. They moved their Lake Union location to one on Commodore Way before moving again to their current location in Ballard.
"We had a lot of help moving everything, especially from Foss and Fremont Tug, which wasn't easy to do at the height of the recession."
The building they occupy was originally built as a cedar mill. At least 50 boats can fit in the boat yard and Anderson said they have been using all the space lately and business is doing well, which is a good thing to hear considering CSR employs over 40 people.
"The boats we see are commercial and recreational, but mostly recreational, and we work on anything from 18 to 80 footers, depending on the weight."
Anderson said the travel lifts he uses can move boats as large as 70 tons. Once out of water the boats are carefully parked on jack stands, which always brings an element of danger.
"Any time you pick something up there's danger. You just have to be as careful as you can at all times. "
Pointing to a custom 60-foot sail boat designed by Norwest designer Bob Perry, Anderson could not stress more the forethought, planning and mindfulness it takes when working with such large, expensive and heavy recreational watercrafts.
"We are compliant with all the safety regulations and the inspectors come down and go through us like a fine tooth comb and so we are really good at that kind of stuff. Safety is the most important thing here."
Safety is key, especially now that CSR has had a flux in business. Anderson explained that the last four years have been tough on the industry with very few new boat sales and many boat owners waiting to have work done. However, Anderson said that changed last January, and since then his full service boat yard has been busy.
"Busy" is a good sign for the repair and support sector of the maritime industry considering that sector makes up 28.6 percent of maritime jobs and a majority of the maritime jobs in Ballard.
"Fresh water mooring is good but a lot of people don't like going through the locks, but there are a lot of boats in the inter lake system and there just seems to be a lot of work now. ... We didn't see people's boats for five years and usually they need to have work done every couple years."
Anderson said that along with safety, quality work and personalized customer service is the name of the game, especially when some of his clients call their boat home.
"We are not the cheapest guys in town but offer a quality service and we want our clients to come back. Money is not the most important thing. Maintaining that relationship with the people that come to us is."
"We are sailors and boaters and I have a really good group of guys down here. They are fair, good people. If we make a mistake on something we fix it and don't try to hide it. To keep the communication open with customers is really key in this business. "
With the economy turning around, Anderson said he's pleased with the industry and where he's at in Ballard. A sailor and maritime businessman, Anderson knows boats and sees the industry picking up, especially in Ballard.
"We are going to be here for a while. This is one of the best places in town."