Broker announces Edith Macefield house for sale
Broker announces Edith Macefield house for sale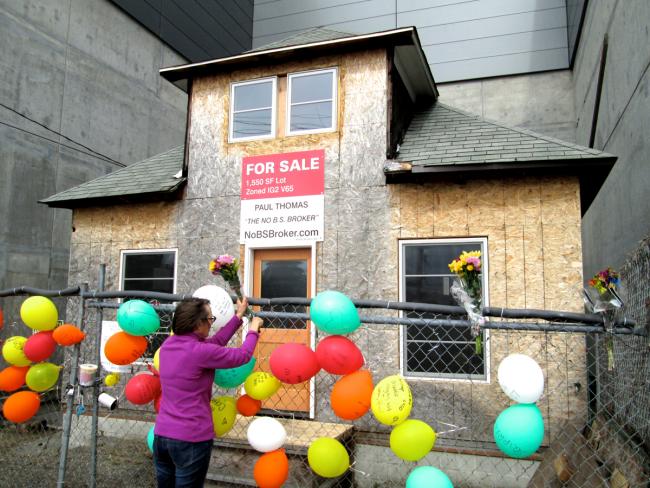 NoBSBroker.com
Mon, 03/30/2015
Edith Macefield's house, the one that drew worldwide attention and inspired the animated movie UP!, is for sale. The sale is likely the last chance to save the house from being swallowed up by the commercial complex that surrounds it.
Edith Macefield made headlines around the world for refusing to sell her small and unassuming house in Seattle's Ballard neighborhood to encroaching developers, declining in no uncertain terms their offer of $1,000,000. Developers went ahead and built Ballard Blocks, an imposing retail and office complex, around Edith's house, surrounding it with towering, windowless cement walls. By standing up for herself and refusing to bow to pressure, Edith became an international folk hero.
Edith died at her home in 2008. She willed the house to her friend Barry Martin. The following year Martin sold the house to a self-described real estate coach who concocted a plan to raise the house as much as sixty five feet and turn it into a retreat, office and monument. The scheme collapsed, investors lost money, and the house was boarded up. As the years have passed it has looked increasingly forlorn.

The house's current lender acquired the property through foreclosure on March 13th, 2015, and hired Paul Thomas, a commercial real estate broker, to sell the property. Thomas, "The No B.S. Broker," was astonished when he first saw the inside of the house. "The structure has been completely rebuilt!" said Thomas. "Only the roof and subfloor remain from the original house, everything else is new. It is empty and ready to finish."
Hoping to inspire someone to save this landmark property, Thomas installed new doors and windows to bring some of the original character back to the house. "It's a wonderful house," he said. "The views on three sides aren't anything to write home about but there is a huge back yard, a surprising amount of light and an palpable sense of history." "It is," he said with a smile, "certainly convenient to nearby stores and the gym!"
What is it like to list what such a famous house? "It makes me very proud to be its steward," said Thomas. "I take great pride in doing what I can to maximize its chance to survive as a memorial to an extraordinary woman."
While Thomas never met Edith, for over a decade he drove past her house twice a day. "Seeing her in the garden, her old blue car parked on the street and her house still standing despite the chaos all around it assured me that at least in this little patch of Ballard so-called progress was being held at bay." Though Edith and her blue car are gone, the house still stands, a symbol of defiance in the face of an advancing concrete jungle.
"It's impossible to predict what will happen to the house," said Thomas. "Potential buyers have proposed a host of creative uses and, of course, the developer of Ballard Blocks wants to incorporate the property into the complex. We'll see who makes the best offer." The broker will accept offers until Monday, April 20th, and each must include a proposal of how the buyer will honor and memorialize Edith Macefield, the woman who stayed put. Meanwhile, an admirer has started a "Balloon Wall" at the property where people can put up balloons with tributes to Edith and her house.
The house will be sold free and clear. A virtual tour of the inside and outside of the house including drone footage is at NoBSBroker.com along with details about submitting an offer. For liability reasons, the house is, regretfully, closed to the public.
For additional information, email Paul Thomas at paul@NoBSBroker.com or call (206)718-1753.