How do you want to be buried when you die?
How do you want to be buried when you die?
Some say they would rather be compost or ashes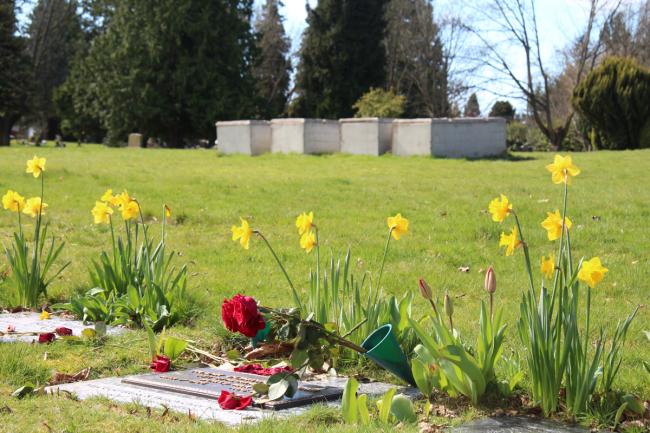 Shane Harms
Mon, 03/30/2015
Carrying out the wishes of the deceased is top priority for funeral homes and cemeteries. But what if those wishes are for a natural burial? With environmental and consumption implications looming, more and more people are changing what happens to them when they die. An emerging interest is in natural or "green" burials.
According to the US Central Intelligence Agency, nearly two people die every second. Consider the leading burial practice in the US being casket entombment; space for burial is bound to fill.
Many people are asking why use all that space and resources for one body?

The average space needed for a casket burial is approximately 8 feet long, three feet across, and six feet under. Traditional casket burials use a liner, or casing around the casket and seal the site with concrete and steal. This entombs the body and prevents sinkholes at the cemetery.
A green burial is not a new idea. Before caskets, most cultures wrapped bodies in shrouds and placed them in the ground or tomb. That's exactly how it's done today. The deceased are wrapped in non-toxic biodegradable shroud and placed in the soil without a casket. If a casket is used, it is made from natural materials that are sure to decompose. No formaldehyde is used; usually embalming is skipped entirely. Rather than traditional up-standing headstones, flat embedded stones or a tree marks the site.
Some--- more utilitarian minded people --- ask why not use the human body for something practical, rather than laying it to rest.
A recent Grist article explored the vision of a Seattle resident, Katrina Spade, who champions human decomposition that has a purpose. Spade founded the Human Death Project and is in the process of researching how the human body decomposes in order to eventually open a facility that literally composts human remains. The compost would then be used for plantings in the city.
The idea is progressive, even taboo; however, composting human bodies would save millions of board feet of wood and millions of tons of concrete and steel each year --- not to mention embalming fluid.
But is there really a demand? Where are the burial trends right now?
The Ballard News Tribune asked someone who is in the business of burying the dead.
Phillip Howell, Manager of Crown Hill Cemetery, said that there is a shift in burial practice, but not for natural burials.
"We definitely get calls for natural burials, but the current trend is leaning toward cremation. The traditional casket burial is slowing down," said Howell.
According to the National Funeral Directors Association, roughly 34 percent of the US opted for cremation in 2007. The Cremation Association of North America (CANA) predicts by 2025 the national cremation rate will rise to 45 percent. CANA also reports people choose cremation because it costs less and preserves land.
But what is the cost to the environment? They report 28 gallons of fuel are needed for every cremation, which puts about 540 pounds of carbons dioxide (CO2) into the environment per body.
Howell said growing trends toward cremation are reshaping the cemetery.
Crown Hill Cemetery is a 10-acre property north of Ballard. It was established in 1903 and has close to 2000 burial sites. Howell said that the cemetery is at 80 percent capacity and that in approximately 80 years it will be full. As space fills the cemetery plans to expand the under-utilized areas and also go vertical: they plan to construct granite column walls that can hold up to 48 urns.
"We are trying to stay with the times and follow the curve and make use of what we have."
Indeed, the times are changing, but Crown Hill Cemetery does not yet offer green burials.
"The big thing with that (green burials) is that people want to do a burial without the vault or liner and be wrapped in a shroud. But we require a liner or substructure under there burial because eventually over time you have the potential of a sinkhole. It's a safety issue."