Populuxe Brewing celebrates two years in Ballard
Populuxe Brewing celebrates two years in Ballard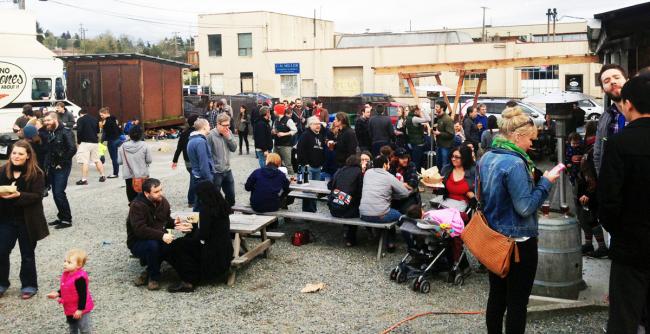 Bryce Doehne
Mon, 03/30/2015
Populuxe Brewing, located at 826B NW 49th St., celebrated their second anniversary over the weekend.
Taps flowed with new brews in honor of the celebration, and beer-fans showed up in droves to imbibe, eat and congratulate Populuxe Brewing.
Live bands Burnt Oak Rebellion and L'Orchestre D'Incroyable amplified the festivities, and Food truck, No Bones About It and Balleywood Creamery, offered dinner and desert to guests.

Two years ago Ballard residents Pete Charbonnier and Jiri Zatloukal and their wives, Amy Besunder and Judy Scarcia, purchased the building that is now the brewery. It had previously housed both a cabinet shop and Oddvar's Automotive. The space was vacant, and they adding plumbing and tailored the 850-square-foot space to house a nan-brewery.
Back in 2013 Besunder told the Ballard News-Tribune it meant a lot to her to start the brewery in Ballard.
"This is our community. Pete and I have lived in Ballard for 15 years so we wanted to stay here, and we wanted to stay connected with our neighbors," said Besunder.
Since their inception, it has meant a lot to Pupuluxe owners to be active in the community they live in. They have contributed their brews to many local events and community benefits.
"One of our goals is to be good stewards of what the community has given us and one way we try to do that is help the Chamber with what they are doing. We try to be as involved in the local community as much as we can not only because our business is here, but because we live here,' said Charbonnier.
Charbonnier and Amy live just two blocks from the brewery and have been living in Ballard since 1996.
Populuxe started out producing just 45 gallons at a time, but the brewery has grown to a 14-barrel capacity brewery. Charbonnier said he still considers Populuxe a nan-brewery and one of the smallest in Ballard.
At their start, all owners had day jobs, but Populuxe has grown to employ Zatloukal full time.
About the party, Charbonnier said he's pleased to see all the community support for Populuxe.
"It's been going great. When we first opened we had a founders club and that sold out quickly, and it's been a similar response since we've been open. Even though there are lots of breweries in Ballard, people seem like they are still very excited about what we are doing."
As for the future, Charbonnier said that they plan to keep producing beers that they are passionate about and to keep their operation small.
"It's all about space for use. I have to ask 'where would be put this thing?' It's a balancing act for sure."
"I think for us it's always going to be the kind of thing where we are producing brews we are excited about. It's been great that we've had the response that allows us to do things like that. We want to be small enough to keep doing that."
Currently Populuxe can produce sour style beers, which is a milestone for most brewers. They also have expanded their saison production with two new beers appearing in the spring: Petite Saison and Peppercorn Saison. Their session IPA will also be available this spring.
"It's amazing that things have changed so much. I could not have ever imagined that this is what it would be like two years down the road. It's more exciting than ever."