You Are What You Eat: Low-salt Thai lettuce wraps
You Are What You Eat: Low-salt Thai lettuce wraps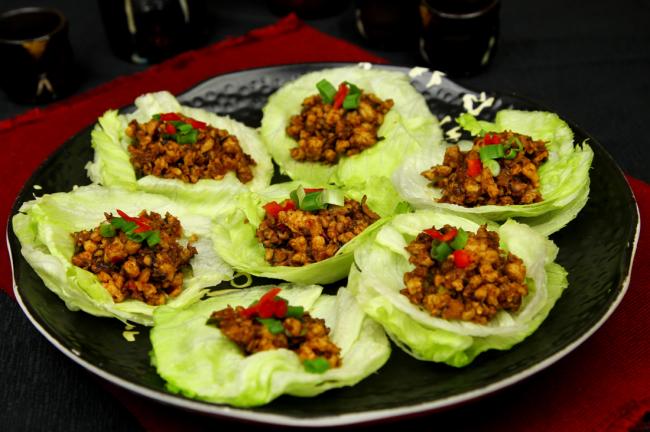 Katy Wilkens
Tue, 03/31/2015
By Katy Wilkens
Asian cooking is often considered healthy because it is usually lower in protein and higher in vegetables than standard American fare. But many Asian sauces have too much salt to be healthy. A tablespoon of soy sauce contains more than 1,000 milligrams of sodium, and one entrée in an Asian restaurant has 2,000-3,000 milligrams of sodium. That's twice what you should eat in a day, and all that salt is hard on your heart and kidneys.
A good goal for everyone is to limit sodium (salt) intake to less than 1,500 milligrams per day. To do this, substitute other flavors. Try sour, hot, savory, sweet, spicy or umami seasonings to add a bright fresh taste.
• Sour: Add this flavor with unseasoned rice vinegar, sherry, mirin or Shaoxing. Don't buy the cooking varieties because they often have added salt. Check the label to be sure.

• Hot: Use chili flakes, fresh chilies and sweet hot chili sauce for a fiery kick without salt. Try fresh ginger root or galangal for a sweet-hot peppery touch. Wasabi, hot mustard and daikon radish can give your meals a zip.
• Savory: Try fresh herbs with an Asian bent, such as Thai basil, lemongrass, shiso, cilantro or kaffir lime leaves for bright flavor. Garlic, onions, shallots and leeks can all add depth to meals.
• Sweet: Tamarind paste, brown sugar, palm sugar or dried fruits add a wonderful richness to dishes. Add the juice or grated peel of citrus fruits like lemons, limes, oranges or kumquats to pair sweet with sour. Try diluting low-sodium soy sauce or teriyaki sauce with equal parts pineapple juice. The sour and sweet combination will cut down on your need for salty flavors.
• Spicy: Try spices like coriander, cumin, turmeric, five spice, star anise, fennel seed or pepper.
• Umami: Fresh or dried mushrooms offer a brothy, meaty flavor that's an alternative to salt. Use sesame oil, sesame, mustard or poppy seeds, or unsalted cashews or peanuts for nutty flavor.
Some of these tricks for cutting salt appear in the recipes below.
Filipino Pancit
8 ounces rice stick noodles (bihon)
¼ cup vegetable oil
3 cloves garlic, minced
½ medium onion, chopped
1 pound boiled chicken breast and/or thighs, sliced or shredded
1 1/2 cups shredded green cabbage
1 large carrot, peeled and cut like matchsticks
1 tablespoon reduced sodium soy sauce
1 cup low sodium chicken broth
1 stalk celery, sliced
2 green onions, chopped
1 lemon (optional)
Soak rice noodles in warm water for 5 minutes, then drain and set aside. Heat oil in a large skillet or wok over medium-high heat. Add garlic and onion and sauté for 5 minutes. Add cooked chicken, cabbage and carrots. Stir-fry for 3 minutes. Add 1 tablespoon reduced sodium soy sauce, chicken broth and celery. Simmer for 3 minutes. Add soaked rice noodles and cook until heated through. Garnish with green onion and flavor with fresh-squeezed lemon juice if desired.
Serves 6. Nutrition information per serving:
Calories: 287, Carbohydrates: 39 g, Protein: 19 g, Sodium: 194 mg
Thai Lettuce Wraps
1 tablespoon vegetable oil
3 green onions, thinly sliced
1 Thai chili, diced
3 cloves garlic, minced
1 1/2 pounds ground pork
1 teaspoon low sodium soy sauce
1 tablespoon pineapple juice
1/2 teaspoon shrimp paste
2 teaspoons granulated sugar
4 tablespoons cilantro, finely chopped
4 tablespoons basil, finely chopped
8 iceberg lettuce leaves
Heat oil in a large skillet or wok over medium heat. Add green onions, Thai chili and garlic. Stir-fry for 2 minutes. Add ground pork and cook for 15 minutes or until cooked through. Add soy sauce, pineapple juice, shrimp paste, sugar, 2 tablespoons cilantro and 2 tablespoons basil. Cook for 5 minutes. Top with remaining fresh cilantro and basil. Fill lettuce leaves with about 2 ounces of pork mixture.
Nutrition information per 2 lettuce wraps:
Calories: 412, Carbohydrates: 5 g, Protein: 32 g, Sodium: 408 mg
This recipe may be served on rice instead of wrapped in lettuce. You can use other meats such as ground turkey, ground beef or shrimp. If you don't have shrimp paste, add 2 teaspoons fish sauce instead. However, using both at the same time will add too much sodium.
The information in this column is meant for people who want to keep their kidneys healthy and blood pressure down by following a low-sodium diet. In most cases, except for dialysis patients, a diet high in potassium is thought to help lower high blood pressure. These recipes are not intended for people on dialysis without the supervision of a registered dietitian.
[Katy G. Wilkens is a registered dietitian and department head at Northwest Kidney Centers. The 2014 recipient of National Kidney Foundation Council on Renal Nutrition's Susan Knapp Excellence in Education Award, she has a Master of Science degree in nutritional sciences from the University of Washington. See more of her recipes at www.nwkidney.org.]