You Are What You Eat: Hot weather makes for cool cucumbers
You Are What You Eat: Hot weather makes for cool cucumbers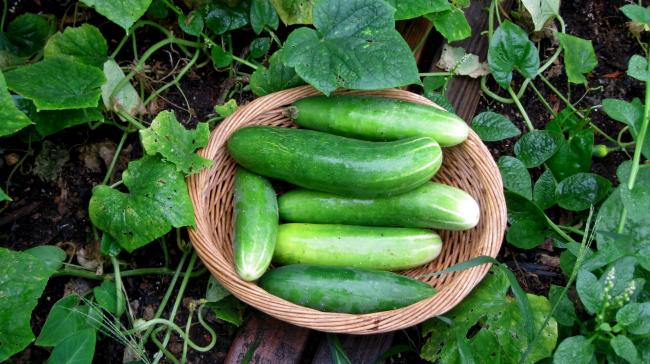 Katy Wilkens
Wed, 07/22/2015
By Katy Wilkens, MS, RD
This long hot summer we're having may stress salmon and raise forest fire risk, but it is really wonderful for the heat-loving vegetables in my garden. My veggie boxes are overflowing with cool, crisp cucumbers, almost a month earlier than usual.
If you don't have a garden, get your cukes at a farmers market or local fruit stand. This mild tasting vegetable is perfect for dishing up in a wide variety of flavors, and that can help decrease the need for salt in foods. Homemade low-salt pickles can add a whole new flavor to your meals without the sodium we all need to avoid.

Some ideas to try:
• Peel alternating strips of skin off the outside of the cucumber before slicing to make a pretty presentation.
• Thinly sliced cucumber in ice water is a refreshing change to plain or lemon water.
• Freeze cucumber-infused water into ice cubes or popsicles.
• Use cucumber slices instead of crackers, topping them with your favorite cheese or cream cheese spread.
• Diced cucumber adds crunch to soft sandwich fillings such as egg, tuna and chicken salad.
• Chopped cucumber is refreshing in a green salad. Try adding fresh raspberries or blueberries too.
• Cucumber is the star in a Greek salad. Just add tomatoes, purple onion, bell peppers and feta or goat cheese for a lower sodium choice.
Asian cucumber salad
3 tablespoons rice vinegar
1 tablespoon sugar (or to taste)
1/2 teaspoon dark sesame oil
Pinch of red pepper flakes
2 cups thinly sliced cucumbers
Whisk together vinegar and sugar, add oil and red pepper flakes. Pour over sliced cucumbers. Cover and chill. Serve with cold sliced chicken, pork or cooked shrimp for a light and tasty lunch plate. Serves 4.
Nutritional information:
Calories: 26, Carbohydrates: 5 grams, Protein: 0 grams, Sodium: 1 milligram
The information in this column is meant for people who want to keep their kidneys healthy and blood pressure down by following a low-sodium diet. In most cases, except for dialysis patients, a diet high in potassium is thought to help lower high blood pressure. These recipes are not intended for people on dialysis without the supervision of a registered dietitian.
[Katy G. Wilkens is a registered dietitian and department head at Northwest Kidney Centers. The 2014 recipient of National Kidney Foundation Council on Renal Nutrition's Susan Knapp Excellence in Education Award, she has a Master of Science degree in nutritional sciences from the University of Washington. See more of her recipes at www.nwkidney.org.]