You Are What You Eat: Faux pho
You Are What You Eat: Faux pho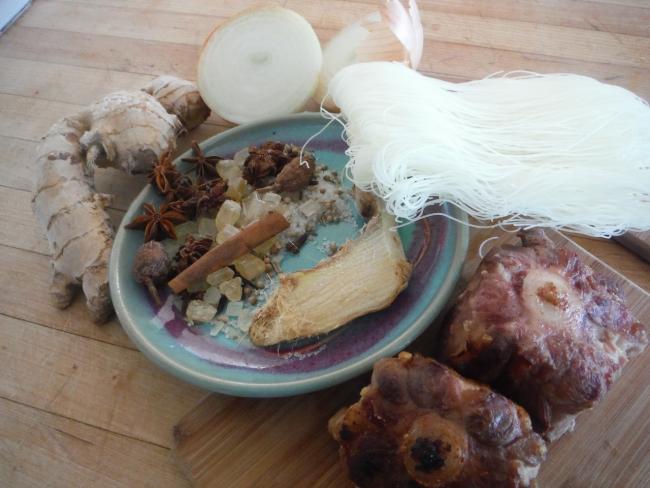 Katy Wilkens
Wed, 12/30/2015
By Katy Wilkens, MS, RD
On these cold, rainy days, I have been craving that wonderful Vietnamese soup called pho (pronounced "fuh").
A few years ago a colleague and I did a home visit to one of my patients. His lovely Vietnamese wife insisted on cooking us lunch. I insisted on watching how she made it. It was truly eye-opening – almost every ingredient added to the soup pot was high in sodium, from the canned beef broth to the Asian sausage to the fish sauce. Even the precooked noodles were high in sodium.

My colleague and I estimated the bowl of yummy broth, noodles, meat and sausage we consumed probably contained over 6,000 milligrams of salt. That was enough for each of us for five days! We had to put ourselves on strict low-sodium diets the rest of the week, since all that sodium can wreak havoc on blood pressure, heart and kidneys.
I've been working on my "faux pho" recipe ever since. The faux or "fake" part of the recipe is to give this brothy, meaty, delicious meal all the flavor of pho without the salty ingredients. This healthy broth can be saved for about three to four days in your refrigerator, and you can add fresh meat and veggies to every bowl as you make it. The mushrooms take the place of salty fish and soy sauce, the caramelized sugars in the browned bones adds another layer of complexity, and subtle spices finish out the flavors.
Faux pho
4-5 cut pieces of oxtail or beef bones
1 pound chuck steak, cubed
4-6 quarts of water
2-3-inch piece of ginger
1 onion, sliced thinly
4 dried shiitake mushrooms, sliced thinly
3 tablespoons sugar
5 star anise pods, toasted lightly
4 cloves, toasted lightly
One stick cinnamon
1 package narrow rice stick noodles, cooked and drained (substitute vermicelli if you like)
¼-1/2 pound flank steak or sirloin, partially frozen, sliced thinly
Serve with: thin slices of onion, thin slices of green onions, fresh cilantro, bean sprouts, Thai or Asian basil, fresh spinach leaves, thinly sliced jalapeno peppers, fresh lime wedges
To make the broth:
Brown the beef bones in a fry pan with a little oil. Add the bones and chuck steak to a pot filled with 4-6 quarts of water and bring to a boil for about 5 minutes, then reduce to simmer. Add ginger, onions, mushrooms, and sugar, simmer about 2 hours. Use a spoon to skim off any foam or fat periodically. Lightly toast the star anise and cloves in a dry frying pan, then put them into a metal tea ball with cinnamon stick (or tie in a piece of cheesecloth) and add to broth. Leave spices in broth for about 30 minutes, then remove and discard. This broth can be saved for about 3-4 days in your refrigerator, and you can add fresh meat and veggies to every bowl as you make it.
To prepare the pho bowls:
Soak rice noodles in cold water for 30 minutes and drain. Cut partially frozen flank steak or sirloin against the grain in very thin slices.
When ready to serve, bring broth to a boil, and bring a pot of plain water to a boil. Just before serving, drop noodles into pot of boiling water for just 15 seconds or so, and remove. Drain noodles and place in soup bowls. Ladle broth over noodles, add thin-sliced beef and stir. Let guests add their own vegetables and garnishes at the table. Serves 6.
Nutritional information (per serving):
Calories: 400, Carbohydrates: 43 grams, Protein: 34 grams, Sodium: 145 milligrams
The information in this column is meant for people who want to keep their kidneys healthy and blood pressure down by following a low-sodium diet. In most cases, except for dialysis patients, a diet high in potassium is thought to help lower high blood pressure. These recipes are not intended for people on dialysis without the supervision of a registered dietitian.
[Katy G. Wilkens is a registered dietitian and department head at Northwest Kidney Centers. A recipient of the Susan Knapp Excellence in Education Award from the National Kidney Foundation Council on Renal Nutrition, she has a Master of Science degree in nutritional sciences from the University of Washington. See more of her recipes at www.nwkidney.org.]