Soup's On at Copine -- Ballard chef Shaun McCrain shines at helm of new culinary destination
Soup's On at Copine -- Ballard chef Shaun McCrain shines at helm of new culinary destination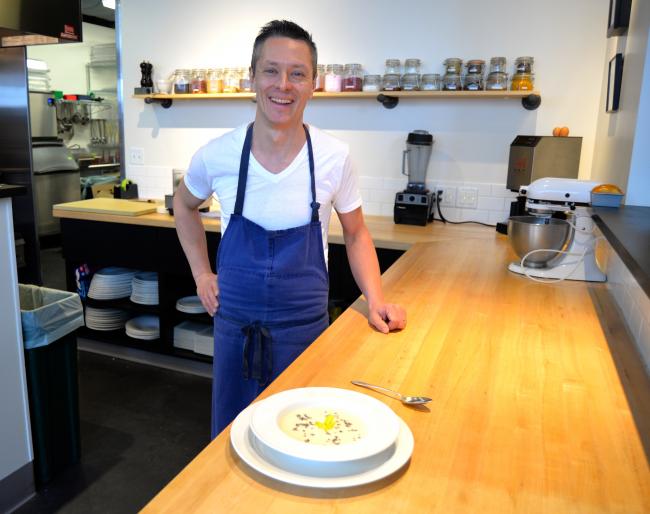 Lindsay Peyton
Tue, 02/14/2017
By Lindsay Peyton
Ballard chef Shaun McCrain is so at home in the kitchen at his restaurant Copine that it's hard to imagine him anywhere else.
He and his wife Jill Kinney named the establishment the French word for "girlfriend" – and explain that the place functions as a pal for them. It's not only their creation, their baby -- but also where they most want to be, an extension of their home, a friend they always hanging around.

They opened last July – and the location has already become a Ballard hotspot as well as a destination for diners from around the city.
"We have young cooks who come in for inspiration and we have neighborhood people who come in because they were just passing by," McCrain said.
The menu is contemporary American cuisine – with French roots and a focus on local ingredients.
Starters include Dungeness crab salad served with radish and citrus, a foie gras terrine with black sesame and apple and Hawaiian hearts of palm with heirloom beets and cardamom poached pear.
The menu for main courses includes caramelized sea scallops served with melted leeks, glazed beets and a bacon emulsion, pan-roasted monkfish with haricot verts, mushrooms and a red wine-beef reduction and lamb rack with yams and braised Swiss chard.
Diners may opt for chicken served with Parisian style gnocchi, roasted tomatoes and black truffle mousse – or order the grilled rib-eye bourguignon, accompanied by roasted root vegetables, potato puree, king trumpet mushrooms and bordelaise sauce.
There's a special chef's table room with a customized tasting menu. Or for a more casual experience, diners may enjoy a full menu at the bar, where no reservations are accepted.
Copine also offers a take-away counter, offering soups, salads, sweets and baked goods, as well as foie gras doggie treats. On Sundays, the restaurant offers a to-go dinner, with a rotating menu. Guests pre-order the meal by 9 p.m. on Thursdays – and then pick them up between noon and 4 p.m. on Sundays.
McCrain and Kinney say that with Copine, they've been able to realize their vision for a restaurant where the food shows great attention to detail and guests come for the experience.
It's also a place where McCrain can pass on what he learned throughout his career. "I like to have young cooks in here and help them form their path," he said. "I want to share what I know. It's giving back."
For this article, he decided to share a recipe for Copine's Truffled Celery Root Soup.
"I love to make soup," McCrain said. "It's easy – and you can go in a lot of directions, cold or hot, hearty or light. This is a soup you can make in an hour – if you're taking your time."
Copine's Truffled Celery Root Soup
Ingredients:
2 tablespoons butter
1 medium onion, sliced
1 large celery root, peeled and sliced
3 ½ quarts water
2 cups heavy cream
1 tablespoon white truffle oil
2 teaspoons salt
Start by gently sautéing the onions in the butter until they become translucent in a four quart pot. Then add the celery root and cook until tender. Cover with the water and let it reduce to about two quarts. Blend the soup. Add truffle oil and finish it with the cream. Season to taste.