Ballard Night Out -- new event celebrates neighborhood art scene
Ballard Night Out -- new event celebrates neighborhood art scene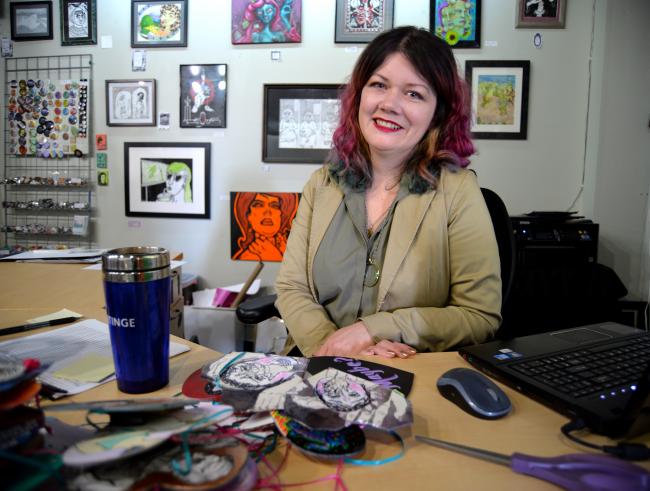 Lindsay Peyton
Tue, 05/16/2017
By Lindsay Peyton
Maxx Follis-Goodkind believes that the diverse talent and large amount of artists living and working in Ballard is worth celebrating.
In fact, she has created a whole new monthly event to showcase the neighborhood's creative types.
The next "Ballard Night Out" is slated for 5 p.m. to 9 p.m. on Thursday, May 18.

A wide range of venues are participating -- ranging from Walter's coffee shop and Verity Credit Union to Blowing Sands Glass Studio and Monster Art, Clothing and Gifts. A full list of stops for the evening is available online.
Follis-Goodkind has already hosted one Ballard Night Out on Thursday, April 20 – and said the evening was a big success, bringing several guests into neighborhood gallery spaces.
Rosemary Antel, a painter in the Ballard Works Artists' Work Spaces, commended Follis-Goodkind for her efforts.
She said the last Ballard Night Out was well attended and brought a steady stream of guests into the studio space.
"They clearly enjoyed themselves and the artists did as well," Antel said. "We are expecting another blockbuster exhibit on the 18th of May."
She added that Follis-Goodkind built a website for the event, printed brochures and created useful maps for guests to locate each stop on the circuit.
"I think Maxx has some good ideas about filling some of the blank empty windows in the new buildings with art to at least liven the sidewalks up a bit," Antel added. "As artists, we want Ballard to be culturally rich."
That's exactly what Follis-Goodkind wants too.
"I want everywhere in Ballard to have art," she said. "I want people to see the neighborhood as art-centric. There are so many artists in the community right now."
She encourages businesses of all types willing to display art or host a performance to join in the monthly event.
"We're very flexible," she said. "As long as it's art related, you're invited to participate. And it's free to sign up."
Follis-Goodkind is also a professional artist and founder of the Push/Pull gallery and cooperative workspace in Ballard.
She plans to host Ballard Night Out on the third Thursday of the month – and eventually would like to bring some bigger arts festivals to the neighborhood as well.
For more information, visit www.ballardnightout.com