Ballard SeafoodFest draws crowds
Ballard SeafoodFest draws crowds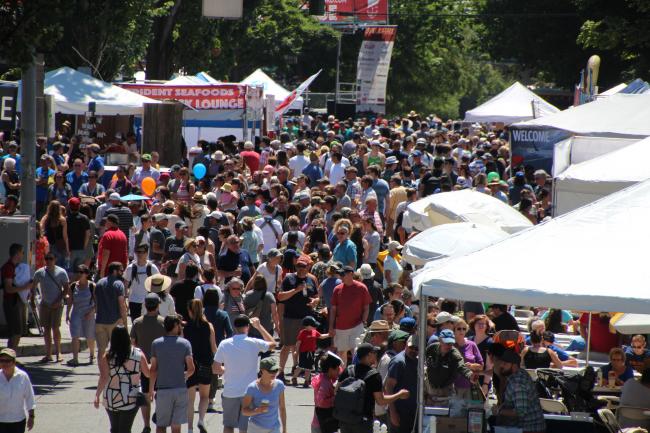 Shane Harms
Mon, 07/10/2017
In its forty-third year of attracting seafood lovers from the region, Ballard SeafoodFest had a strong showing this year and festivalgoers thronged the streets in search of salmon, crab, and a smorgasbord of sea fare.
But more importantly, whether the crowds knew it or not, the festival reflects the history of the community with strong ties to the fishing and maritime industries.
The festival dates back to 1971 when community stakeholders from the maritime industry teamed up with local fraternities to raise funds for the then struggling Ballard Chamber of Commerce, according to organizers; the festival has seminal beginnings as a salmon barbeque lasting a few hours in 1974. It wasn't until 1978 when it became a full one-day event at Bergen Place Park in the heart of Ballard at NW Market Street and 20th Avenue NW. Then in 1979 it took on the identity it maintains today, celebrating the Scandinavian heritage and as a tribute to the fishing/maritime industries of the region.
Just in the last year SeafoodFest has became city-sanctioned event, and the date was changed from September to July to coincide with other city sanctioned events like Fremont Solstice Parade and Seafair.
Last year the City adopted annual events in Seattle that they deemed significant. Simultaneously they increased the amount organizers pay for permits to host events in the city. Organizers for city-sanctioned events pay less for permits. Through subsidizing the events, the city hopes to maintain their vibrancy in coming years.
Indeed, and this year was no exception, drawing more crowds than ever.
Following in SeafoodFest tradition, a lutefisk eating completion was held. 10 contestants stuffed their faces with two pounds of the Scandinavian pickled fish, but by the end only one contestant claimed the $300 cash prize.
Another tradition of the festival is the Salmon Barbeque, where local community members host the "big feed" and traditionally smoke the salmon with alder for the thousands of people waiting in line for the popular preparation.
In addition, a popular food vendor in previous years, Trident Seafood's Crab Shack, was back this year and served Alaskan King Crab legs this year to hungry festival goers.
Something that has grown to be recognized as a staple is the strong bands playing the main stage every year. This year the event drew such big names in music as Strand of Oaks, La Luz, Dude York, Hobosexual and The Dip.
The festival went through Sunday, July 9 and drew over 60,000 people.