Ballard chef Rachel Hall dishes up hearty meals at upscale diner
Ballard chef Rachel Hall dishes up hearty meals at upscale diner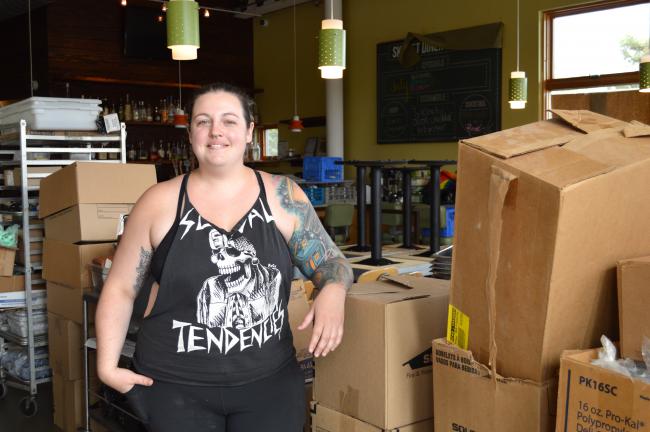 Lindsay Peyton
Mon, 10/02/2017
By Lindsay Peyton
Chef Rachel Hall is ready to return to the kitchen at Skillet Ballard. 
The restaurant, located at 2034 NW 56 St, reopened after a two-month, forced hiatus. 
An irrigation pipe on the building's roof garden caused a leak in late July, flooding the restaurant as well as other tenants' spaces. 
Skillet was back in business at 11 a.m. on Monday, Oct. 2, and Hall is back in the saddle serving up breakfast, lunch and dinner in Ballard. 
Originally from a desert town in Southern California, Hall said moving to Seattle in 2007 was appealing because of the rain. 
"I grew up where it's dry all the time," she said. "It's nice to go somewhere green. I fell in love with the city, and I never want to leave. I've put down roots here."
She first started cooking in her grandmother's kitchen as a child. "It was my favorite place to be," she said. 
In high school, Hall enjoyed taking culinary classes. When she arrived in Seattle, she continued her studies at the Art Institute. 
While earning her degree, Hall worked at IL Bistro, an Italian restaurant nestled under Pike Place Market. 
After college, she took a job at Blueacre Seafood, where she met a group of friends who would later start Skillet.
Josh Henderson started the restaurant as a food truck and then opened it as a brick and mortar operation in Capitol Hill in 2011. 
Hall joined the team that year. She said the concept spoke to her right away. "It's an upscale American diner," she said. "It's fat kid, greasy food that makes you happy. I enjoy cooking those really, hearty dishes."
After three years with Skillet, Hall joined Henderson at Huxley Wallace Collective and helped him open two other concepts. 
"It's really fun to be in a new kitchen where everything is nice and shiny," she said.
Now she's enjoying the challenge of re-opening the Ballard location of Skillet -- and said the silver lining of the flood is that she had a couple of months to reorganize her kitchen. 
Hall has spent the past couple of months deep cleaning and reorganizing her kitchen. She'll be opening with a few new staff members – and a new fall menu, which will include a beer-braised pork shank with hot and spicy mustard barbeque sauce, crispy onions and pretzel gnocchi, as well as a roasted pumpkin and quinoa salad with pomegranate, toasted coconut, and spiced orange vinaigrette.
Skillet has also updated and expanded the kids' menu with new items like a build-your-own taco plate, griddle cakes with house-made syrup and grilled cheese on brioche with the crust cut off. 
The patio at the Ballard Skillet was also expanded with more outdoor seating. "I'd like everything to move super smoothly and get the restaurant back in the groove," Hall said. 
The chef's favorite dishes on the menu include the corned beef hash, Brussels sprouts and creamed collard greens. "It's super delicious," she said. 
She also recommends the new desserts, including the chocolate Nutella cake and the pear and ginger hand pies. 
 For more information, visit www.skilletfood.com.